Sarah Drew Is Terrified Of Her Post-'Grey's Anatomy' Future — And She's Totally OK With That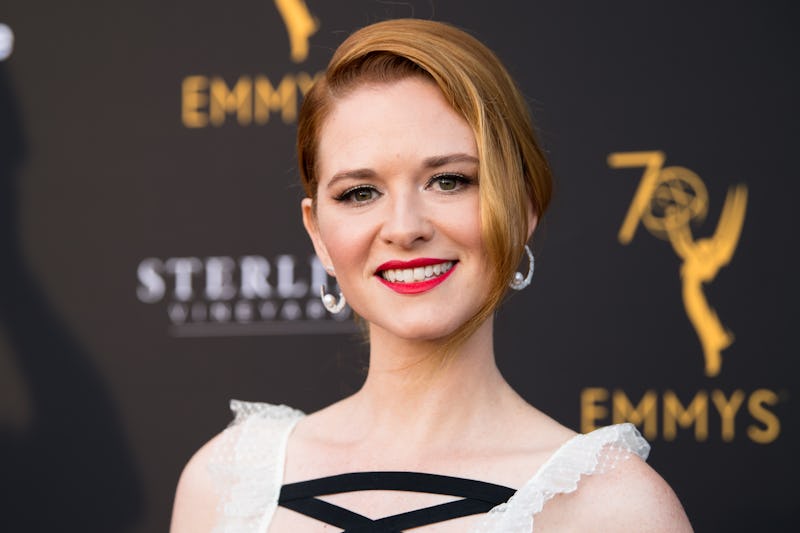 Emma McIntyre/Getty Images Entertainment/Getty Images
Sarah Drew would like you to know that she's fine. More than fine, actually — in the seven months since she was let go from Grey's Anatomy, Drew has made it clear in interview after interview that despite being suddenly fired from a job she'd held for nine years, she's doing really well. She's being showered with love from fans and her former co-stars; is busy working on exciting new projects for film and TV; and is focused on "finding the good" in her situation, as she told ETOnline in August. Clearly, Drew is a "glass half full" kind of person who ultimately views her firing as a blessing, and is looking forward to her post-Grey's Anatomy future. That said, though, the actor — whose next role is the military drama Indivisible — is also kinda freakin' terrified.
"Uncertainty is scary. There's definitely fear," Drew says when I ask about how she's feeling these days, chatting over Skype in October. "In my head, I really do know everything's gonna be fine, and I'm gonna land where I'm supposed to land and I'm gonna go and do something that's awesome and I can use my gifts, and it's gonna be amazing. I know that, I know it's coming. But allowing that truth to really hit my heart and my body, it takes active practice of like, shifting the narrative that's spinning in my head."
Over the past several months, ever since she found out in March that she and co-star Jessica Capshaw were being written out of Grey's Anatomy at the end of the season, Drew has been working through her emotions. At first, she was devastated; not only was her character April Kepner beloved by fans, but after nine years working on the show, Drew had naturally grown close to many of her co-workers. On the day she was let go, she tells me, she stayed in her trailer not "ready to go home", instead spending hours crying and talking things through with her Grey's pals. She mourned.
But after that grief, there came gratitude. On their last day of filming, Drew and Capshaw received boxes of notes from their colleagues telling them how appreciated they were and how much they'd be missed. At the same time, Drew was cast in the planned CBS reboot of Cagney & Lacey, and had several other potential projects at the ready. One day soon after she was let go, her co-star Kelly McCreary walked into her trailer, expecting to find Drew a mess; instead, she was ecstatic, explaining to McCreary how glad she was to have so many possibilities ahead. "She jumped up and down and grabbed me and gave me the biggest bear hug, that I physically remember it," Drew recalls. "She was so overcome with joy and delight and excitement for what this actually meant for me, which was that I was leaving one thing but there was gonna be something else and it was gonna be awesome and I was gonna be fine."
That support from friends like McCreary, plus that of thousands of fans who've expressed their sadness at Drew's exit, has helped the actor find the upside of an undeniably painful experience. But it hasn't been all roses. In May, CBS passed on the Cagney & Lacey pilot, which many assumed would be Drew's first major post-Grey's role. And while she has other projects lined up, including a Lifetime Christmas movie and Indivisible, the future is still largely a mystery for Drew — which, understandably, is pretty overwhelming. But she's not letting being scared over what's to come dictate her life.
"I have to try to keep silencing that fear," she explains. Instead of worrying, she's trying to spend her time in this "in-between space" working on her personal growth, bettering herself and focusing on her strengths. Says Drew, "Maybe that's the gift in the quiet that I've been given."
Some of that self-exploration started prior to her Grey's exit. Directing six episodes of the series' Emmy-nominated web spinoff, The B-Team, led Drew to discover how much she loves taking on a leadership position; setting the tone on a set, she says now, "is something that I feel very alive in." She loved producing Indivisible, out Oct. 26, and was happily involved in every aspect of filming, from giving script notes to editing scenes. She's also the reason so many Grey's Anatomy cast members, from Justin Bruening to Jason George to Michael O'Neill, joined the movie's cast. "There's a trust in the way that we communicate with one another because we've been doing it for [years]," she says.
Indivisible was a special project for Drew; a drama primarily about a fractured marriage, the movie echoes events in her own life, during a period in which she and her husband underwent "a really dark time" and attended counseling. "When I read the script, it was like, 'oh, this is my story playing out,'" she recalls.
The movie's overt religious themes — Bruening plays an Army Chaplain, and Drew his wife — also echo the actor's own background. A devout Christian who was raised by a pastor, Drew, like her Grey's character April, has long been open about her faith. She was excited to produce a film that featured religion heavily, even though it might not be typical blockbuster fare.
"Mainstream Hollywood isn't necessarily interested in a movie like that, but I felt drawn to it out of my sense of calling and purpose, like that's a story that's worth being told and that's worth me putting my energy into. And I might not have done that 10 years ago," Drew says. Back then, she says, she was full of anxiety and operating out of "desperation" when choosing her projects; it was like, "'Oh, like me, hire me, cast me!'" she recalls. These days, though, "there's a sense of confidence" she didn't have back in her 20s.
"Now it's like, I know who I am and I know what I want to do in this world, and so I'm much more discerning about the path I want to go down because I have some financial stability from nine years on the show, but I also just have a stronger sense of who I am in the world and what I'm supposed to do with the platform that I've been given," she says.
After Indivisible, Drew's slate is relatively clear; she mentions wanting to do a period piece film or guest on the '50s-set Marvelous Mrs. Maisel ("Totally," she laughs when I ask if she'll be happy no longer wearing scrubs), but not much is set in stone. And while that's a little scary, it's also OK. Wherever she ends up, Drew knows she'll be just fine. Really.