Sarah Drew Explained Her 'Grey's Anatomy' Exit To Her Kids In A Really Moving Way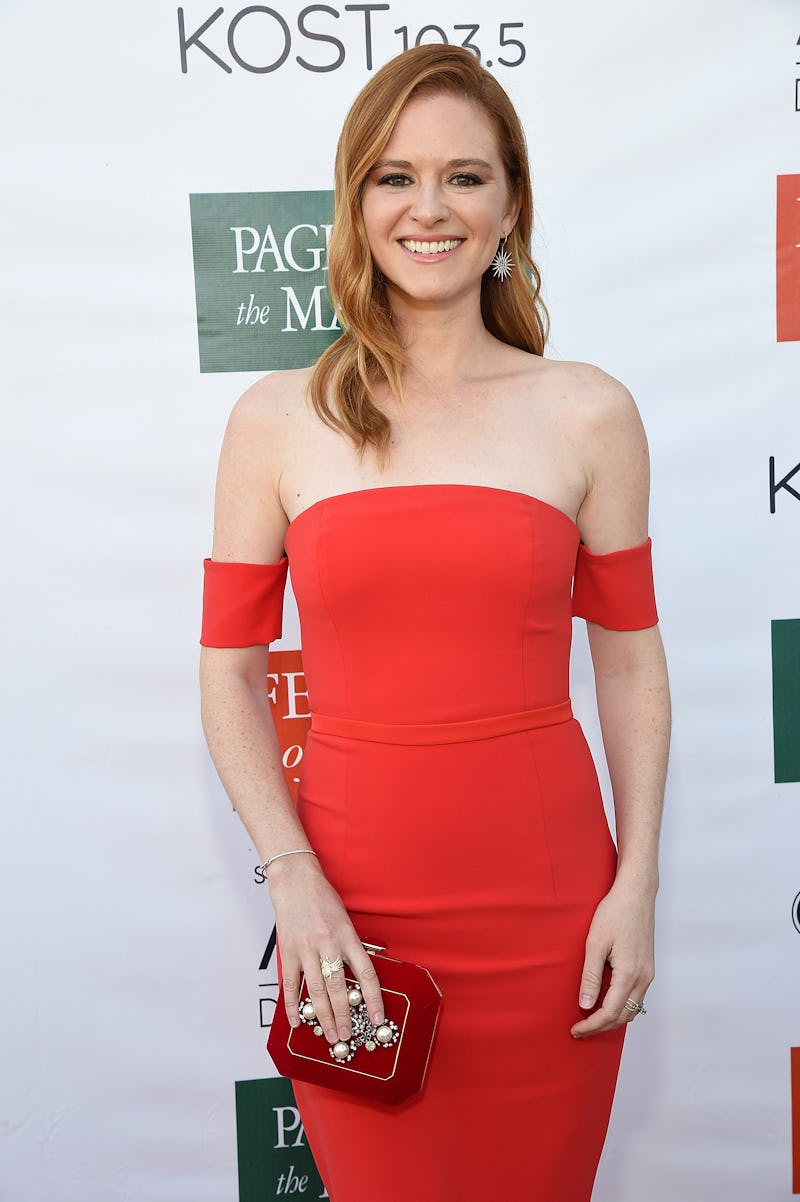 Michael Kovac/Getty Images Entertainment/Getty Images
Still having trouble wrapping your head around Dr. April Kepner's untimely Grey's departure earlier this year? Wait 'til you hear how Sarah Drew told her kids about April's Grey's Anatomy exit, according to People. Seriously, those Grey's fans still hanging onto bitterness about the loss of Dr. Kepner might want to take note from the character's real-life counterpart and her spot-on wisdom.
Somehow Drew managed to explain the situation to her children with a lesson about staying true to your feelings, being vulnerable when it feels right, and keeping your head up, even in the face of unfavorable circumstances. When hosting an event recently, Drew explained how she broke the news of her character's Grey's departure to her two children, 6-year-old Micah Emmanuel and 3-year-old Hannah Mali Rose.
According to People, Drew said the conversation went something like this:
"I said, 'Mommy is really close to this community that she has been part of for nine years and it has been so hard to say goodbye and it's sad, and sometimes jobs don't last and things don't go the way you want them to go, and that's okay because there is something bigger and better around the corner.'"
As most Grey's fans know already, Drew finished up her nine-season stint as Dr. Kepner earlier this year — though not of the actor's own accord. News of Drew's firing from the show first made headlines back in March, per a handful of reports that the series would part with her character (and Jessica Capshaw's, too) for good at the end of Season 14. April's final episode came soon after, during the Season 14 finale this past May.
Since then, Drew has been pretty open about how leaving Grey's so unexpectedly has been, understandably, a difficult transition. "In a way, you almost feel like you're attending your own funeral. Weirdly," Drew told Vulture in September, remembering what it was like to say goodbye to April after having grown so close to her, not to mention her fictional colleagues, for nearly a decade.
Suffice to say, as Drew told Us Weekly she's not watching the new Grey's season either. Why? "I think it's, you know, it's a little painful to go and watch your family move on without you," she said. And while that definitely does sound like a uniquely difficult set of circumstances for anyone to wrap their head around, it's also really refreshing to hear a public figure like Drew speak so honestly about how April's Grey's departure made her feel.
And, after reading her new comments, it sounds like Drew has been similarly honest about her post-Grey's emotions at home. "I definitely did some crying and they have seen it in my house," she said of her two children, according to People. But leave it to Drew to turn her personal grief into an important message about the merits of staying true to your emotions, even if they're complicated. "We are allowed to feel what we need to feel," she continued, before adding, "It's a big thing I try to tell my kids: Do not stuff those feelings."
That's a pretty important message for everyone, but perhaps especially for young children. Plus, just like mom said, there was something bigger and better waiting for Drew around the corner after Grey's Anatomy. Those who watched last month's Emmy Awards might remember that Drew snagged a nomination for Outstanding Short Form Comedy or Drama Series, thanks to her stellar directorial debut with the six-episode web series, Grey's Anatomy: B-Team.
"I feel like I'm spreading my wings, jumping out into the world and exploring all kinds of new avenues to tell stories," Drew told Us later on in their conversation about Grey's Season 15. And wow, who else can't wait to keep watching her soar?
Drew's post-Grey's success seems like a testament not only to her many talents, but perhaps also to her emotional salience and forward-moving attitude. (After all, it's hard to get over something when you don't let yourself feel it in the first place.) Shouldn't come as much of a surprise that she's a great mom, too.