Sarah Drew Is Apprehensive About Returning To 'Grey's Anatomy' For A Solid Reason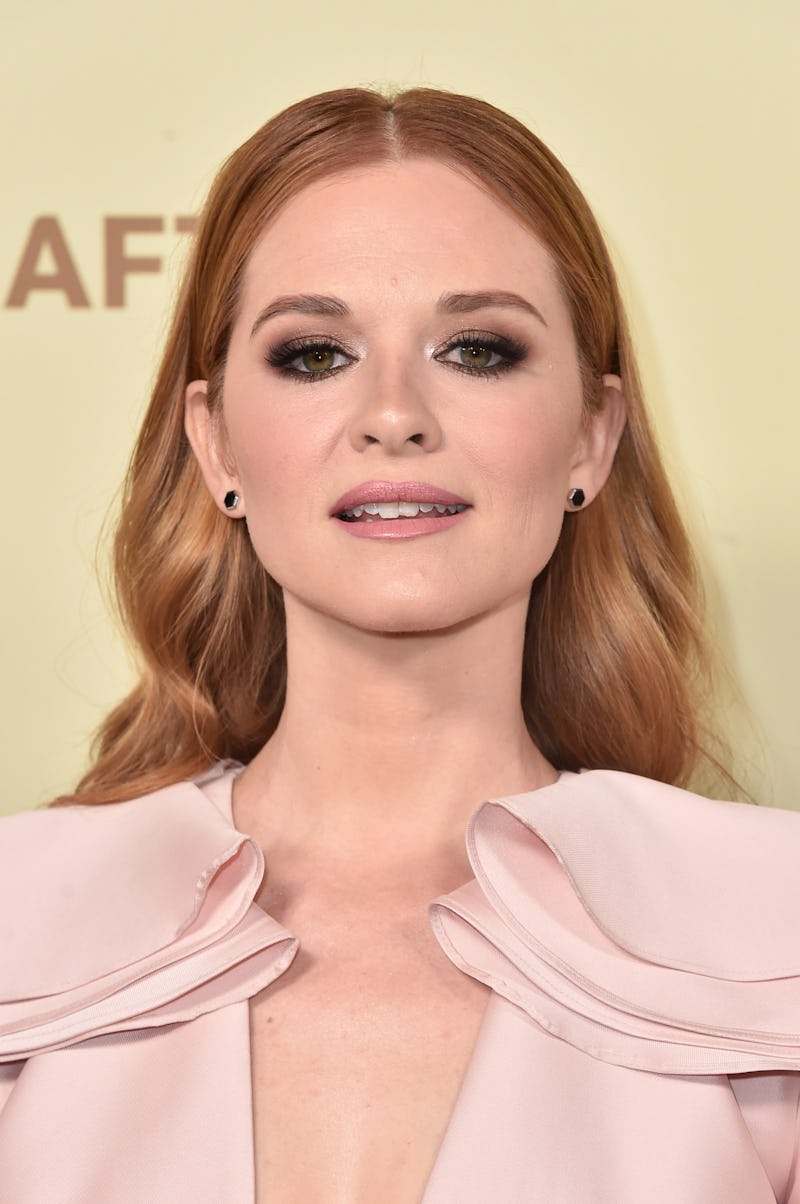 Alberto E. Rodriguez/Getty Images Entertainment/Getty Images
Earlier this year, fans were devastated to learn that two of Grey's Anatomy's most beloved characters, Dr. April Kepner and Dr. Arizona Robbins, would be exiting the series at the end of Season 14. And although the ending of her storyline seemed to allow room for April to come back one day, Sarah Drew's comments about a possible return to Grey's Anatomy to Entertainment Tonight on Oct. 23 indicate just how hard it was for her to part ways with the character who was a part of her life for over nine years.
In last season's final episode, fans saw Drew's Dr. April survive a car accident, get married and ultimately leave her position at the hospital to work with the homeless. While those factors signaled an end to her employment at Grey Sloan Memorial, the character remains alive and well, leaving the idea of her returning to the Seattle-based hospital somewhere down the line a huge possibility.
After the loss of both April and Arizona, who was played by Jessica Capshaw, in one season, Drew's reprisal of the role would be certainly be a win for viewers of the long-running drama. However, the actor's recent comments to Entertainment Tonight suggest that bringing the character back would prove to be a difficult decision. Chatting about the situation with ET, Drew explained, "I'll never say never because they are my family. I still love everyone over there. I love that community and I still have such an incredible space in my heart for everyone over there."
After sharing her love for the former cast members and crew, Drew revealed the challenge of returning to the character, telling ET:
"But I really do feel like, because of how it went down, I really had to part ways with April, I just had to. There was no way for me to live in a space of possibility of her returning and also be healthy in my letting go of all of it, so I really have said goodbye to her."
She went on to detail her relationship with April, while explaining just how much the role meant to her. She continued,
"I've loved her and I've said thank you to her and I've enjoyed my journey being with her. She feels like an appendage. She's a person, she's a real person in my life. It's a long time to embody someone nine months out of the year and I really had to say goodbye to her."
Despite her apprehension, the 38-year-old reiterated her sentiments that, although it would be "hard," she's not going to knock the idea altogether, explaining, "I think saying hello again would be hard. But again, I'll never say never."
While Drew's departure was shocking and upsetting to those who had fallen in love with the devoutly religious character, it is far from the first time the show has had a major shakeup in its ensemble. Grey's Anatomy has had many devastating departures during its remarkable 15-season run with fans having to say goodbye to a lot of their favorites throughout the years. In addition to Drew and Capshaw, fans have mourned the exits of T.R. Knight, Kate Walsh, Katherine Heigl, Sandra Oh, Eric Dane, Sara Ramirez, Patrick Dempsey, and Jessica Capshaw — just to name a few. For years, many have longed for the return of some of their most beloved cast members to no avail. So, with that said, it seems that fans will have to keep their fingers crossed for a future for April on Grey's.
Although nothing has been completely ruled out, Sarah Drew's return to Grey's Anatomy, while exciting to fans, may not be worth the emotional toll that it has taken on her life.