We Had Experts Analyze Sarah Huckabee Sanders' Body Language & Here's What It Reveals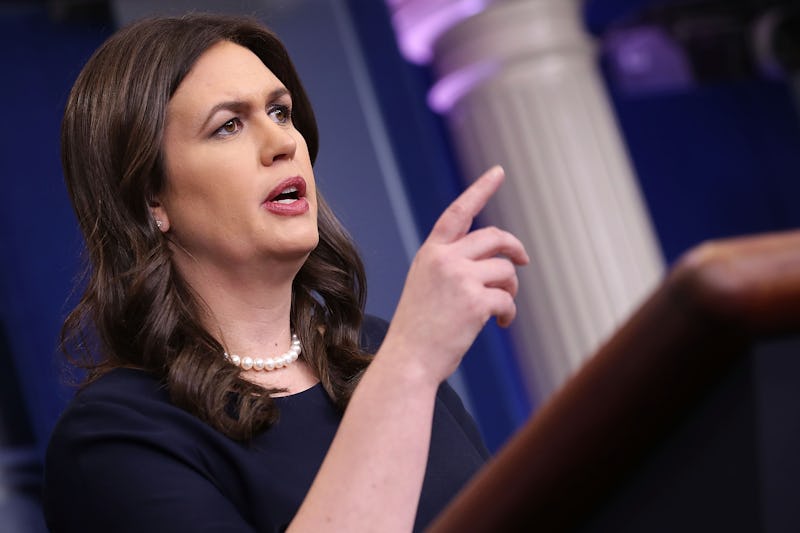 Chip Somodevilla/Getty Images News/Getty Images
Sarah Huckabee Sanders wants to leave the White House this year. Or at least, so suggests a report from CBS — and Sanders hasn't denied it, instead only tweeting, "I love my job." We don't know actually know her plans, of course, or her true feelings about being the White House Press Secretary. But we can look for clues, and Sarah Huckabee Sanders' body language is a good one.
Bustle spoke to body language experts to get some insights, though they noted that they haven't been studying Sanders in detail for a long period of time and that body language analysis is always speculative. Overall, they said Sanders has built a powerful presence at the podium, but that her demeanor has changed somewhat over her tenure. Although she's become more confident, there are also signs that she may, in fact, be getting a bit sick of her job.
"Sarah Huckabee Sanders' body language is surprising for a press secretary; but I can well imagine that it might be deliberate and strategic," Nick Morgan, a body language coach and consultant, tells Bustle. "Overall, she signals strongly that she's a poor listener. She doesn't look at the questioner throughout most of the question." (Of course, sometimes she looks away because she's "referring to her notes frequently," as public speaking and communications expert Ruth Sherman tells Bustle, which Sherman says is a sign that she's prepared and "does her homework.")
But it's not just the eye contact. "She exhibits a great deal of body movement while the other person is speaking; a sign of disinterest and dismissiveness," Morgan continues. "And she exhibits micro-expressions of scorn, anger, and disapproval. If I were chatting with her one-on-one, for example, and she exhibited those behaviors, I would conclude she didn't like me or the occasion very much." He added: "Now, I assume, as I said, that this behavior is designed strategically her scorn for the mainstream press."
Morgan and Sherman both noted Sanders' monotone voice, which by now has become one of her distinguishing features (last month, Politico complimented the fact that Sanders creates a focused atmosphere in the briefing room by "deaden[ing]" it: "The moment Sanders unleashes her trademark monotone, the energy drains."). Morgan says that her voice, like the other traits he mentioned, is "dismissive." But that dismissiveness often communicates power.
Speaking of her voice: "There has been a significant increase in her vocal power and vocal confidence from the first days until now," Sherman says. "Vocal power enables us to convey strength and certainty."
Morgan agrees. Comparing a clip from July 2017 with one from this month, he noted that, "In her earlier performance, there was a fair amount of beginner's nerves and concern," whereas "in the 2018 clip [...] her voice has moved lower in pitch — she's more confident and authoritative."
"Sarah Sanders' demeanor has definitely changed," Tonya Reiman, an expert in behavioral analysis and nonverbal communication, tells Bustle. "She has learned to conceal her basic emotions and replace them with either a smile or a look of contempt."
Reiman also notes some signs that Sanders may be less happy these days. "As of late, we see her mentalis muscle contract," she says, referring to a muscle in the center of the lower lip, "which indicate[s] unhappiness, coupled often with lip licking, which typically denotes some sort of anxiety." Reiman says that "this typically indicates an uncomfortable position," though she adds that the discomfort could have many causes. Morgan also notes that licking one's lips can signify anxiety because a "dry mouth can be a sign of nervousness and discomfort."
One good example of these changes in Sanders' body language is a moment from a press briefing that made headlines this month. Several reporters pressed her on the Trump administration's policy of separating family members who are detained at the border, and Sanders became unusually fiery in her response (and exhibited those aforementioned signs of discomfort in her lips).
It would make sense that Sanders is least comfortable when she's being grilled. She's seemed to suggest in the past that she dislikes that aspect of her job — but of course, it's an essential part. The White House daily press briefing is meant to hold the government accountable by forcing a spokesperson to explain and justify its actions. But Sanders has several times joked reporters should go "easy" on her.
On May 10, 2017, when she took Sean Spicer's place to answer questions about the firing of James Comey, she mentioned that it was her daughter's fifth birthday. "I think her first birthday wish would probably be that you guys are incredibly nice," she quipped. She seemed even less thrilled to field tough questions when her job as the top press secretary began two months later. When Anthony Scaramucci announced on July 21, 2017, that she'd be replacing Spicer, her first words after Scaramucci left the podium were, "Obviously, I would have been happy for him to stay up here all day and continue to exhaust all of your questions."
Given this lack of enthusiasm, it might not be absolutely shocking if she did decide to leave the job. But that wouldn't be good news for Trump: As Sherman noted in her analysis, "She is excellent at this job." Throughout the ups and downs of the Trump administration, Sanders has always been a force that he can count on.