Sarah Huckabee Sanders Is Reportedly Leaving The White House Sooner Than You Thought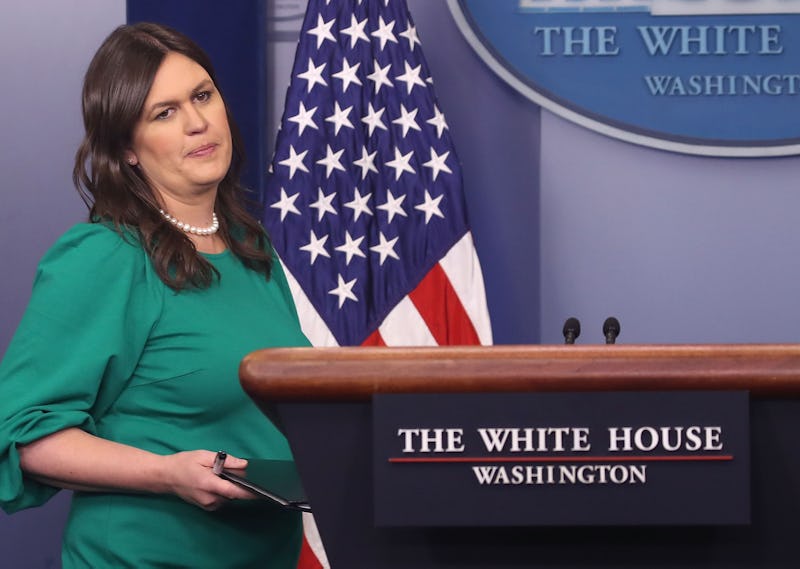 Mark Wilson/Getty Images News/Getty Images
There's never a dull moment in President Donald Trump's administration, and now, CBS reports that White House press secretary Sarah Huckabee Sanders is leaving her position, according to insiders "close to the administration." Minutes after the report broke, however, Sanders tweeted that she "loves her job" and is "honored" to work for the president. Though Sanders would hardly be the first prominent member of the administration to ditch it, the news still comes as especially jarring to anyone who regularly watches press briefings. Bustle has reached out to the White House for comment.
Little details about Sanders' supposed pending departure have been reported, but facts regarding previous officials' exits don't disappoint. In particular, there's been somewhat of a revolving door within Trump's communications department. First, there was Sean Spicer, who resigned as press secretary on July 21, 2017. That same day, Trump gave Anthony Scaramucci the job of communications director — and you can probably guess the rest. The Mooch, as he's otherwise called, was out less than two weeks later after ranting about former chief of staff Reince Priebus and Steve Bannon to The New Yorker. Next came Hope Hicks, who took over for Scaramucci — but only up until the end of March 2018. Now, Sanders, who initially replaced Spicer, could possibly be on her way out too. And she's not the only one from the current administration. Deputy press secretary Raj Shah is reportedly planning an exit, as well, CBS noted.
According to a recent tweet, Sanders doesn't seem pleased by the reports, but she also doesn't flat-out deny them. Still, she maintains that she's happy with her current job and proud to work for the administration.
Of all the departments in Trump's White House, it's easy to see how communications positions would be particularly challenging — even exhausting. During the 2018 White House Correspondents' Dinner, for example, Sanders was the subject of some of host Michelle Wolf's most brutal jokes. "Every time Sarah steps up to the podium," Wolf said with Sanders present, "I get excited because I'm not really sure what we're going to get — you know, a press briefing, a bunch of lies, or divided into softball teams."
In fact, critics have incessantly accused Sanders of lying on behalf of the administration during press briefings. However, in an interview with the New York Times' Mark Leibovich, which was published in May, Sanders spoke up about the criticism. The press secretary confirmed that she does her best to be as accurate as possible. "What's true on Monday in terms of a process decision may change by Friday," Sanders added, mentioning that she can't always know everything. "And I can't always know that things will be different."
Regardless of whether or not Sanders "loves" her job, though, it's still possible that she's leaving it for something new. An unnamed source explained to CBS News why her reported decision to move on could really stir things up in the White House:
There will be even more people leaving the White House sooner rather than later, laid off or just leaving out of exhaustion. And it is going to be harder to find good people to replace them. I do think they're going to have a harder time getting the second wave of people in than the first, because those people were loyalists, and [new] folks will have to be recruited and encouraged and then survive the vetting process. In addition to all of that, the president prefers to have a small communications staff.
That being said, the White House was in this lurch long before reports about Sanders surfaced, as various officials have shown themselves the exit under Trump. Still, that wouldn't make replacing her any less difficult.