Sarah Huckabee Sanders May Have Gotten Herself In Trouble Over A Hillary Clinton Tweet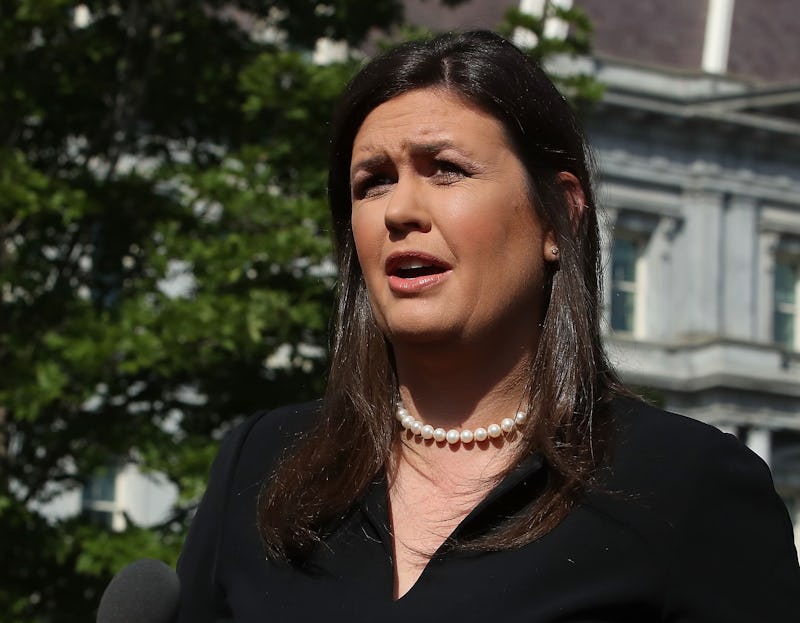 Mark Wilson/Getty Images News/Getty Images
On Friday afternoon, White House Press Secretary Sarah Huckabee Sanders tweeted about Hillary Clinton — and in doing so, may have violated the Hatch Act for the second time in as many weeks. Sanders quipped that Clinton running for president in 2020 would be tantamount to "Christmas coming early," and thus may have run afoul of the federal law prohibiting federal employees from engaging in partisan political activity.
The context is that earlier in the day, Politico published an interview with former Clinton aide Philippe Reines, and Reines said that likelihood of Clinton running mounting another presidential run is "not zero." Granted, he also said that it's "between highly unlikely and zero" that she'll run, but the possibility of Clinton running for president again has been a regular conservative fantasy ever since Donald Trump defeated in her 2016, and Reines' comments breathed new life into those fantasies.
After the article went live, Sanders linked to the article on the official White House Press Secretary account and added the caption, "Christmas coming early this year?" Bustle has reached out to the White House for comment.
Later in the day, however, Barack Obama's former ethics chief said that Sanders tweet may have violated federal law. The Hatch Act prohibits most federal employees, including the White House press secretary, from engaging in certain partisan political activity, specifically with regard to upcoming elections.
"I do think that the tweet raises the Hatch Act question," Norm Eisen, formerly the White House Special Counsel for Ethics and Government Reform, told Newsweek on Friday. "I think it's wrong in its own right because the president is a professed candidate who has raised over $100 million in campaign donations, and a member of his administration should not be talking about that upcoming race."
If Sanders did break the Hatch Act with her Clinton tweet, it wouldn't be the first time, or even the second. The week before, Sanders posted a picture, again to the official press secretary Twitter account, of her and Kanye West during his recent visit to the White House. West was wearing a "Make America Great Again" hat at the time, meaning that Sanders had published Donald Trump's campaign slogan on an official government Twitter account.
That led to a Hatch Act complaint by Citizens for Responsibility and Ethics in Washington (CREW). In a statement, CREW noted that the Office of Special Counsel (OSC), which handles Hatch Act complaints, had issued a guidance in March in which it warned that "while on duty or in the workplace, employees may not: wear, display, or distribute items with the slogan 'Make America Great Again."
After that guidance was issued — but before Sanders tweeted the West photo — Sanders and nine other Trump administration officials were the subject of a separate batch of Hatch Act complaints, also from CREW, for posting tweets in support of Trump or the Republican Party. Before all of this, Hatch Act complaints had been filed against senior presidential adviser Kellyanne Conway, White House Director of Social Media Dan Scavino Jr and U.S. Ambassador to the United Nations Nikki Haley for various comments or tweets they'd made in 2017.
"All of these seemingly small violations are what sets an administration on a slippery slope to larger criminality," Eisen told Newsweek. He added that the number of Hatch Act complaints filed against Trump administration officials is "utterly unprecedented."