Sarah Hyland Has No Personal Style (But Not In The Way You Think)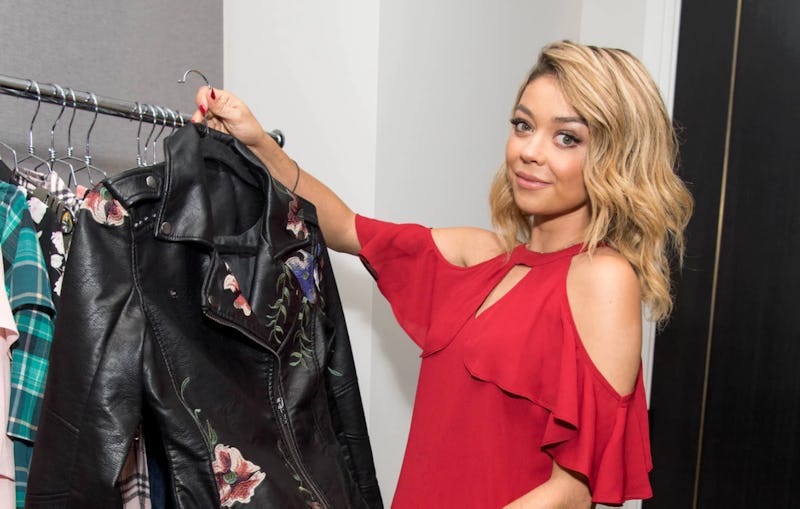 Emma McIntyre/Getty Images Entertainment/Getty Images
As the creative director of Candie's, it might seem strange that Modern Family actress Sarah Hyland doesn't have a signature style. But in fact, it makes more sense than you'd think — by having no "uniform" or aesthetic to stick to, she can try out whatever she's feeling. While chatting about her new back-to-school collection for Candie's, Hyland explained how she treats getting dressed every day like it's her job (literally).
"My personal style is very eclectic, and it really depends on my mood," she says. "It's like being an actress. I can play a different character every day."
Even if you're not an actress, she makes a great point — the way you get dressed in the morning is a great way to tap into whatever you feel like, without the pressure of thinking about whether something is "your style." It's just about whether you like it or not, and that can feel freeing. "I don't like rules, and I don't like to be held down," says Hyland.
When she's looking to try something different, Hyland has a few tricks up her sleeve — she'll choose a statement piece and build around it (like this red dress with ruffled sleeves and a cold shoulder). She's also a fan of mixing and matching pieces with different vibes.
"For example, one of our pieces from the collection is a crushed velvet pink top, which on its own is very girly. And then you can take that and pair it with a black pant and a blazer with lace sleeves and then I'll just have an edgy look with a pink top," she says.
When it comes to mixing and matching, she has a few other pieces she's leaning on for fall, too.
Here are three style staples Hyland's loving right now.
1. Plaid Top
Candie's Roll-Tab Shirt, $25, Kohl's
"I love plaid, I think it's super in for fall and you can never go wrong," says Hyland.
2. Skinny Dress Pants
Candie's Pull-On Skinny Pants, $28, Kohl's
Dress pants you can slip on? Yes, please. "It's a must-have — it goes with everything," says Hyland.
3. Floral Embroidered Leather Jacket
New Look Embroidered Hero Biker Jacket, $95, ASOS
Candie's has its own version coming out in September, but this is similar to one of Hyland's favorite pieces. "It's really edgy but the flowers make it super flirty and fun with a little bit of an edge," she says.