Sarah Hyland & Wells Adams Are Celebrating ANOTHER Anniversary, But It's Adorable Anyway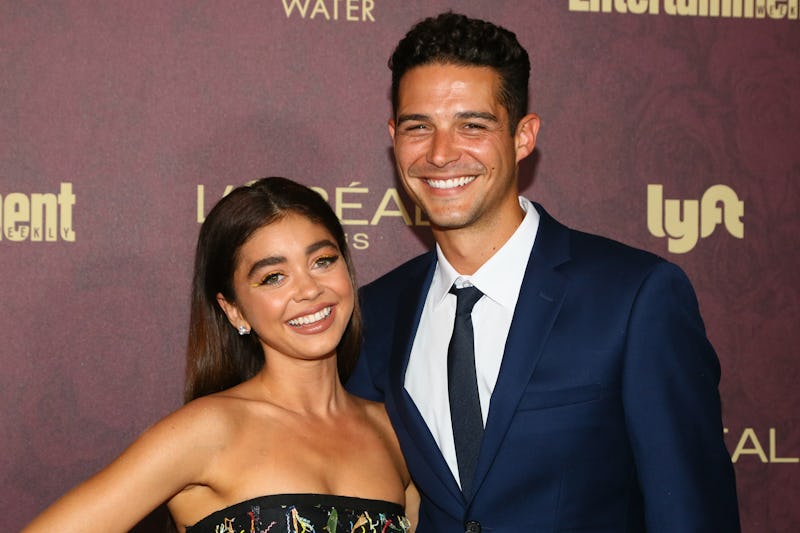 Gabriel Olsen/Getty Images Entertainment/Getty Images
It's hard to believe that Wells Adams and Sarah Hyland have been together for a year, but this week, they're celebrating their first dating anniversary as an official couple. And if you're thinking, "Wait, didn't they already do that?" you're kind of right — they did post on Instagram about the anniversary of their first kiss. But on Monday, Hyland posted about their real dating anniversary, the one that marked a year from when they officially became boyfriend and girlfriend. Yes, this seems like a lot of anniversaries, but these two are adorable, so who cares?
Hyland shared a photo of she and Adams posing on the beach together, grinning as he holds a bottle of rosé. She wrote:
"A year ago I impatiently asked @wellsadams 'when are you gonna ask me to be your girlfriend?!' I still can't tell if I just bullied you in to being with me and you're scared to leave? But please don't. Thank you for being the @stevehowey To my @katehudson In #bridewars ... Now, let's get tan again and drink all the rosé."
She also added a disclaimer about the way her feet look in the photo, adding, "my toes are in the sand and it looks like I have a hoof. Then again I am a Sagittarius so maybe I dooooo."
And if that isn't adorable enough for you, Adams made an Instagram post of his own, sharing photos that he and Hyland took the day they decided they were an official couple, telling the same story from his perspective.
He said in his caption:
"A couple hours after we took these pics, @sarahhyland said 'when are you going to ask me to be your girlfriend.' I said, 'right now.' I then doubled down and said 'I'm falling in love with you.' She responded with, 'I can't say that yet.' And then like 15 minuets [sic] later she did. Happy anniversary, baby. I love you most."
So there you have it: Oct. 15 is Adams and Hyland's official dating anniversary, while Sept. 16 is actually the anniversary of their first kiss. It took almost a month for them to make things official, but it seems like the timing couldn't have possibly been more perfect for either of them.
Even though they were much more private when their relationship was still new, over the past year, Adams and Hyland have been no stranger to social media PDA. They've both shared tons of couple-y photos, gushing over their feelings for each other. Most couples don't have a photo of themselves kissing while riding two separate horses, but of course, these two do.
And then, there's this photo that Adams shared a couple of months after they got together, where they were so ready for brunch. They're all about sharing a mixture of funny and sweet photos, which seems to be a perfect metaphor for their relationship so far.
After watching Adams' journey on The Bachelorette and Bachelor in Paradise, it's even more special to see him so happy with Hyland, since they make such a great match. Hopefully, there are many more anniversaries for these two on the way.