Sarah Hyland & Wells Celebrated Their 1-Year Anniversary With Really Sweet Instagrams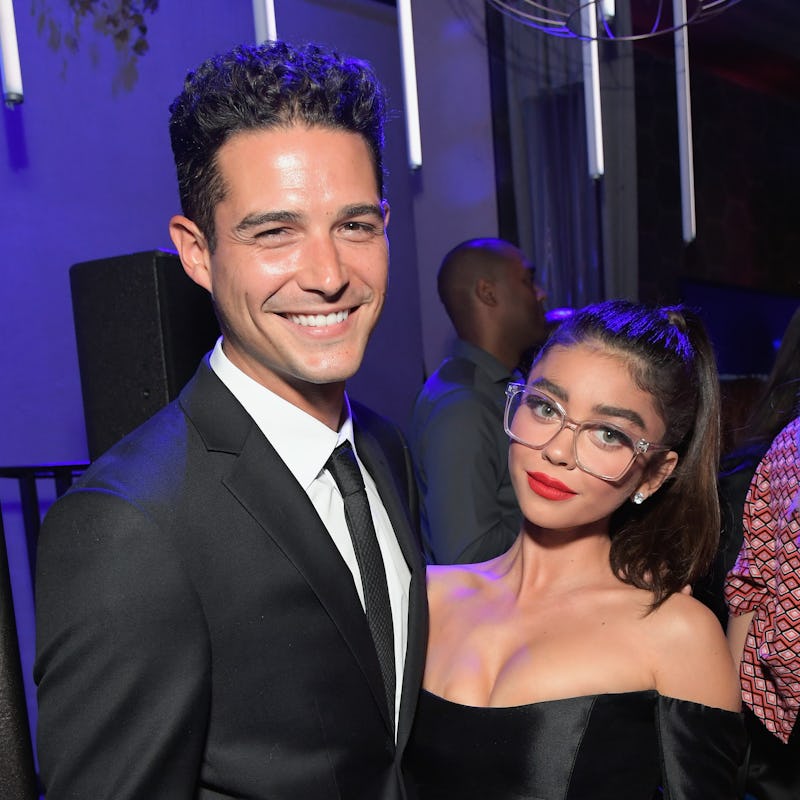 Charley Gallay/Getty Images Entertainment/Getty Images
Congratulations are in order for Sarah Hyland and Wells Adams: They've been officially dating for a year. Of course, Sarah Hyland and Wells Adams posted about their one-year anniversary on Instagram. Are you even dating for a year if you don't commemorate the occasion on social media? Well, yes, technically you are, but it's just not the same.
That's especially true for all of fans of Swells (or whatever their combined couple name is), who have become accustomed to seeing their relationship updates on Instagram and Twitter. Modern Family and Bachelor fans are so invested in this relationship and have been since the very beginning. Even so, the exact start date of this relationship was not always clear, at least until now.
Not only do the anniversary posts add even more cute coupledom to the internet, but they also confirm the beginning of their relationship to be Sept. 16, 2017. Wells shared a photo of the couple nuzzling noses at a red carpet appearance and wrote,
"I kissed this beautiful woman for the the 1st time a year ago today. Best year of my life. I love you to Pluto and back @sarahhyland."
There's no better way to mark the start of a relationship than a first kiss, right?
Hyland shared her own anniversary post, with a little more detail. She too confirmed that their first kiss went down on that day and that she also loves him to "Pluto and back," which is clearly an inside joke between the couple. This was further emphasized when Hyland commented on Wells' post "To Pluto and back" along with some kissy face emojis.
In her own anniversary post, Hyland wrote,
"1 year ago today, You asked to hold my purse when I was dancing. In that moment you took my heart. You then gave me my last first kiss. And in that moment you took my breath away. I love you to Pluto and back @wellsadams *YES PLUTO IS A PLANET. IT WILL ALWAYS BE*"
Of course, Wells and Hyland's fans are all about the duo's social media updates, but the Bachelor alums are especially on board with and vocal about their approval of this relationship. Adam Gottschalk commented, "Feels," along with a fire emoji on Wells' post.
Raven Gates turned to emojis to express her reaction, posting crying face and heart-eye emojis.
JoJo Fletcher, the lead on the season of The Bachelorette where fans first "met" Wells, commented with a fire emoji and a red heart emoji.
Alexis Waters also turned to the emojis, posting four red heart emojis in response to Wells' post.
Wells' longtime friend, and Bachelor in Paradise love interest of one minute, Danielle Maltby wrote, "I love sentimental Wells. Y'all make me happy." Awww.
For the most part, the anniversary posts received lots of love. However, the captions did invoke some comical questions and comments.
Wells' friend from The Bachelorette Season 12, Jordan Rodgers wrote, "This would be more powerful if you referenced an actual planet, not a random ice rock floating in space.... still cute... but could be cuter." Wells and Hyland being any cuter than they already are? Is that even possible?
Wells responded with, "Uranus doesn't quite have the same ring to it." It really doesn't. Hyland chimed in with "#justiceforpluto."
Aside from the comical astronomical debate, there were some questions about the anniversary itself — does it start on the first date or the first kiss?
On Hyland's anniversary post, actor Francia Raisa asked, "Soooo does this mean he was right and it counts from the first date? Lol!" Hyland replied, "hahaha I'm not sure. I think we'll celebrate both! Hahaha." Why not celebrate both and some other anniversaries into the mix as well?
It may still be a teeny bit unclear when this romance "officially" started up, but Hyland (and presumably Wells) are both sure about one thing, this is their last "first kiss anniversary." This is it for them. It sounds like they've both found "the one," and there will be many anniversaries to come.