Sarah Hyland & Wells Adams' Relationship Is Way More Serious Than You Thought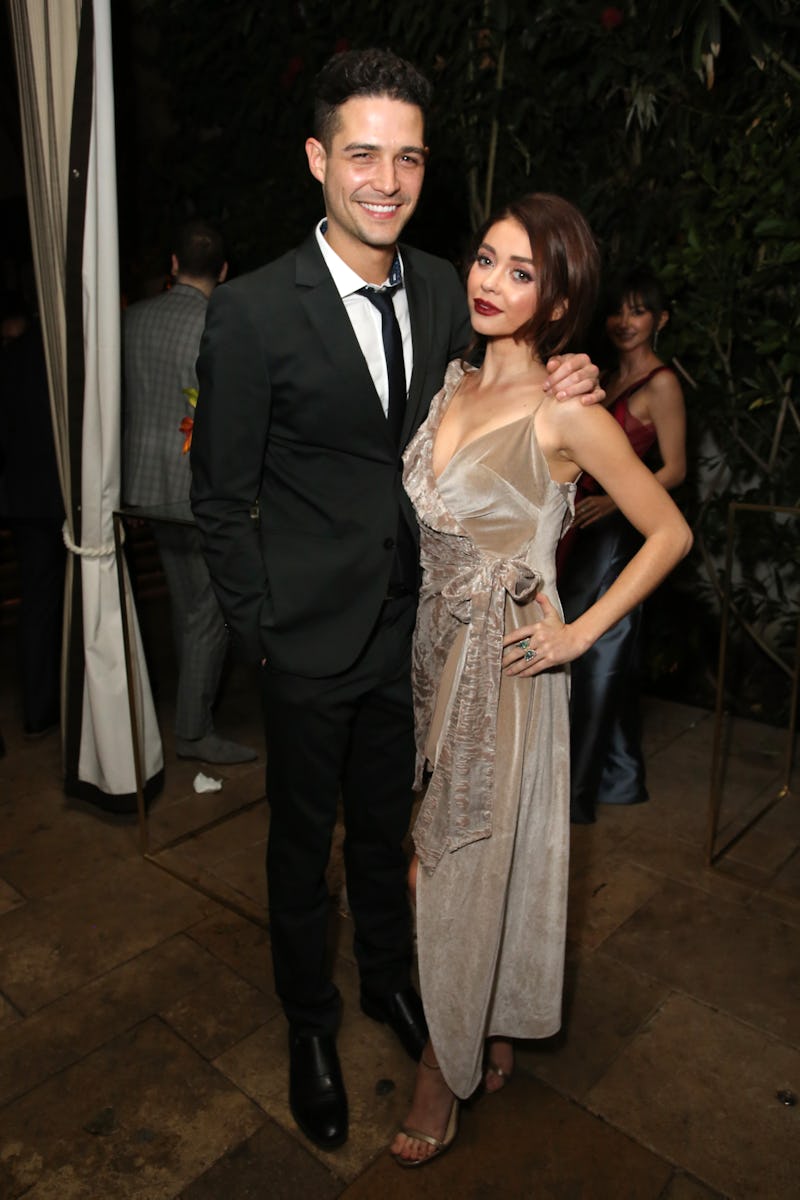 Rachel Murray/Getty Images Entertainment/Getty Images
Sarah Hyland and Wells Adams haven't been dating (at least, not publicly) for too long, but they've already taken a major relationship step. Speaking to Entertainment Tonight at a jewelry event on Tuesday, Hyland revealed that Adams knows what engagement ring styles she likes. You know, just in case. The event was to celebrate the release of jewelry designer Lorraine Schwartz's new collection, The Eye Bangles, but ET asked Hyland about a different type of sparking jewelry.
When ET asked Hyland if she'd thought about what type of engagement ring she might want one day, the Modern Family star confirmed that, yes, she's given the topic plenty of thought. "Um, I'm a 27-year-old woman, of course I have," Hyland told ET. "I'm a 27-year-old woman at a jeweler's event, of course I have."
Adams wasn't at the jewelry event with Hyland, but she told the outlet that they've already discussed what kinds of engagement rings she favors. "He knows what it is, so it's fine," Hyland told ET of her engagement ring taste.
The actor and the former Bachelorette contestant first revealed that they were seeing each other last October. Adams and Hyland made an adorable couples' costume for Halloween. He went as Stranger Things' Eleven — complete with a wig, a bloody nose, and a box of Eggo waffles — while Hyland dressed up as the show's fan-favorite sidekick Dustin.
Hyland and Adams are both part of the ABC family, though they didn't meet through the network. Adams competed for JoJo Fletcher's heart on ABC's The Bachelorette, and he also appeared on Bachelor in Paradise. Hyland, meanwhile, stars on long-running ABC sitcom Modern Family. But it turns out, they met in a more relatable way — Adams direct messaged Hyland. The actor told Jimmy Kimmel that Adams asked her out through DMs, and they had a successful first date getting tacos.
Since their Halloween posts, Hyland and Adams have continued to share photos of each other on social media. Based on their posts (and Hyland's statements on Tuesday), it looks like they've grown super close the past few months. Hyland shared a photo of herself and Adams on Instagram in November, thanking him for celebrating her birthday week. The two of them look super happy and comfortable together. Hyland captioned the photo,
"This one ❤️ @wellsadams took my birthday and made it in to an entire week celebration. No one makes me feel as special as you do. Hey... You're my favorite thing 💋 (also. These Club 33 pictures were WAY too good not to post soooo 💁🏻 #sorrynotsorry )"
In a People interview in December, Hyland also revealed that Adams appreciates her sense of humor, which is something she likes about him. "I think the only person who actually somewhat finds me funny is my boyfriend," Hyland told People. The millions of people who watch Modern Family might not agree with that statement, but it's sweet to hear that she and Adams are on the same wavelength.
The couple has already taken at least one big relationship step together, too. In December, Hyland shared a cute photo of her and Adams sporting animal-inspired onesies, and in the caption, she revealed that she spent the holidays with Adams' family in Nashville. That's definitely a big relationship step, so it might not be too surprising that the couple has discussed engagement rings, even if only in passing.
Hyland and Adams may be less than a year into their relationship, but it sounds like they've already gotten super close to each other. It might not be anytime soon, but don't be surprised if there's an engagement announcement from these two at some point down the road.