Sarah Hyland's TV Mom Is On Board For Her Relationship With Wells Adams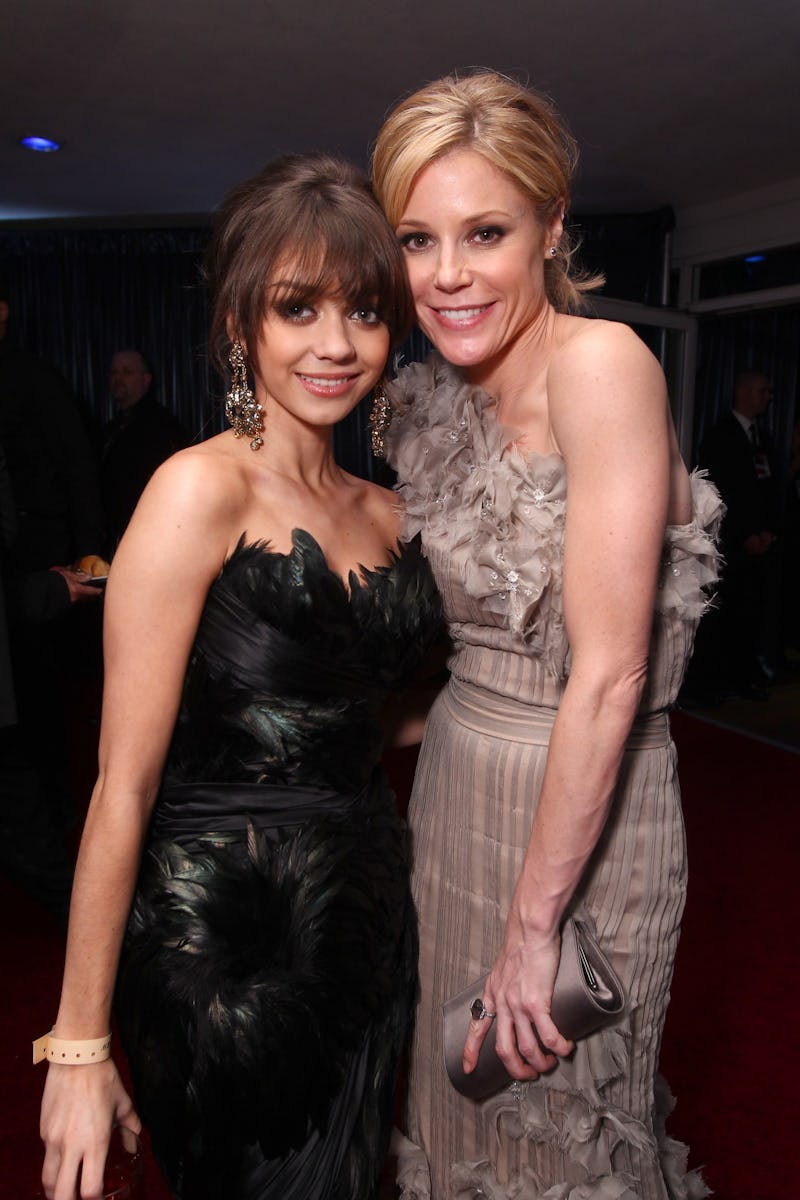 Alexandra Wyman/Getty Images Entertainment/Getty Images
There have been rumors circulating since Halloween that Sarah Hyland is dating Wells Adams. Neither of them have outright said, "Yes, we are a couple," but based on all of their social media photos and comments, they're not really keeping anything a secret. But, if you're looking for further confirmation, here you go. Julie Bowen discussed Hyland and Adams with Entertainment Tonight on Saturday, Nov. 11 and basically admitted the two are dating and head over heels for each other.
"I have not met him," Bowen dished, before adding, "I can only say I was in on the ground floor of the flirting." She then said, "He seems lovely, he seems like a really nice guy and he treats her really well. She's happy as can be. That's all you can want for your daughters, fake or real."
As Hyland's Modern Family co-star and TV mom, Bowen would most likely know what's going on in Hyland's personal life. Despite not meeting him (yet), he seems to have Bowen's approval. If the 26-year-old star really is as happy as Bowen said she is, that's wonderful. Plus, it seems that Bowen couldn't be happier for her TV daughter — and she definitely has her approval when it comes to Adams.
Bowen's interview is further confirmation that the new couple really is a couple. During the Nov. 8 episode of The Morning Breath, Adams briefly talked about Hyland and essentially confirmed he was dating her. He said, "To be fair, if you really want to know anything, just look at my social media." So, yes, he pretty much revealed that they are dating, but it's nice to hear from another source about their status and how great they're doing together.
Over Halloween, the two made headlines after they dressed up as Eleven (Adams) and Dustin (Hyland) from Stranger Things. Of course, then people began wondering if they were romantically involved. At the time, a source told People about Adams and Hyland, "They've been friends for a while and now they've been hanging out and spending more time together. They're flirty." Us Weekly also reported that a source confirmed Hyland and Adams have been "seeing each other for months." Over the summer of 2017, Hyland and Dominic Sherwood broke up after more than two years together.
The two certainly haven't been shy about sharing couple-like photos on Instagram, either. The way they're staring at each other in the above IG pretty much says exactly how they feel about each other. Then, there is the following image, posted by Hyland in November. As you can see, she captioned it, "He puts up with me." She even used a heart emoji.
The Modern Family actor also posted a photo of herself wearing a necklace with the letter "W" on it. She even tagged Adams in it demonstrating that the piece of jewelry is most definitely for him. If that isn't enough, Adams shared a screenshot of himself sitting on a couch from what appears to be a TV interview segment and used the following caption: "A picture of me thinking about a picture of you." Yes, he tagged Hyland.
Finally, there is this Instagram from Hyland, which she shared on Monday. It is of herself, Adams, and his dog "spooning" in bed.
They definitely aren't trying to hide their relationship, whatsoever. So much so that even Bowen feels comfortable enough to discuss it in an interview. There's no denying that based on what Bowen has said and every single photo of Hyland and Adams across social media, they are extremely happy and don't care who knows it.