Wells Went To Sarah Hyland's High School Reunion & It Was Actually Super Cute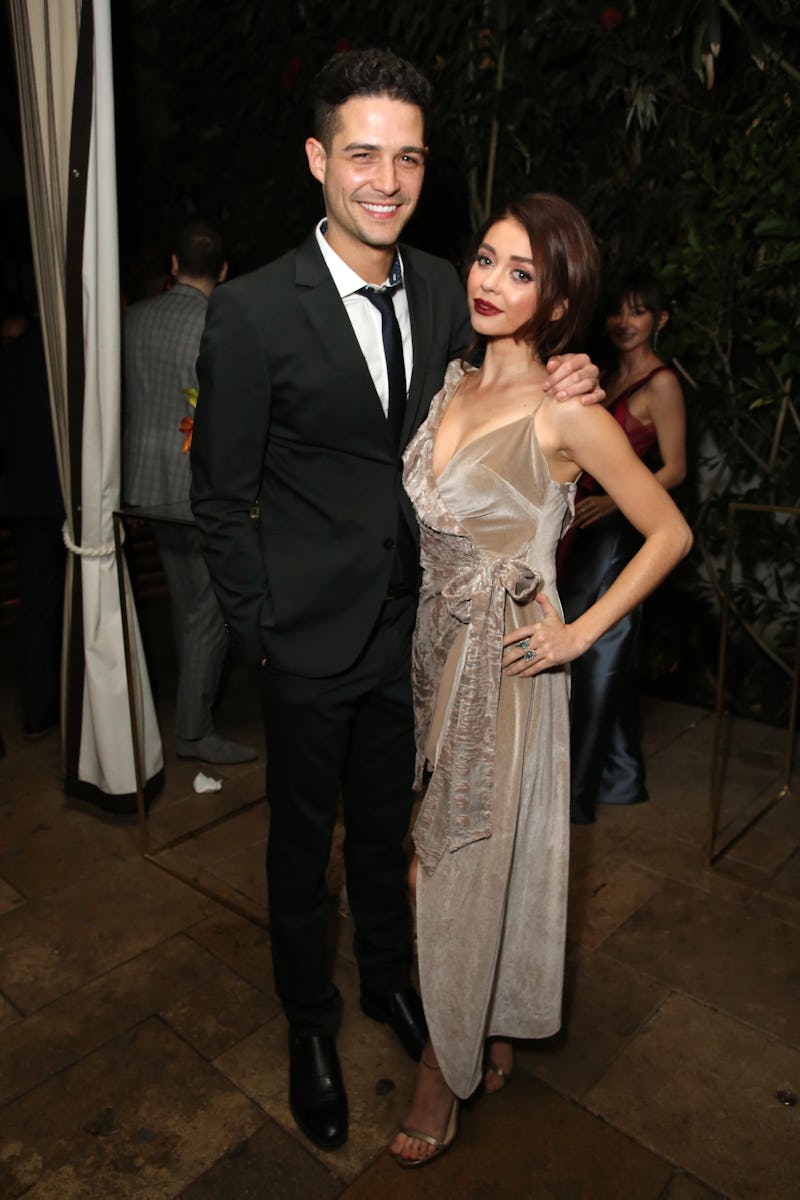 Rachel Murray/Getty Images Entertainment/Getty Images
It can be intimidating to return home, and it's always good to have some support. Over the weekend, Wells Adams went to Sarah Hyland's high school reunion, and if that isn't love, who knows what is. On Saturday, the couple rolled up to the reunion together, and shared plenty of pictures and videos from the night on social media. Adams seemed amused by the unconventional date, and started the evening off by posting a video to his Instagram Story. "You want to know what love is?" he said, according to E! News. "Love is going to your girlfriend's high school reunion when you never even went to your own high school reunion."
Not many people want to face old high school peers alone, so it's an understandable position. Even though the Bachelor in Paradise star never reconnected with his high school classmates, he made a point to be at Hyland's side. The Modern Family actor was born in New York City, and attended the Professional Performing Arts School in Manhattan. The small school accepts only about 500 people, and trains students in dance, drama, musical theatre, and instrumental or vocal music, according to the PPAS website.
It might not be a traditional high school experience, but returning to the campus still probably brings back a lot of nostalgic feelings. It's likely been a long time since the 27-year-old star stepped back into the NYC school, and it seems the reunion turned out to be a lot of fun. At the end of the night, Adams shared a selfie with Hyland and her high school pals. "Sarah's high school friends are cool," he wrote.
The reunion was just the first stop on the couple's vacation, and they both continued to document their trip on social media. On Sunday, they shared pictures from the plane while waiting to depart for Mexico. Their flight was apparently delayed for over an hour, and both stars kept themselves entertained by posting to Instagram.
In one super sweet post, Adams shared a pic of the two cuddling to his story, writing: "Honestly it doesn't matter where we are." He also joked about the way Hyland sat in her airplane seat, and criticized her for not pointing out a typo in one of his earlier posts. He'd written that the couple waited on the runway for over "and hour" instead of "an hour," but Hyland didn't point out the error until after the post was published to his story. Hey, it happens.
Hyland also documented their plane troubles, asking fans if they recommended she pass the time with a mimosa or coffee. She then posted a video with her boyfriend, saying, "We're on our way, finally!" Fifteen minutes later, she posted another video to inform followers that plane had not, in fact, took off. When the plane finally did get moving and the couple finally got to head for their getaway, they gave plenty of updates from the sky.
Once in the air, Hyland posted yet another vid sharing their on-flight meals. "I like carbs, Wells Adams is healthy," she joked, pointing to her cinnamon roll and biscuits while Adams snacked on fruit slices. She also shared a funny selfie, writing, "Wells Adams being a cutieee, I'm terrifying." The couple are both known for their great sense of humor, and it always makes their commentary on Instagram pretty hilarious.
The couple finally made it to Mexico, and it seems the trip will be worth the wait. Hyland shared a video update with Adams from what appears to be the outside of the hotel, saying: "We literally just landed in Mexico and he already has a beer with a koozie." Over the video, she also wrote, "I'm so entertained." Later, Adams shared a pic from the hotel as well, where he sat in front of an incredible beach view. "Vacation starts now," he wrote, clearly thrilled to have made it to the destination. This, of course, is not Adams first time in Mexico — the star will appear for the second time as a bartender on Bachelor in Paradise, which is shot on the country's beautiful beaches as well.
No matter where Hyland and Adams are, whether it's a stunning beachside hotel in Mexico, a plane runway, or an unexpected detour to a high school reunion, they always seem to make the best of it. It's what makes it clear this couple is serious goals, and their most recent trip just proves that they're in it for the long haul.