Sarah Hyland's B-Day Message For Wells Adams Shows Just How Serious Their Relationship Is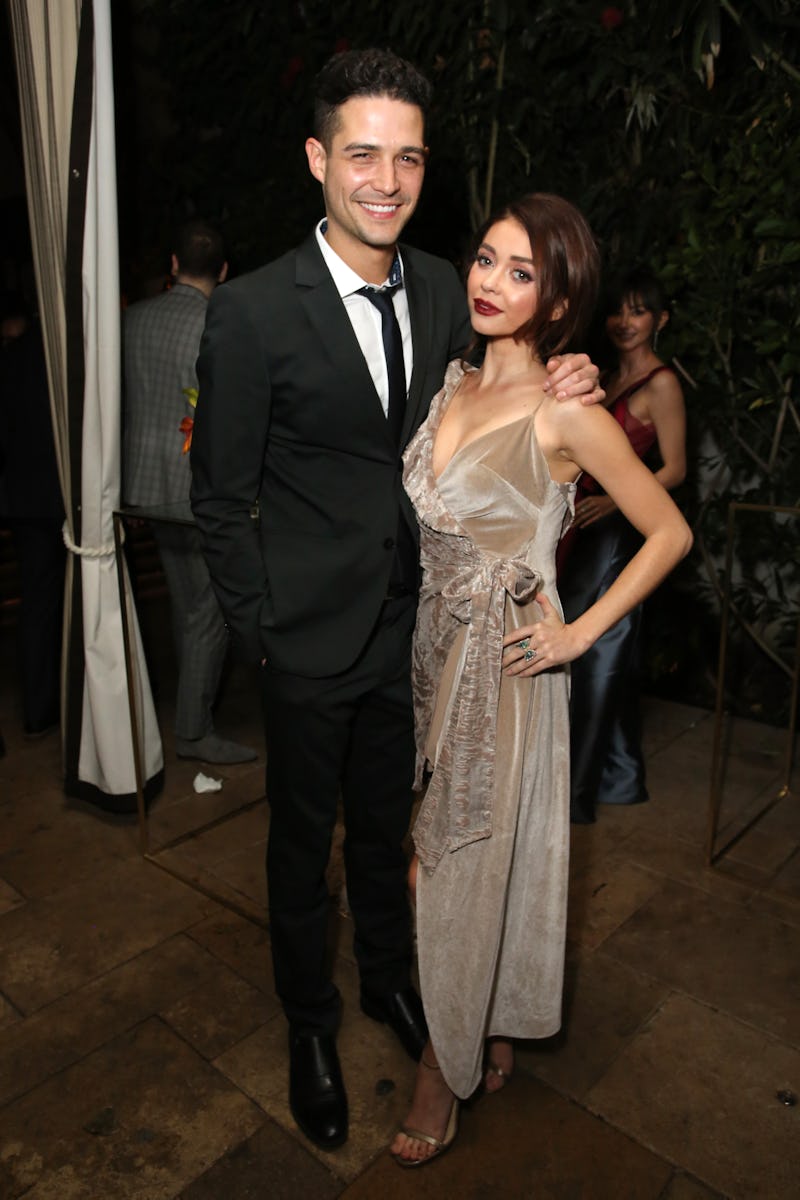 Rachel Murray/Getty Images Entertainment/Getty Images
Attention everyone: Sarah Hyland and Wells Adams are still going strong. And the actor's recent statement for her boyfriend's birthday is the best evidence of that. As People noted, Sarah Hyland wished Wells Adams a happy birthday on Instagram and her statement proves that the couple really are #relationshipgoals.
On May 15, Hyland posted the sweetest note to her boyfriend and managed to share some fun details about their relationship in the process. In the caption for her photo, which showed the lovey-dovey pair all cuddled up, she wrote, "This picture was taken three days after three words were exchanged." The Modern Family actor continued to gush about the Bachelor franchise star, "My smile has only grown, my heart has only deepened, and my world has only gotten better ever since."
OK, if that wasn't enough to make you realize just how adorable Hyland and Adams really are, she continued to lovingly talk about their relationship journey. In her sweet statement, she even let slip one of her pet names for her beau. She wrote, "Thank you for calling me baby even when I'm acting crazy. Happy Birthday Llama!" Hyland hashtagged her post with "#myperson," which shows that these two really are in it for the long haul.
Hyland's message comes days after Adams celebrated his birthday in (literally) his signature style on May 6. The actor, along with one of the reality star's friends, Mr. Steve, The Music Man, threw Adams a surprise birthday party. But, it wasn't just any ol' party. There was a very specific theme for the affair and it all tied back to the guest of honor.
All of the guests at the event dressed as Adams, complete with red flannel shirts. The party even had some Bachelor Nation favorites, Evan Bass and Carly Waddell, in attendance. With this exciting event, and Hyland's adorable Instagram post, the Bachelorette star had to have been feeling the love on his birthday.
Hyland and Adams have been going strong for some time now. The couple have been dating for at least seven months after they first came in contact in that classic 21st century way: through their DMs. As the actor described on Jimmy Kimmel Live!, "He slid into my DMs... we had tweeted each other [before] and I thought he was funny and he was a fan of the show [Modern Family]." She then went on to say that he asked her out to eat (for drinks and tacos, perfect combo) and they soon hit it off.
During Halloween, Adams and Hyland posted photos together in matching Stranger Things costumes, which first sparked relationship rumors for them. Soon after, E! News confirmed that they were indeed an item. Ever since, the cute duo have posted numerous photos of themselves all loved up on social media, including one with Adams' adorable dog, Carl.
Since things are going so well for Hyland and Adams, could the two take the next step in their relationship soon? Well, they have talked about it. According to Entertainment Tonight, the actor has a good idea of what engagement ring she wants. She told the publication, when asked about whether she's thought about her ring (at a Lorraine Schwartz event, to be fair), "Um, I'm a 27-year-old woman, of course I have." She also revealed that her boyfriend is on the same page with her, "He knows what it is, so it's fine."
So, could there be an engagement announcement sometime in the near future? Only time will tell. Whether or not they take that next step, rest assured that Hyland and Adams will keep fans up-to-date on their relationship with some cute social media posts.