Sarah Hyland Spilled What It's Really Like Living With 'Bachelorette' BF Wells Adams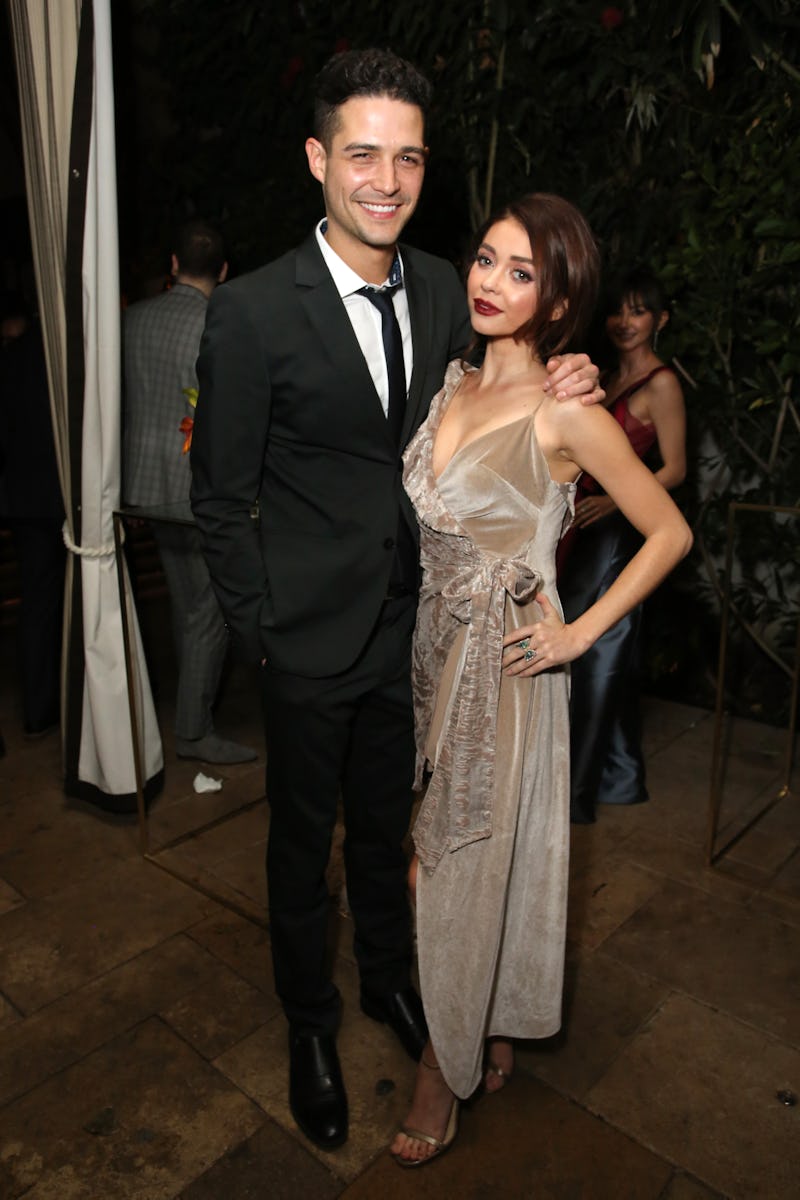 Rachel Murray/Getty Images Entertainment/Getty Images
Wells Adams and Sarah Hyland are a Bachelor Nation couple that fans can't help rooting for. Yes, Hyland was not actually a contestant, but she's a Bachelor super-fan and she's dating one, so they're technically a Bachelor Nation couple. And in a recent interview, Sarah Hyland talked about living with Wells Adams. Spoiler alert: It's going very well. The cute couple just keeps getting cuter. Although truth be told, they're both probably too busy to have any issues living together.
In an interview with E! News, the Modern Family actor shared, "I think it's brought us closer." Even so, she admitted, "I don't think it's been long enough to discover pet peeves in each other." And again, they're both pretty busy these days. How often are they even home? She's a famous actor. He's the Bachelor in Paradise bartender and the host of the Your Favorite Thing Podcast With Wells & Brandi. There really isn't a lot of time to get on each other's nerves.
It sounds like The Bachelorette alum is bringing some great attributes to the table as a roommate. Hyland said, "He's more anal and cleaner than I am," which is something she's totally on board with. She continued, "So, it's great for me."
Hyland and Adams aren't the only ones getting along in their home. No, they don't have roomies. Well, they don't have human roomies, but they each brought dogs into the relationship — something their social media followers are well aware of.
Thankfully, their families are blending together without issue. Hyland told E! News, "The dogs are amazing." She did admit that it has been a little bit ruff between the canines though. She shared,
"There's a little bit of a power struggle with Boo and Carl since they're both big dogs. But Boo is more of a dominant alpha personality where Carl is an alpha-sized dog. But they're having fun finally playing, and it's really nice to see Boo finally play with a dog her own size."
This may seem like a random thing for Hyland to bring up, but the dogs getting along was actually a major concern of the Bachelor in Paradise alum's.
During the July 20 episode of the Your Favorite Thing Podcast With Wells & Brandi, Adams told Brandi Cyrus, "I'll tell you what I'm most concerned about. I'm not concerned about us living together or us getting along or whatever. I'm most concerned about my dogs and her dogs." Luckily, it wound up being just fine.
Why was he so worried about the two canines getting along, though? The podcast host explained, "Carl sleeps on my bed, right? And her dog Boo sleeps on her bed. What's gonna happen?" Maybe they just got a bigger bed for all of the dogs to fit comfortably with zero feelings getting hurt.
Even though they just moved in with each other, it does already seem like a super fun situation. They're always posting about eating tacos and sharing their live reactions to shows like Bachelor in Paradise. That sounds like the ideal living arrangement in all honesty, especially since their dogs get along.
Now that being roomies is going well, what's next for these two? Just imagine how fun a wedding would be full of Modern Family actors and Bachelor alums. Just saying.