The Way Sarah Michelle Gellar Celebrated 16 Years With Freddie Prinze Jr. Will Slay You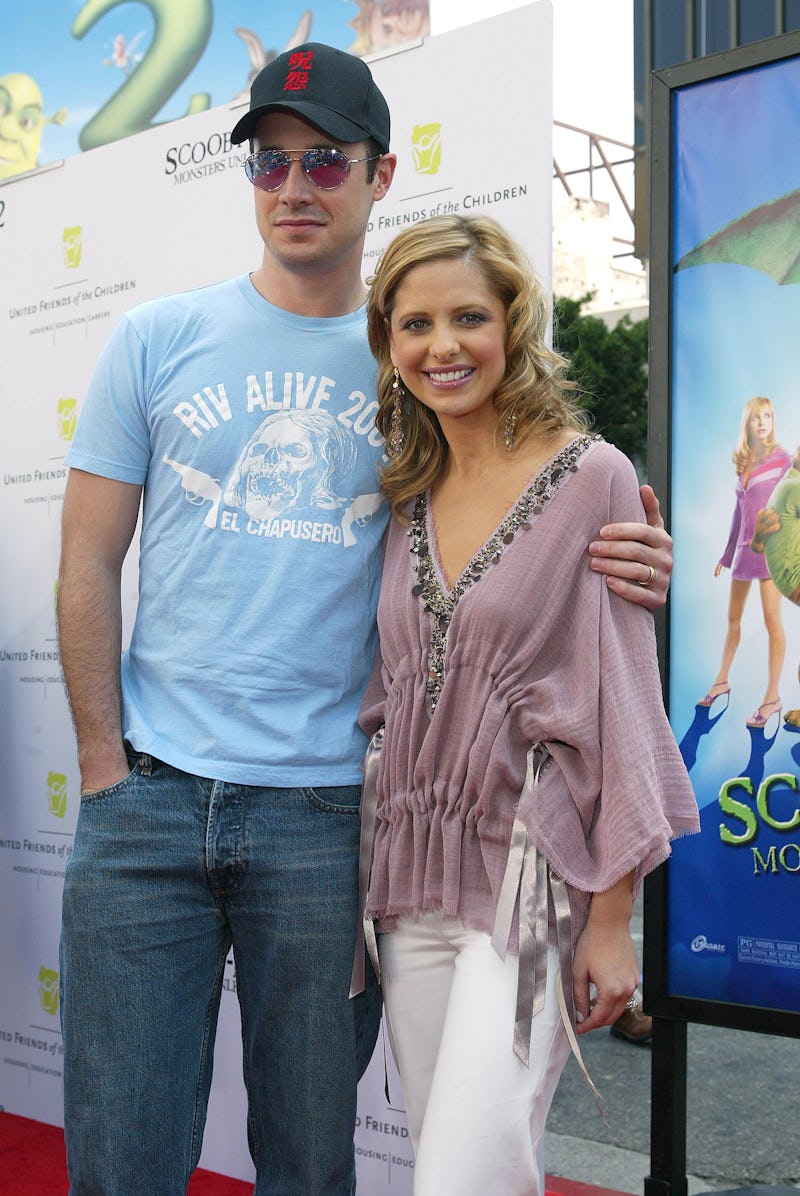 Frederick M. Brown/Getty Images Entertainment/Getty Images
Here's some news that will make anyone who grew up watching '90s teen movies feel super old. Sarah Michelle Gellar and Freddie Prinze Jr. celebrated 16 years of marriage on Sept. 1. It's hard to believe they've already been married that long. It only feels like yesterday they were running from a fisherman serial killer, but here they are. Seeing as this is a special time in their lives, Gellar marked her 16th wedding anniversary on Instagram in a way that will literally make you LOL.
Next to the most adorable selfie of the Buffy the Vampire Slayer star and Prinze that proves they haven't aged a day since starring together in 1997's I Know What You Did Last Summer, Gellar wrote,
"Anniversary #latergram Someone told me -Marriage is like a deck of cards. In the beginning all you need is two hearts and a diamond. But years later, you wish you had a club and a spade. #happyanniversary @realfreddieprinze."
How hilarious is that? Anyone who's been married for as long as they have or even longer can probably relate to Gellar's analogy. Her post is also a testament to her marriage with Prinze. They clearly still know how to have a good time and aren't afraid to laugh, despite how difficult marriage can be at times. It's great to see they haven't lost their sense of humor after all these years. If you can't joke around with the person you love most, then what's the point?
This isn't Gellar and Prinze's only anniversary Instagram. On Aug. 31, the Cruel Intentions actor posted a photo from their rehearsal dinner in 2002. They are both laughing and are even wearing the same exact expression on their faces. See? It was true love from the beginning.
Once again, Gellar slayed it with her caption, as she wrote, "16 years ago today, the night before the wedding. And yes, it was so long ago that pictures were in black and white." OK, Gellar needs to star in a comedy, stat.
No wonder she and the She's All That actor are still enjoying each other's company 16 years later. They started their wedding weekend laughing and here they are doing the same exact thing. If you're able to keep smiling throughout your many years together as a married couple, then you'll most likely be just fine.
According to People, Gellar and Prinze first met on the set of I Know What You Did Last Summer, but they didn't start dating until a few years later. As Prinze told E! News in August 2017, "We were just friends. That's one of the reasons I think our relationship has always been so good. We were just friends for a good two years before we ever went on a date."
In September 2017, Prinze opened up about Gellar to Us Weekly and said, "From the first time we kissed, I didn't go on another date. It was just Sarah. We were kind of at the right place in our life."
Like Prinze said, they fit together perfectly and look at them today. The couple, who have two kids, 8-year-old Charlotte Grace and 6-year-old son Rocky James, are doing something right. They still are head over heels for each other and have worked hard to get to this point of their relationship. Their love is to be admired.