Sarah Palin Said The 'Borat' Actor Played A Ruthless Trick On Her For His New Show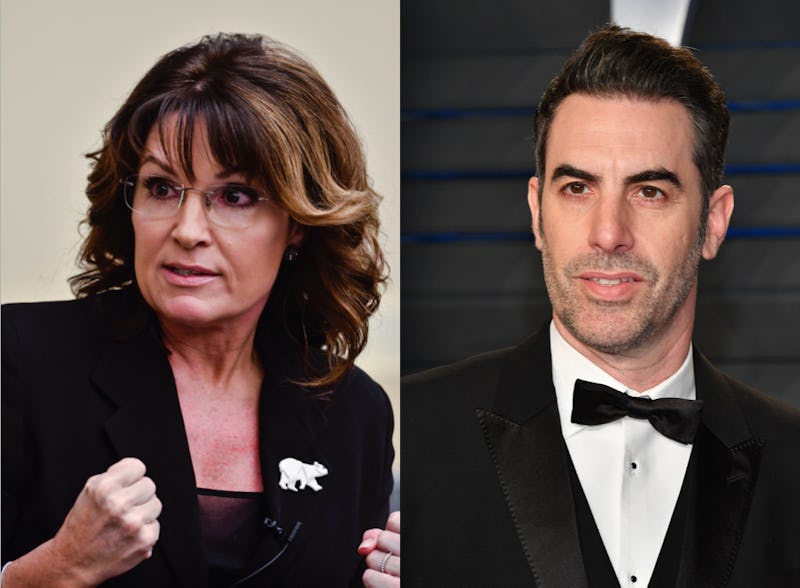 Kris Connor; Dia Dipasupil/Getty Images Entertainment/Getty Images
It looks like a prominent comedian took trolling to another level. In a diatribe unleashed on Facebook, former Alaska Gov. Sarah Palin claimed Sacha Baron Cohen duped her into giving an interview for his new show, Who Is America? The upcoming series will air later in July; the reported incident between Palin and Cohen, according to an anonymous source that spoke with Daily Mail, took place in November. According to the newspaper, Palin said Cohen dressed up as an injured American soldier in a wheelchair.
"For my interview, my daughter [Piper Palin] and I were asked to travel across the country where Cohen (I presume) had heavily disguised himself as a disabled U.S. Veteran, fake wheelchair and all," Palin said on Facebook.
"Out of respect for what I was led to believe would be a thoughtful discussion with someone who had served in uniform," Palin went on, "I sat through a long 'interview' full of Hollywoodism's disrespect and sarcasm — but finally had enough and literally, physically removed my mic and walked out, much to Cohen's chagrin."
The former 2008 Republican vice presidential candidate seemed unaware of Cohen's well-known practice of disguising himself as other people — in often bizarre and exaggerated get-ups — for interviews. "The disrespect of our U.S. military and middle-class Americans via Cohen's foreign commentaries under the guise of interview questions was perverse," Palin wrote.
Cohen, who gained immense popularity by appearing in Borat: Cultural Learnings of America for Make Benefit Glorious Nation of Kazakhstan, is known for his style of mockumentary. It's raunchy and unapologetic — and it displeased Donald Trump enough to get some strong-worded statements out of him.
While speaking of Cohen who played Borat, Trump once said there was a "third-rate character named Sacha Baron Cohen" whom he wished "would have been punched in the face so many times right now that he would be in a hospital." Trump told Cohen to "go to school" and "learn about being funny."
Trump had also shared similar thoughts about Cohen after the comedian "accidentally" spilled ashes on Ryan Seacrest. If Seacrest had security, Cohen "would not be in good shape right now, he would in the hospital, he would have been punched in the face so many times he wouldn't have known what happened," Trump said.
Cohen, ever the one to use aggressive and strange words for his own comedy, took some of Trump's comments and put them in his July 4 video this year. Almost instantly it went viral.
It doesn't look like Palin knew about Cohen's comical portfolio, which is full of trolling people here and there. She's not the only one to have been duped; former Vice President Dick Cheney, infamous for his strong support for waterboarding detainees, was also tricked into signing a "waterboard kit" by Cohen.
In her comments on Facebook, Palin said, "Yup, we were duped. Ya' got me, Sacha. Feel better now? I join a long list of American public personalities who have fallen victim to the evil, exploitive, sick 'humor' of the British 'comedian' Sacha Baron Cohen, enabled and sponsored by CBS and Showtime."
Clearly unhappy by the trick, Palin then said, "Here is my challenge, shallow Sacha boy: go ahead, air the footage. Experience tells us it will be heavily edited, not pretty, and intended to humiliate."
"The challenge is to Cohen, CBS and Showtime: donate all proceeds to a charitable group that actually respects and supports American Vets," she wrote. "Mock politicians and innocent public personalities all you want, if that lets you sleep at night, but HOW DARE YOU mock those who have fought and served our country."
On Twitter, however, Palin did not have many sympathizers. Comedian Deven Green tweeted, "First, we find out Sacha Baron Cohen tricked, Evil's Official Spokesperson, Dick Cheney, into signing his waterboard. Now, we discover that he tricked thirsty, attention-junkie Sarah Palin into being mocked right to her face?"
"Frankly," Green said, "I can't wait."