Sarah Paulson's Comments About Age Will Make You Rethink The Phrase "Over The Hill"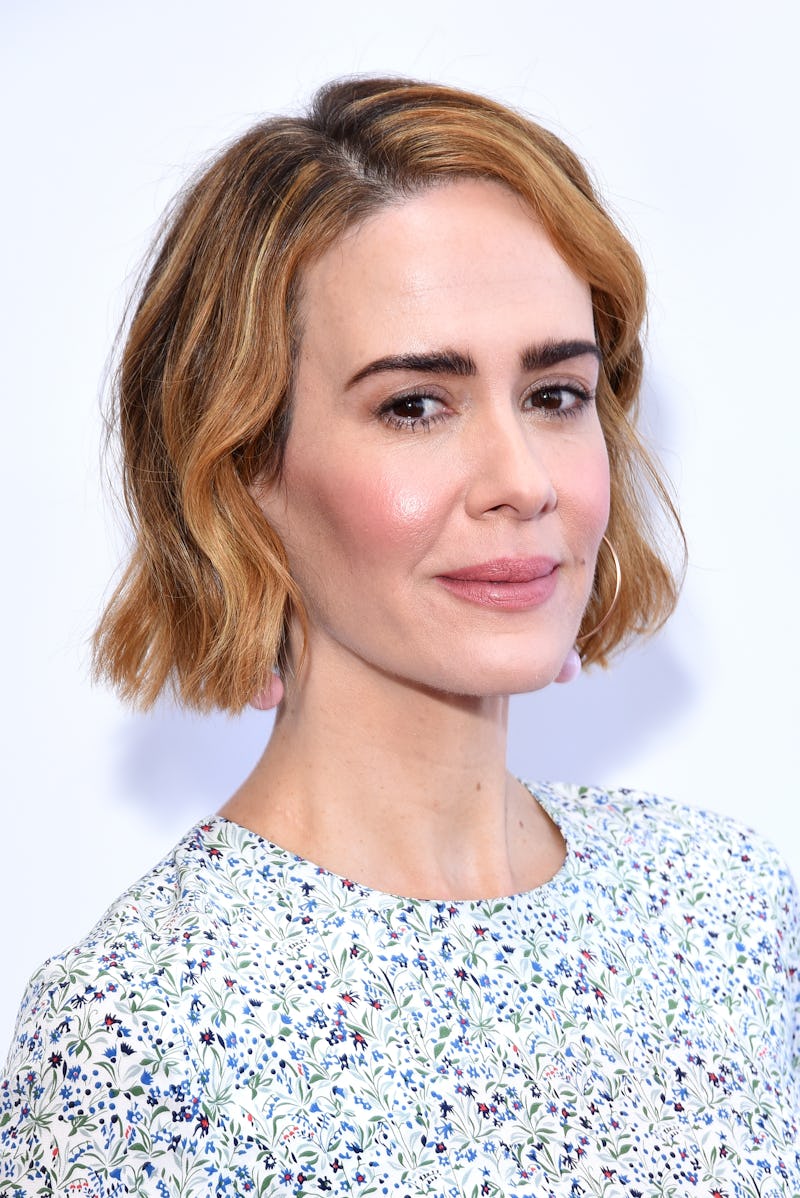 Presley Ann/Getty Images Entertainment/Getty Images
It's never too late to follow your dreams, and Sarah Paulson is living proof. In a new interview with Elle, the Emmy winner opened up about her Hollywood experience. Sarah Paulson's comments about ageism are a refreshing reminder that life doesn't end at a certain age.
A quick scroll through Paulson's IMDb page shows that the actor is an industry veteran, with her first credited role listed as a 1994 episode of Law & Order. But Paulson really became a household name thanks to HBO's Game Change and her work with Ryan Murphy on American Horror Story and American Crime Story. The actor told Elle,
"Interest in me sparked when I was in my very late thirties. I have absolute terror and fear that someone's gonna go, 'You turned 45. Bye-bye.' I hope I don't get told to go back to bed. I have a lot more to do and say."
Paulson also talked about ageism within Hollywood casting, telling the magazine that "there's this notion that women fall apart after 45." But as plenty of women older than 45 can tell you, that couldn't be further from the truth.
"It's been perpetuated by Hollywood by not putting the stories of women over certain ages front and center," Paulson said to Elle. "They're dictating what they think is interesting, and we are consuming it and deciding that what they're telling us is true."
Paulson's comments are super honest, and they shed light on an issue that's all too common in Hollywood. It's no secret that many younger women are cast in roles that might be more fitting of an older star. Just look at the age differences between older men in movies and the women cast to play their love interests.
The problem extends beyond romantic movies, too — there was plenty of backlash, for example, when Jennifer Lawrence played a divorced mom with three kids in 2015's Joy. That same year, Lawrence herself told The New York Times that she was too young for her roles in American Hustle and Silver Linings Playbook. (Ageism does affect men in Hollywood, too, though not to the same extent.)
Thankfully, comments like Paulson's can help change people's perceptions about older women on screen. The actor's career shows no signs of slowing down anytime soon, age be damned. And she's far from the only person who wants to see better roles for older women on screen; her comments are sure to resonate with plenty of other actors.
In the Elle interview, Paulson also talked about gender equality and the "empowerment" she's felt from her recent TV roles. "This movement can be misconstrued as 'Hey, men, get out of the way.' I just want a seat at the table where they're all sitting, and have been for so long," Paulson told Elle. I want a cushion — a cushy seat — and a sense that I have value and I'm allowed to stay."
It's not hard to understand where Paulson is coming from — when one group is used to receiving special treatment, equality for others can feel like discrimination. But Paulson isn't trying to remove men from the picture, or to have older actors take roles from younger ones. There's enough room for a variety of faces and perspectives in Hollywood, and Paulson's recent roles in Ocean's 8 and American Horror Story are evidence of that.