Sarah Ramos' 'City Girl' Is The Early 2000s Throwback Show Of Your Dreams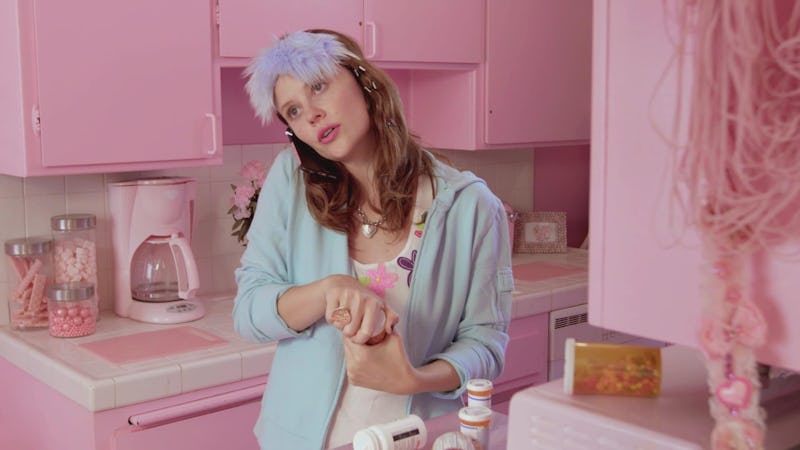 Super Deluxe
Ah, the early 2000s. What a time to be alive. It was a time where Paris Hilton was saying, "That's hot," Brad Pitt and Jen Aniston were still a thing, and the fashion was iconically flashy, but practical. This nostalgic aesthetic can be relived again in Super Deluxe's new web series City Girl, written by star Sarah Ramos when she was 12 years old. The show follows the hilarious antics of Casey Jones, played by Ramos, a trendy boutique owner who falls in love with her doctor after seeking his help to cure her crippling migraines. Ramos tells Bustle that she recently discovered the screenplay and decided to bring it to life.
"I don't remember how I came up with this bizarre medical romance. I remember I was writing a rom-com for Reese Witherspoon because I loved Legally Blonde," Ramos tells Bustle. "And more recently, I just found [the screenplay] in my childhood closet, and I was, like, dying laughing. My boyfriend [Matt Spicer], who's also the director, and I just agreed we had to make it."
Like all early 2000s-era cinematic masterpieces, City Girl is filled with zingy comebacks, a complicated love drama, and loyal best friends, who are played by Alia Shawkat, Dylan Gelula, and Esther Povitsky. Despite only being 12 when she wrote it, it's clear that Ramos had a real grasp on the genre and what makes it work. She credits films like Bring It On, Legally Blonde, and the Mary-Kate and Ashley Olsen straight-to-VHS movies with shaping the storyline, as well as TV heroines Lizzie McGuire, Paris Hilton, and Nicole Richie with inspiring the characters' outfits.
"I can only guess what inspired it based on what I was obsessed with at the time. Just the whole era, I was glued to the TV at all times," says Ramos. "When I remade it now, it was really fun to go back and actually look at it all again, to just realize how bizarre the fashion was or the hair and makeup was. It was a 'more is more' time."
As for the finished product years in the making, Ramos thinks it came out even better than she originally foresaw it being. "12-year-old Sarah was not a fashion daredevil and I probably would have thought certain touches and fashion statements were too much and played it a little cool," Ramos said of how Casey would have differed if the series had been made then. "Now I'm confident and I have an amazing costume designer. We really went for it and gave everyone a lot of 'lewks.'"
Whether you were on Team Paris or Team Nicole in the 2000s, one thing we can all agree on is City Girl is pure genius. It perfectly encapsulates an amazing time in pop culture that delivers a sense of fun, whole-hearted nostalgia we all could use right now. Check it out on Super Deluxe's YouTube page now.