Sasha Obama Graduated High School & She Might Have A Big Move Ahead Of Her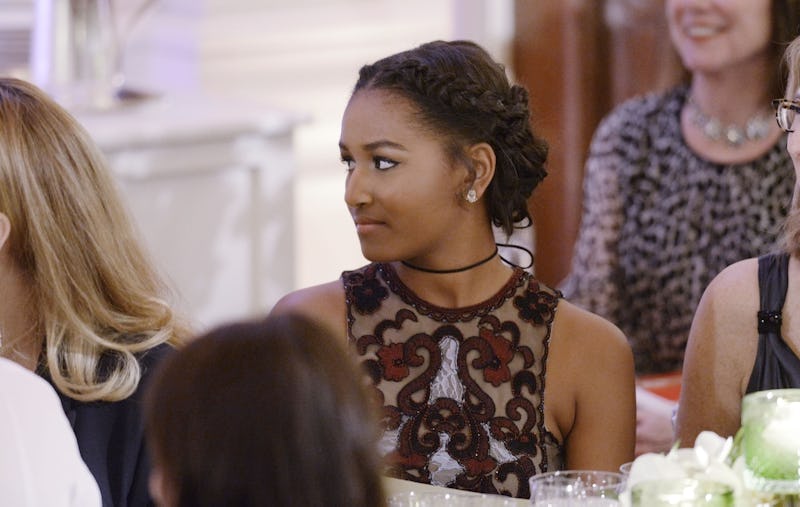 Pool/Getty Images News/Getty Images
On Tuesday, former "first kid" Sasha Obama graduated from high school in Washington D.C., and now, people are wondering what her next move will be. Although the Obama family hasn't confirmed her future plans, it's been reported that the 18-year-old daughter of Barack and Michelle Obama will be attending the University of Michigan in the fall. Regardless of where she goes to college, though, she no doubt has some exciting steps ahead of her.
According to the Detroit Free Press, Sasha graduated from Sidwell Friends School in a private ceremony with the rest of her classmates and no press was allowed. Sasha's parents and sister Malia were at the ceremony, the Free Press reports, which was held just one day after Sasha's 18th birthday. The school posted a photo of Sasha's graduating class on Instagram and Facebook, alongside a quote from commencement speaker Sheila Johnson: "Life has never been about you or about me. Life and all that matters within it has always been about us."
There's been speculation that Sasha will be attending the University of Michigan in the fall. Page Six reported that in December 2018, Sasha posted a photo to a private Instagram account in which she tagged the university and included the school's football stadium.
"So proud to say I'm going to college with my sisters!!" Sasha reportedly wrote in the post.
Bustle has reached out to the Office of Barack and Michelle Obama for comment.
When asked by the Free Press if Sasha was matriculating in the fall, the university didn't confirm one way or the other.
"It is university policy not to confirm the admission status for any student," spokesman Rick Fitzgerald told the Free Press. Yahoo! News reported that a search for Sasha's name in the University of Michigan turned up no results as of Wednesday morning.
Sasha's sister Malia, who also graduated from Sidwell Friends School, will enter her third year at Harvard in the fall.
Former Vice President Joe Biden's granddaughter Maisy graduated from Sidwell Friends alongside Sasha, US Weekly reports. Biden and his wife Jill were in attendance.
"Jill and I were so thrilled to be there today to watch our amazing granddaughter Maisy graduate from high school," Biden wrote in an Instagram post underneath a picture of Maisy, Jill and himself. "Maisy, you make us so proud and we can't wait to see what you do next with your talent, smarts, dedication and kindness. The future is yours, and Nana and Pop will always be right behind you."
US Weekly reported that, in addition to the official class photo, several other pictures of Sasha and the Obamas at the ceremony were posted to Instagram by other graduation attendees. According to USA TODAY, however, those photos have since been deleted.
Sidwell Friends is a private, Quaker-run school in Bethesda, Maryland that's been attended by the children of many prominent politicians. Notable alumni include Chelsea Clinton, Theodore Roosevelt's son Archibald, Al Gore's son Albert Gore III, and Richard Nixon's daughters Tricia and Julie.