Saturday Was The Most Disgraceful Day Of Donald Trump's Presidency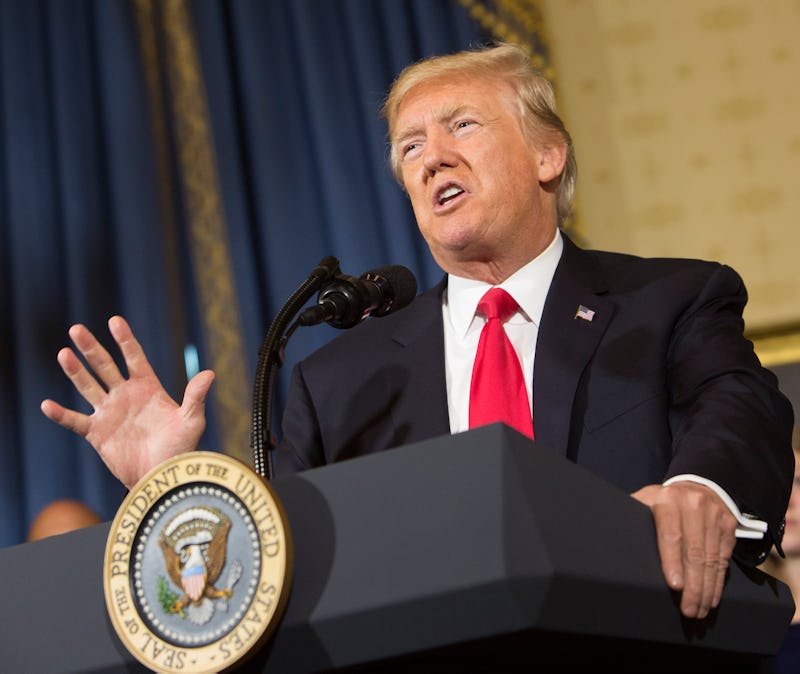 Pool/Getty Images News/Getty Images
The racist dog whistles of the Trump campaign came full circle Saturday when white nationalists and neo-Nazis rallied in Charlottesville, Virginia. Trump spoke of "taking our country back" on the campaign trail, and many took that call literally. Now, three people are dead and dozens more injured — yet President Trump's statement on the matter has further divided the country. Because for him to confront the reality of the growing white supremacy movement in America, he would have to acknowledge his complicity in its rise.
This is why Saturday was the most disgraceful day of Trump's presidency.
Saturday should not surprise anyone paying attention. His role in strengthening the white supremacist movement began even before he announced his presidential bid, and it hasn't stopped. When Obama was president, Trump started launching racist "birther" attacks, implying Obama wasn't born in the United States and further emboldening the far right's claims that Obama was not a legitimate president.
"That's what we believed in. That's why we voted for Donald Trump."
Fast forward to the 2016 election, when Trump all but ran on an alt-right platform. When he was endorsed by former KKK leader David Duke, Trump pretended not to know the guy, and only later begrudgingly disavowed the endorsement. Meanwhile on Twitter, he shared a key symbol of white supremacy, Pepe the Frog, and attacked his component Hillary Clinton with anti-Semitic imagery.
Nothing changed after he won, either. Upon taking the presidency, he utilized the slogan "America First" in his inaugural speech, even though it has a pro-Nazi origin. And consider who helped write the speech: Steve Bannon, the man Trump chose as his chief strategist. During his leadership at Breitbart, extreme racism, sexism, and anti-Semitism were courted and promoted — and Trump appointed him his right-hand man.
But not only did Trump speak to the alt-right, white supremacists, and neo-Nazis throughout the campaign by sharing imagery and slogans — as Duke himself pointed out yesterday — he also encouraged violence against the left, too.
When protestors took a stand at his rallies, he said that maybe they "should have been roughed up." He encouraged them by offering to pay the legal fees of the accused attackers. His supporters even claimed in court that the campaign "inspired" them to attack.
If you don't believe that Trump was the person who made Saturday's violence possible, listen to a leading source of white supremacist hatred: Duke himself. If he is saying that Trump emboldened him and his ilk, the whole country ought to believe him too. Duke said the following in a statement about Charlottesville:
This represents a turning point for the people of this country. We are determined to take our country back. We are going to fulfill the promises of Donald Trump. That's what we believed in. That's why we voted for Donald Trump.
There is no doubt that Trump was a catalyst for Saturday's marchers. It's time to connect the dots. Trump allowed for this happen.
But in responding, Trump truly failed. He could have disavowed his support from these groups and gone forward unequivocally, standing against neo-Nazis and white supremacy. But he didn't — instead he tiptoed around the issue, trying not to offend the people who carried him to the White House.
Take a look at his Twitter, usually brazen, direct, and offensive to those he targets. Not on Saturday. However, tweeting "No matter our color, creed, religion or political party, we are ALL AMERICANS FIRST" won't stop a white supremacy movement emboldened by your campaign and presidency.
Even Duke called him out on the lame response (if for all the wrong reasons). "I would recommend you take a good look in the mirror & remember it was White Americans who put you in the presidency," Duke responded to Trump's tweet.
But that is not something Trump has forgotten. He'd rather issue a muddled response placing blame on "many sides" than upset the white supremacists across the country who voted for him.
Off of Twitter, Trump issued a weak statement that did little to bring the country together and completely ignored the main issue, white supremacy and racism, two ideologies that have grown more pernicious since his election:
We condemn in the strongest possible terms this egregious display of hatred, bigotry and violence, on many sides. On many sides. It's been going on for a long time in our country. Not Donald Trump, not Barack Obama. This has been going on for a long, long time.
Yes, the country has a long history of "hatred, bigotry, and violence" — but the perpetrators are the racist white supremacists, not those counter-protesting for unity and peace. That's not "many sides" by any stretch of the imagination.
The only reason Trump is saying that is to wash his hands of any role in the violence, and his comment — "not Donald Trump, not Barack Obama" — proves it.
On Saturday, Trump didn't have the guts to denounce one of the largest violent white nationalist rallies in decades because of his role in fomenting the atmosphere of racial hatred. This should not be regarded as a surprise, but the inevitable consequence of a president who would rather be loved by anyone than lead everyone.