Saudi Arabia's First Female Ambassador To The US Is A Real-Life Princess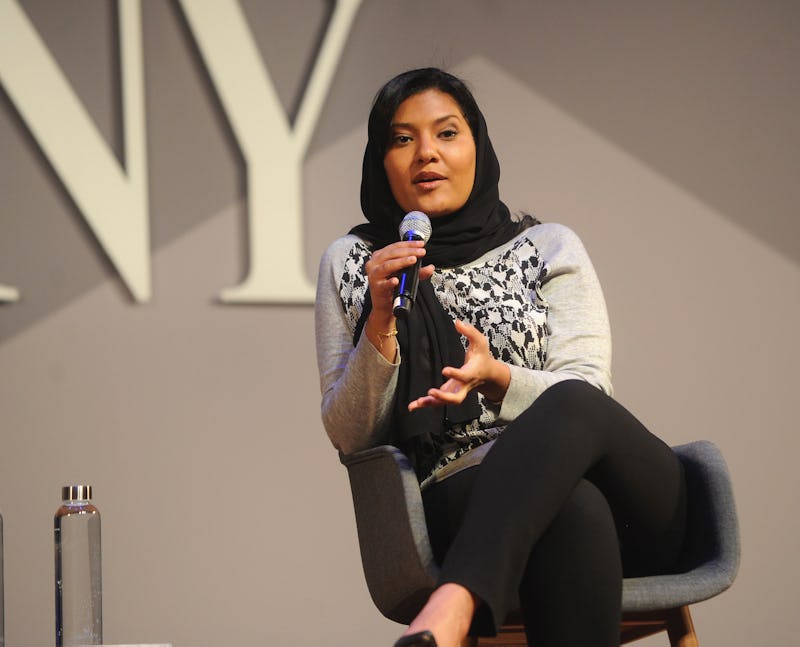 Brad Barket/Getty Images Entertainment/Getty Images
A real-life princess has become Saudi Arabia's first ever female envoy. Saudi Arabia appointed Princess Reema bint Bandar its ambassador to the United States via a royal decree issued late Saturday. Reema will replace Prince Khalid bin Salman, the brother of Saudi Crown Prince Mohammed bin Salman, who'd allegedly encouraged journalist Jamal Khashoggi to visit the Saudi Consulate in Istanbul, Turkey. Khashoggi was later killed at that consulate in October. Saudi officials have denied the crown prince was involved in Khashoggi's death.
While Reema hasn't served in a high-ranking diplomatic post before — her previous positions include a gig within Saudi Arabia's General Sports Authority and tenure as chief executive of the luxury retail brand Alfa International — she comes from a family with serious diplomatic experience. Her father, Prince Bandar bin Sultan, served in the post his daughter will now occupy from 1983 until his retirement in 2005. His 22 years of service make him the longest-serving Saudi ambassador to the United States in the kingdom's history, The Washington Post has reported.
What's more, she's likely more than familiar with how things work in Washington. Reema spent decades living in the United States during her father's career and even graduated from George Washington University with a degree in museum studies in 1999, according to The New York Times.
But Reema's appointment comes at a time of somewhat strained U.S.-Saudi relations. According to The Washington Post, her appointment is likely Saudi Arabia's latest attempt to smooth over relations with Washington after CIA officials clashed with the Saudi government over the crown prince's alleged involvement in Khashoggi's death.
In November, the CIA concluded the crown prince had ordered Khashoggi's assassination although the Saudi government has denied those allegations. Further complicating matters is the Trump administration's push to move on and maintain good relations despite heavy pressure for some kind of action against the Saudi government from Congress. Reema's appointment as ambassador could help to cool and mend the currently tense relations between the two countries.
But in appointing a known women's rights advocate to such a high-ranking and high-profile post, Saudi Arabia may also be attempting to take one small step toward greater gender equality. Reema has previously advocated for greater inclusion of women in the Saudi Arabian community, including supporting aspects of the crown prince's reform program such as eliminating the kingdom's longstanding driving ban.
"I lived in the States for 23 years," she told CNN's Christiane Amanpour in June after the driving ban was lifted. "So to be able to experience in my home country what I experienced growing up in the States — movies, socializing, mobility — those are monumental shifts that, yes, obviously we would have liked to have seen sooner but the fact that we're doing it today is, for me, absolutely wonderful."
In that same interview, Reema claimed conversations about Saudi guardianship laws, which restrict women's rights and movement, were "urgent" for her as a divorced mother of two. "I actually do have a family that will allow me to be mobile and dynamic, but that is not the reality of a lot of women," she said. "And until it's the reality for a lot of women, I think we need to keep pushing forward."
Reema's appointment as ambassador to the United States came alongside a royal decree naming Prince Khalid, the previous ambassador, the kingdom's deputy defense minister.