Scarlett Johansson Has The Perfect Response To Rumors She Auditioned To Date Tom Cruise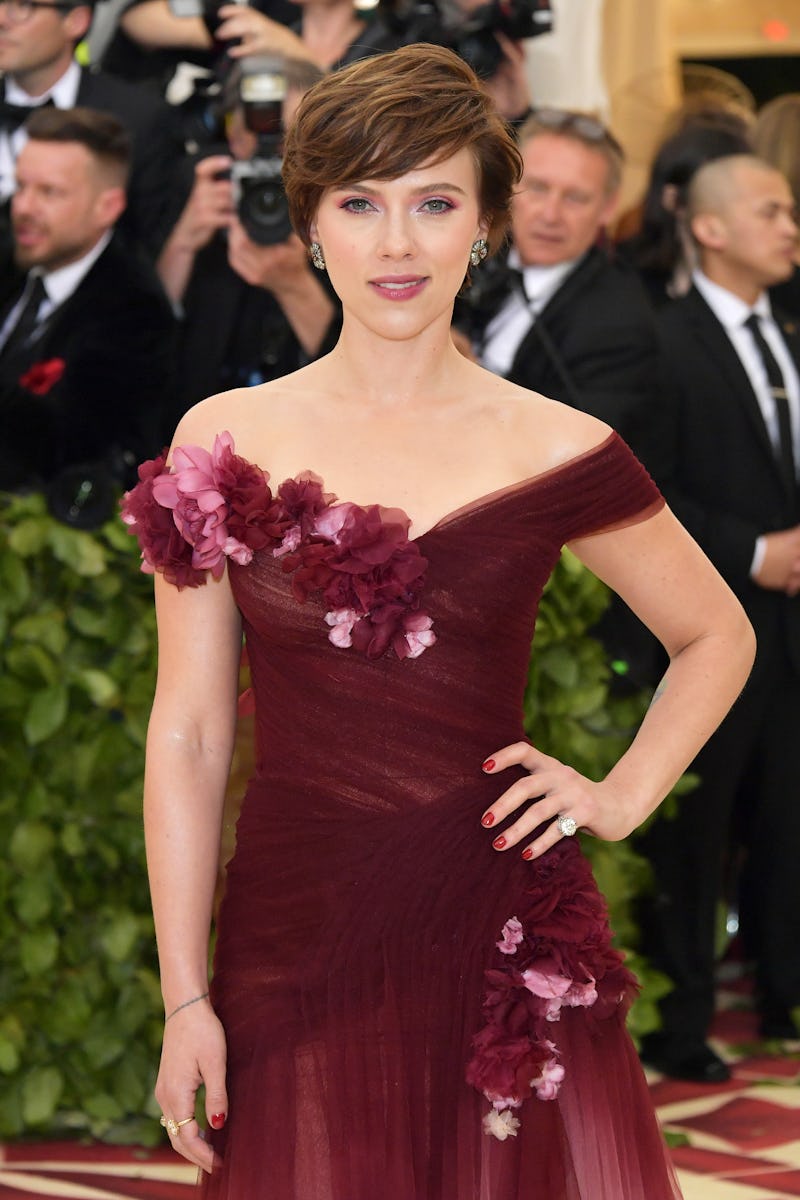 Neilson Barnard/Getty Images Entertainment/Getty Images
What's a celebrity to do when there's a wildly offensive rumor out there about them? Some choose to ignore it, but some take the opportunity to issue the perfect comeback. In a statement to The Hollywood Reporter on Wednesday, Scarlett Johansson responded to rumors she auditioned to date Tom Cruise, and not only was it the perfect feminist reply, but it also made it clear that no woman should have to "audition" to spend time with any man, famous or not.
These rumors started on Wednesday, when Brendan Tighe, a former member of Cruise's scientology security team, appeared on Megyn Kelly Today. According to a story he shared with her, while he was working for Cruise, he found out that Johansson was among a group of women who "auditioned" to date him, and that there had even been some friction with fellow actor Erika Christensen after Johansson's reported audition "didn't go well." But now that she's caught wind of this news, she has something to say about it.
Johansson's statement to THR said:
"The very idea of any person auditioning to be in a relationship is so demeaning. I refuse for anyone to spread the idea that I lack the integrity to choose my own relationships. Only a man aka Brendan Tighe would come up with a crazy story like that."
Obviously, hearing any rumor about yourself is difficult, but in Johansson's situation, finding out someone has said that you auditioned to date someone can be particularly insulting. Unless you're attempting to go on a reality show like The Bachelor, having to try out to be in a relationship with a man (or anyone, for that matter) does not sound appealing, so of course she wanted to make it clear that isn't the kind of thing she'd do.
And as Johansson pointed out, it is demeaning for someone to insinuate that you cannot choose your own relationships; and for many women, hearing a story like Tighe's is immediately questionable. Who would want to start off a relationship by proving themselves worthy of someone's attention? It's 2018, everyone — women aren't property and everyone deserves to be in a relationship that's built on mutual respect. There's nothing respectful about requiring women to audition to date you, and as Johansson said in her statement, it does sound like the kind of a story that would have to come from a man based on the fact that few women would think that situation sounded plausible.
As for the validity of Tighe's story? According to what he said on the show, he found out about Cruise's "auditions" by a report that was sent to his printer by mistake. But in a statement to Kelly's show, Karin Pouw from the Church of Scientology International said that this information isn't something that Tighe would have ever had access to. She said:
"Brendan Tighe was a Church of Scientology Flag Service Organization security guard/night watchman from 2002 to 2009. The 'access' he boasts of having was largely limited to viewing security cameras from a guard booth. He was removed from that position for dereliction of duty."
But whether or not the story is valid doesn't really matter — perpetuating the idea that any woman would be interested in a relationship that begins with an audition is still offensive, and Johansson is right to be upset that someone would attach her name to something like that, especially if there is no truth to it.
Bottom line: No one should have to audition to interact with another person, romantically or otherwise. Good for Johansson for standing up for herself after this rumor surfaced. No woman should ever have to prove herself to get a man's attention, no matter who he is.