Scheana Wanted To Leave 'Pump Rules' For Ex Rob Valetta, But He Stopped Her For A Good Reason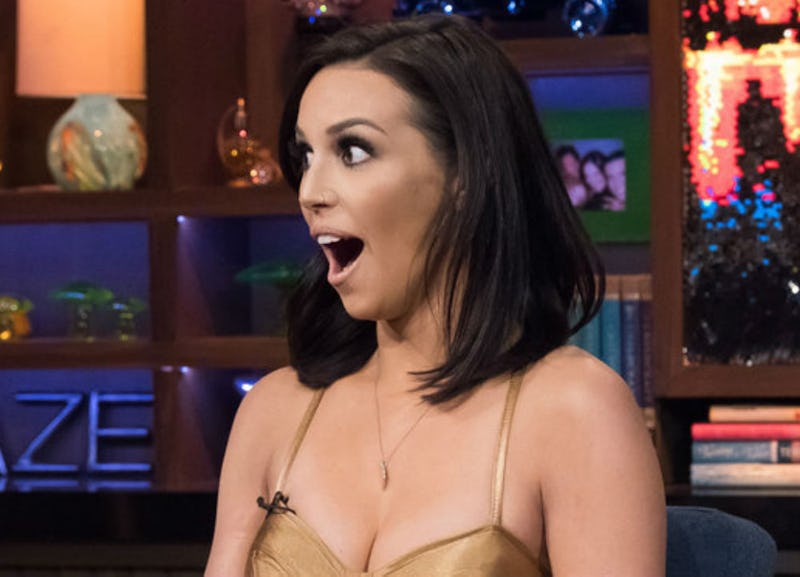 Charles Sykes/Bravo
Here is a shocking piece of information. Scheana almost left Vanderpump Rules (producer: Sandra Bansil) in order to stay with her now ex-boyfriend, Rob Valletta. During Monday's Watch What Happens Live after show, the reality star revealed that she tried to leave the Bravo series, but Rob wouldn't let her for an important reason. After WWHL's other Monday night guest, political commentator S. E. Cupp, asked Scheana if she would ever leave the show to be with Rob, she replied, "I said that, but he said he would never let me do that."
Then, Rob, who had called in to discuss their breakup, explained over the phone why he wanted Scheana to remain a cast member. He said, "I would never let her do that. At the end of the day, you know, I know how important the show is to her and I support her with that."
It's hard to imagine Pump Rules without Scheana, who's been part of the Real Housewives of Beverly Hills (creator: Kathleen French) spin-off since day one. It seems like she enjoys her time on the show (save for probably a lot of the drama), but her relationship with Rob appears to be so important to her that she was willing to exit.
Maybe one day it will happen, but, for right now, Rob wants Scheana to keep doing what she loves and not to give that up for him or anyone else. "Like I said, everything happens for a reason," he added. "As long as we are positive with each other and always supporting each other, everything's gonna happen the way it's supposed to."
Rob's response to the 32-year-old wanting to leave also shows how much he supports her. Even after breaking up (they split in October 2017 after dating for less than a year), they've remained good friends and have nothing but respect for each other. "Scheana and I have been broken up for a little bit, but literally our relationship has maintained the same for the past 12 years," he said. "We are each other's best friends and that has been in and out of relationships for the past 12 years. It's been great."
As for why they broke up in the first place, it had nothing to do with those cheating rumors that surfaced during Monday's Pump Rules or because the two were "moving too fast". According to Rob, it was because of Scheana's co-stars.
"The truth is, it's really hard in her circle of friends." He continued, "Individually, when they're by themselves, they're really great people. But you put that group of people together, they're savages. They come after you, and it's really hard to have a successful relationship with those people attacking you from all sides." He later added, "It's really hard. Her world is sometimes really hard to feel secure in."
He makes a lot of sense, because whenever any rumor surfaces, the Pump Rules cast hardly ever ignores them (like Scheana did when it came to Rob), but dives in hard to figure out the truth. It's unfortunate that the series and those starring in it affected their relationship so much, but at least Scheana and Rob have risen above it.
"At the end of the day, we've done a great job of being there for each other and supporting each other," Rob also said on WWHL. "We have a great relationship because we communicate through everything and we always support each other. And if it's not right now, then it's in the future. And we know that, and we're OK with that."
Based on some of their recent Instagrams, they've made it clear just how much they continue to value each other. On Jan. 5, Rob wrote next to an image of himself and Scheana in support of her show in Las Vegas, "I'm so unbelievably proud of this one @scheana, congratulations on the opening of your show @sextipsvegas. Like I always tell you take risks, be fearless, trust In god and life is going to work out the way it's supposed to. Vegas is lucky to have you, now you can show the world how talented you are."
As for Scheana, before Monday's Pump Rules aired, she wrote on Instagram, "All I'm going to say about tonight's episode is that this is the most loyal man I've ever met in my entire life and he never left my side the night this so called incident took place. The truth always comes out. Watch and see! @robsvalletta I always will have your back!"
Well, they certainly both seem to support and care about each other. They just might be the most stable Pump Rules couple — and they aren't even currently together.