Scotland Plans To Give Nonbinary People Legal Recognition, & It's About Time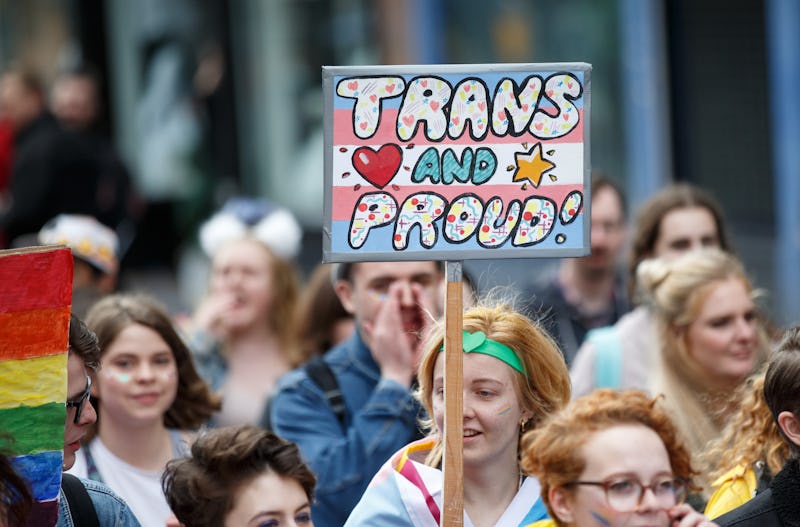 Robert Perry/Getty Images News/Getty Images
While Election Day in the United States ushered in some historic wins for the LGBTQ community, Scotland also took a huge stride towards equity for their citizens who don't fit the gender binary. On Nov. 9, Scotland announced plans to give nonbinary people legal recognition. The proposal follows on the heels of Germany, which recently ruled to give its citizens a third gender option on birth certificates. Angela Constance, Scotland's cabinet secretary for communities, social security, and equality, said on Nov. 9 that "Scotland rightly has a reputation as one of the most progressive countries in relation to LGBTI legal and human rights equality in Europe — but we need to do more to progress equality for trans people."
Basically, the new proposals will make the process of changing legal identification to reflect gender identity way less complicated than it currently stands, and will remove some of the prior restrictions nonbinary folks in Scotland face. Under the current United Kingdom Gender Recognition Act, transgender and nonbinary people are required to be at least 18, must prove they have experienced gender dysphoria, and are required to live as their real gender for two years before receiving legal recognition. The new system — which has not been implemented, but is merely being proposed — will remove those hurdles, and will be modeled after the self-declaration system used in the Republic of Ireland: a process that simply requires transgender or non-binary people to fill out an application for legal recognition of their gender identity, or lack thereof. Additionally, Scotland will allow children over 16 to declare their gender identity. This news follows a pledge made by Nicola Sturgeon, the First Minister of Scotland, in 2016 that gender recognition would be an essential issue during her political term.
LGBTQ communities and organizations in Scotland are celebrating the proposed self-declaration system, and regard it as a step in the right direction for Scottish trans and non-binary citizens. "We welcome the Scottish Government's proposals to reform the Gender Recognition Act. The current process to change the gender on a trans person's birth certificate is a humiliating, offensive and expensive red-tape nightmare which requires them to submit intrusive psychiatric evidence to a faceless tribunal panel years after they transitioned," said James Morton, the manager of Scottish Trans Alliance (STA) of the news. "It makes sense for birth certificates to be brought into line with the self-declaration process already used to change all other identity documents when trans people start living in their gender identity." Engender, a Scottish women and gender equality organization, released a joint statement with sister organizations to express their support of the new legal recognition proposal. People also took to Twitter to discuss the announcement: one user tweeted, "This is the result of the blood and grit of of trans people in Scotland. Thank you STA." Another Twitter user added, "Proud to be part of the women's sector in Scotland, and to ally myself with the fight for trans' rights. Trans women belong in women only spaces!"
Scotland's parliament may be paving an easier path for trans and non-binary citizens, but discrimination against LGBTQ people is still a reality in the country. According to different studies conducted throughout the 2000s, trans and queer incarcerated people in the United Kingdom are subjected to disproportionate amounts of isolation, abuse, and poor medical care while in prison. Additionally, on Oct. 12, it was revealed by the Equality Network that 3 out of 5 LGBTI ("I" stands for intersex) people in Scotland have been a victim of a hate crime — half of the surveyed people were reportedly targeted in 2017 alone. As recently as this past summer, NHS Scotland (the country's healthcare system) was accused of being transphobic for requiring a board to invasively review, and approve any type of transition surgery.
The new legal recognition process in Scotland is cause to celebrate, and the progress it exemplifies cannot be diminished. Self-declaration will help make the lives of Scottish non-binary adults and children easier, safer, and better, and that's a win for the world.