How Scotland Is Greeting Trump On His Visit Shows He's "Unwelcome" There, Too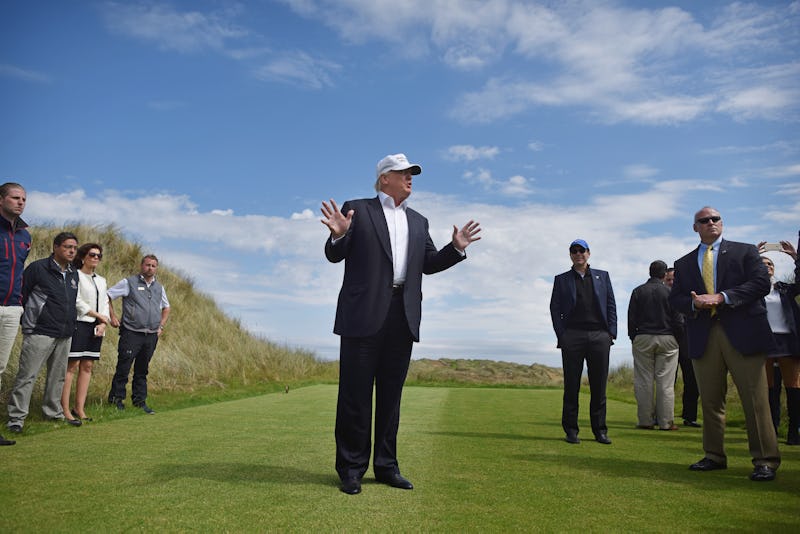 Jeff J Mitchell/Getty Images News/Getty Images
President Trump avoided London during his trip to the United Kingdom, telling reporters that the 250,000-plus anti-Trump protesters in the city's streets made him feel "unwelcome" in the English capitol. On Friday, the president departed England to visit one of his golf courses up north — but Scotland's protests against Trump make it clear that he's just as unpopular there as he is in London.
"Trump wants to come to Scotland, so from all across Scotland we're telling him and his politics aren't welcome here," the protest group Scotland United Against Trump wrote ahead of his arrival. "We will not just be opposing Trump's racism, but showing solidarity with all the people and group he's attacking. We need to send a message to Theresa May and politicians across Europe - including here in Scotland - that we won't stand for their attacks on migrants and Muslims."
As Trump touched down at Prestwick Airport Friday, thousands of demonstrators gathered in George Square to protest his arrival, the BBC reports. They came equipped with signs reading, "Bolt ya rocket and make Scotland great again," "dump Trump" and "we've got enough orange bigots in Scotland already, thank you," according to the BBC. One sign read "we shall over comb," an apparent reference to Trump's hair.
One sign at the protests read "give the weans Irn Bru not iron cages." This is a reference to reports from May that one of Trump's golf courses in Scotland banned Irn-Bru, a wildly popular soda in the country, because it was staining its carpets. "Weans" is Scottish slang for "little ones," or children.
If the signs on display are any indicator, the protesters largely took issue with the president's conduct in office. But Scotland's beef with Trump predates his political career by several years.
Before the opening of his Aberdeenshire golf course in 2012, for instance, Trump claimed the property would create 6,000 local jobs and include both an eight-story, 450-room hotel and 950 time share apartments , according to The Telegraph and The New York Times. But four years after the course opened, it only employed 150 people, The Telegraph reports. The time share apartments were never built, and although the course does include a hotel, it has a mere 16 rooms, according to The Times.
Moreover, several local families accused Trump's team of bullying them during the construction of the course.
David and Moira Milne told The Times that Trump threatened them with legal action in an attempt to use a corner of their garage for construction of his course — and that when they refused, Trump's staff built a fence around their garden to obstruct their view of the ocean. The couple also says that Trump's workers cut their electricity and water lines during construction, and then sent them a $3,500 bill (which they promptly threw in the garbage). The Milnes now fly a Mexican flag over their property.
When local residents Susan and John Munro refused to sell their land to Trump as he was building the course, Trump's team had a 15-foot wall built on two sides of their property, according to The Times. After resident Michael Forbes also refused to sell, Trump publicly insulted him, calling his home "disgusting" and suggesting that Forbes was a disgrace to Scotland.
"Mr. Forbes is not a man that people in Scotland should be proud of," Trump said at the time. "Mr. Forbes lives in a pig-like atmosphere — it's disgusting."
In a separate dispute, Trump also attempted to prevent the world's most powerful wind turbines from being constructed along the Scottish coast out of fear that it would ruin the view from his Balmedie golf course, The Independent reported.
"Don't destroy your coastlines and your countryside with the monstrous turbines," Trump told Alex Salmond, then the First Minister of Scotland, in a 2012 letter. "Your country will become a third world wasteland that global investors will avoid."
Trump eventually filed a lawsuit to stop the turbines from being built, but lost, and the first of them went up in early 2018.
Trump's golf courses in Scotland have lost a combined $23 million since they opened, according to McClatchy.