Kourtney & Scott's Co-Parenting Situation On 'KUWTK' Keeps Getting More Complicated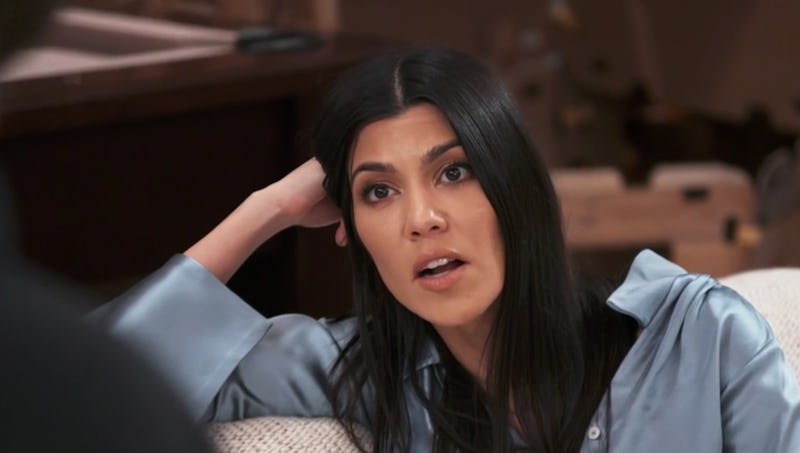 E!
Scott Disick and Kourtney Kardashian's relationship has had about as many ups and downs as two people can share, and as they have an adorable clan of kids to raise together, they're stuck together for the long haul in one way or another. Keeping Up With The Kardashians has diligently documented both their spats and successes, and on Sunday's episode of KUWTK, Scott and Kourtney's co-parenting discussion showed just how difficult raising kids as a separated couple can be.
Things are notably tense from the get-go in this episode. Kourtney starts to cry when Kim and their grandmother, MJ, innocently shoot her a FaceTime call, and it's clear that something is up. She texts Kim with the news that Scott has introduced Mason to his girlfriend, Sofia Richie, without giving Kourtney a concrete heads-up. She says that although they'd discussed in therapy the idea of introducing the kids to their respective significant others, they had agreed to wait for the time being.
"There's a lot going on for [the kids] and I know that it can be confusing, and it just makes me upset," Kourtney tells the camera. "We said what we thought was best for the kids. We felt like a lot of changes have been made lately and that this wasn't the best time. Scott and I went to therapy ... but it's just hard to go when I'm the only one doing what we speak about."
On the flip side, Scott calls Kris shortly after and tells her that he and Kourt had only made an agreement to wait until after the New Year to introduce new partners to the family, and he apparently thinks he obliged by this stipulation. He then tells the camera that he didn't give Kourtney an explicit heads-up because Sofia just happened to end up at the house when the kids were also there; he didn't seem to plan the encounter. And, he adds that Kourtney had already introduced her boyfriend to the kids, so he feels like he should have the freedom to do so as well.
Things come to a head when Scott and Kourtney actually sit down to discuss the situation. They're obviously on different sides of the aisle, but Kourtney's point seems a little more solid. "It's called giving someone a heads up and giving someone the respect," she tells Scott.
Kourtney isn't wrong. Now that the kids have gotten older and are getting to the point where they're fully processing what's going on around them, it definitely seems like Scott should ensure he and Kourtney are on the same page before he makes a move like that. It literally would just take a text. But Scott's point that Kourtney introduced the kids to her boyfriend without his explicit permission also still stands — it should be a two-way street. The episode gives the impression that Kourtney and Scott had agreed to wait on a Sofia meeting even after Kourtney's beau met the kids, so that could explain the double standard, but as with all Kardashian drama, the timeline is fuzzy.
Eventually, after an enlightening conversation with Kris, Scott just really wants to make peace. "My biggest mistake was not being as clear as possible," he says. "I should've told Kourtney exactly what was happening. I do realize this is something that can be hard for somebody, but by no means was I trying to make this any harder."
The tumultuous episode's journey ends with the former couple in a noticeably better place, fresh off a therapy session where both parties learned a little bit more about how to communicate with one another. Even though this drama worked itself out pretty quickly, there's probably more ahead. It's unfortunate, but that's just the name of the game when co-parenting children, especially when doing so in the public eye.
Scott and Kourtney's situation is not unique among families with divorced parents, but it is rare that such a struggle is documented and televised for so many eyeballs to see. Say what you will about Kourtney and Scott — neither of them is perfect. But the facts that they're going to therapy together and doing so much to maintain a sense of family for their children show that there is serious effort going on to put their kids' happiness first, even if communication isn't always their strong suit.