Kourtney Kardashian & Younes Bendjima Reportedly Split After Nearly 2 Years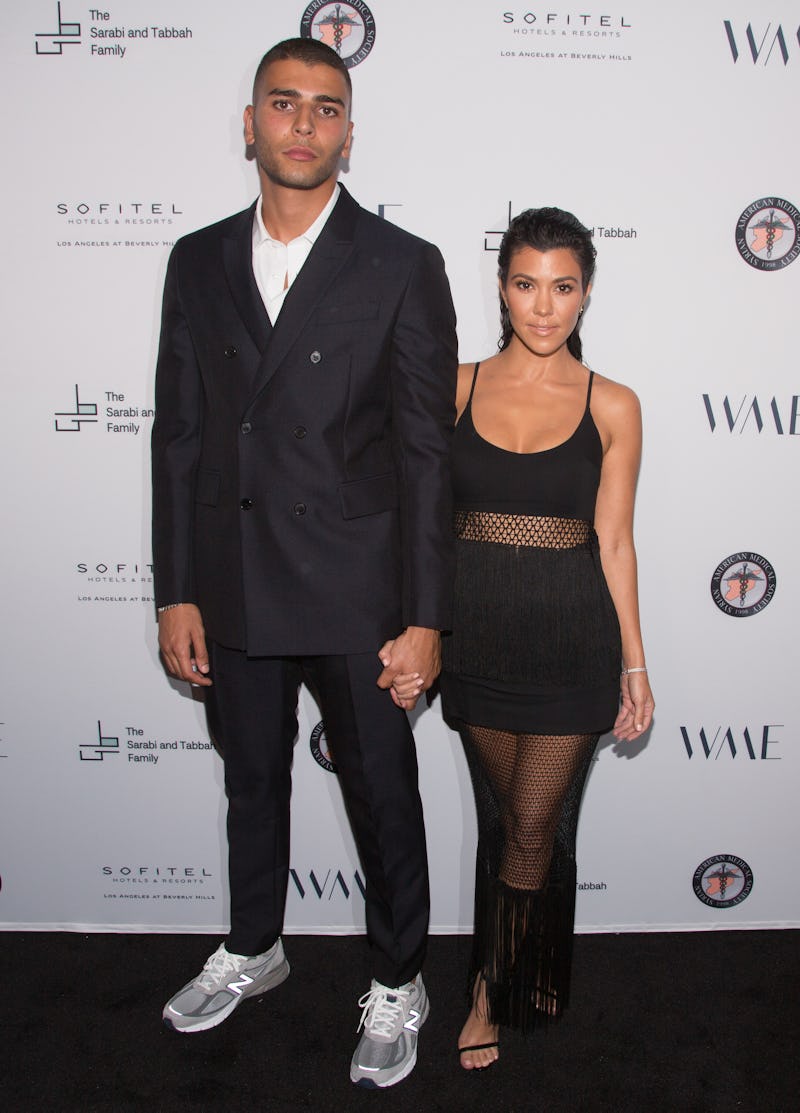 Gabriel Olsen/Getty Images Entertainment/Getty Images
It looks like another Kardashian relationship has come to an end. According to TMZ, Kourtney Kardashian and Younes Bendjima reportedly split after almost two years together. On Monday, TMZ shared photos of Bendjima with another woman in Mexico, which the publication described as "rebound pics." The site also claimed Kardashian is responsible for the two going their separate ways. However, TMZ reported that Bendjima leaving a comment on one of Kardashian's Instagram photos, which caught public attention last month, was not the reason for their rumored split. (Bustle has reached out to Kardashian's agent for comment, but did not receive an immediate response.)
On Tuesday, HollywoodLife also reported Kardashian and Bendjima unfollowed each other on Instagram. As of Aug. 7, if you search who Kardashian follows on Instagram, Bendjima's account does not appear. The same can be said for Bendjima's list of who he follows. Of course, this doesn't confirm they've broken up or that there's trouble in paradise.
The two started dating in October 2016 and have been pretty much inseparable ever since. Most recently, Kardashian and Bendjima vacationed in Italy with friends and family, including Mason, Penelope, and Reign Disick and Kris Jenner. According to People, they traveled together in Italy by themselves for a week before those close to them joined. As you can see below, they both shared stunning photos from their trip on Instagram.
In December 2017, "a source close to the pair" told People about Kardashian and Bendjima, "It's definitely serious. No one thought their relationship would last this long, but Kourtney is very happy." The source added, "Younes has met her kids. Kourtney's family really likes him. He is the opposite of Scott [Disick]. He doesn't party, isn't flashy and really treats Kourtney with a lot of respect. It's obvious that he really cares about Kourtney."
They actually met in two years ago in Paris at bar the day before Kim Kardashian's robbery on Oct. 3. In a November 2017 Keeping Up With the Kardashians episode, Kardashian told Khloé Kardashian how she met Bendjima.
Kardashian explained to her younger sister,
"We, like, walked into a bar and Stephanie [Shepherd] was across from me and she kept going, 'This guy's cute over here.' ... He was friends with our friends. He would walk in, say hi, shake hands with, like, our security or whatever, but, like, not say hi to us. And then I was like, 'Why do you hate us?' I was just drunk ... Once I said that he literally like grabbed my hand and was like, 'It's five in the morning. We're leaving.' And then next night Younes was like, 'Bring your ass here.'"
In the episode, Kardashian also said Bendjima helped her family with the aftermath of her sister's robbery. "And then when we walked into that club was when we went to the bathroom and got the phone call about Kim," Kardashian explained further. "So then the party was over. And then he was like, 'I'm not leaving you guys,' and he, like, had to translate everything."
Since that moment, the two were together and have had quite the romance, including traveling to the Cannes Film Festival and going to Egypt together.
It remains unclear if they really have broken up, but knowing Kardashian, she'll comment on the rumors if or when she's absolutely ready to.