Scott Disick Calls Ex Kourtney Kardashian 'Controlling' In A Tense New 'KUWTK' Clip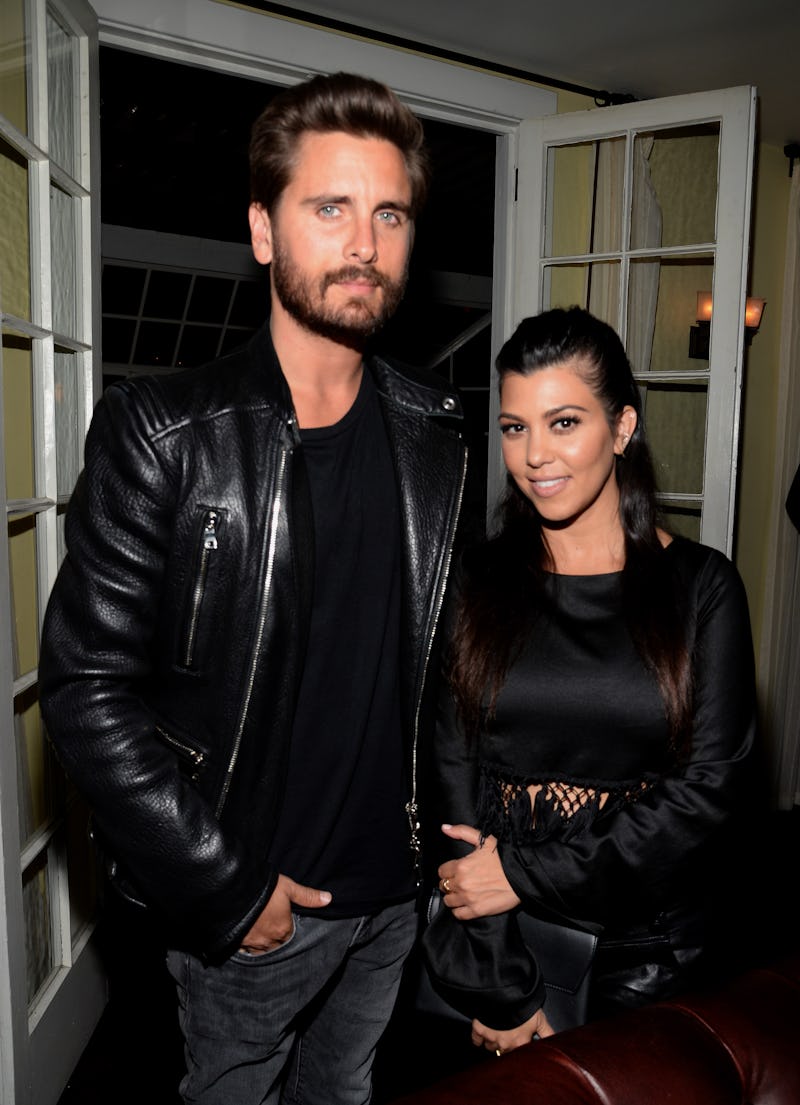 Chris Weeks/Getty Images Entertainment/Getty Images
Co-parenting is hard; co-parenting when you're a Kardashian is even harder. And despite their best efforts to stay on the same page when it comes to raising their children, this new clip of Kourtney Kardashian and Scott Disick fighting in Sunday's Keeping Up With the Kardashians, it seems that things aren't exactly going to plan for the former couple.
Picking up in the middle of the action (as all great KUWTK clips tend to do), the promo sees the former flames sitting down to have a chat about Disick's habit of not speaking to his ex before making decisions that affect their kids. Though it's not explicitly said in the clip, according to E! News, the source of the tension was Disick's decision to introduce his girlfriend, Sofia Richie, to 8 year-old Mason, 6 year-old Penelope and 3 year-old Reign, without running it by Kardashian first. "It's called giving someone a heads up and having a respectful conversation, giving someone the respect [of talking to them]," Kardashian tells her ex after he asks how she thinks the day went.
"Sometimes you want to do certain things or you map out certain things, but they don't always go the way that you want," Disick says in defense of his actions, which Kardashian quickly dismisses as just "an excuse."
"I make sacrifices all the time and you're not following through with the things that you say you're gonna do," she continues. "Then you just go and do whatever you want and I'm not okay with it." Considering the eldest Kardashian sister's dedication to putting her children first has caused plenty of tension in the Kardashian-Jenner family this season, it's clear that the TV personality holds every aspect in her kids' lives to an incredibly high standard.
For Disick, however, those standards might be a little bit too high for anyone to measure up to. After declaring that he's just wants to "live my life, the exact same way you're living it," Kardashian's ex asks her if she considers herself to be "difficult" or "controlling" at all. (For the record, she does not, nor does she think that she's in denial about any of that, no matter what Disick asks her.) "I expect a lot for my kids, I want the best for them," Kardashian says, in order to explain why she's frustrated with Disick at the moment.
"I think you expect a lot from a lot of people," Disick responds. "Not always can your expectations always be met, even though people are trying their hardest to please you."
And despite the eldest sister's protestations that she's simply a "perfectionist," who is actually trying "to not be controlling" about everything, Disick isn't buying it. "I will bet you one million dollars there's not a human being that you know that won't go with exactly what I just said," the entrepreneur says, effectively ending the conversation. Although, based on the look on Kardashian's face at the end of the clip (and some explosive fights that have been teased since the very beginning of Season 15), it doesn't look like this argument is officially over just yet.
The former couple's relationship has been a major source of conflict over the last few seasons of Keeping Up With the Kardashians, and despite their determination to put the past behind them, it's clear that things will always be a little complicated for Kardashian and Disick. And now that Disick and Richie's relationship is getting more serious, it seems that things are only going to get more tense before they get better.
Hey, as long as fans don't have to sit through another excruciatingly awkward conversation about the age gap between Disick and Richie, he and Kardashian can keep fighting all they want. Fans of KUWTK will take drama over awkward moments any day.