7 Ways To Take Care Of Yourself As SCOTUS Debates 3 Major LGBTQ Rights Cases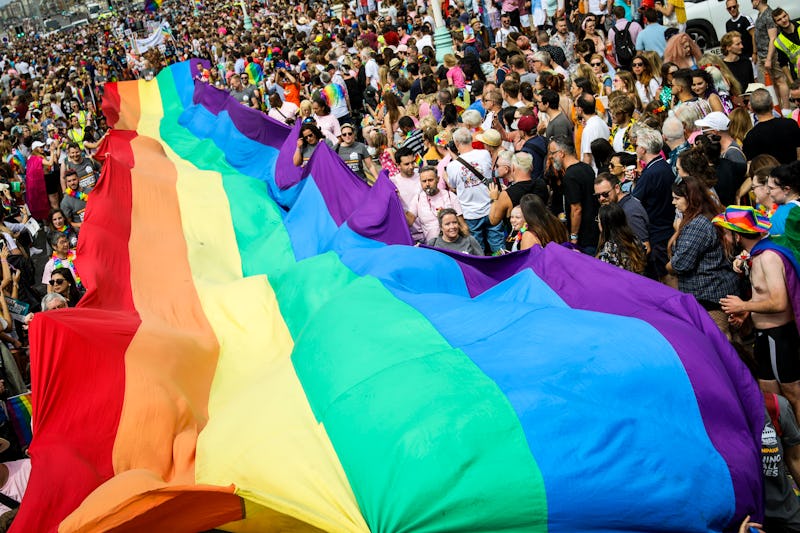 Tristan Fewings/Getty Images Entertainment/Getty Images
You might be one of every two Americans who believes that there is a federal law protecting lesbian, gay, and bisexual (LGB) people from discrimination based on sexual orientation. Because according to a 2019 Reuters/Ipsos poll, nearly half of all Americans think there are federal protections in place, at least for the cisgender members of the queer community. This week serves as a reminder that there is no such federal law in place, because the Supreme Court is hearing three cases that can determine whether LGBTQ people should be protected from employment discrimination.
The country's highest court is hearing cases about three workers across the country who were fired after coming out or being outed at work. The American Civil Liberties Union says that Michigan funeral director Aimee Stevens was fired from her job after telling her employer she would be adhering to their dress code for women; and New York skydiving instructor Donald Zarda and Georgia child welfare services coordinator Gerald Bostock after their employers learned they were gay.
The question before the Court is whether federal law protects LGBTQ people from discrimination. And this is crucial, because currently, only 21 states have laws protecting LGBTQ people from employment discrimination, according to the Human Rights Campaign's 2018 State Equality Index.
So if you're queer and nervous about the decisions this week, it's not without good reason. These cases are arguably more important than marriage equality in terms of deciding the employment fates of trans and LGB people across the country. If you're feeling the strain, anxiety, and agony of being told that who you are makes you unqualified to support yourself and your family, know that you're not alone.
Here are important ways to care for yourself this week.