The 2017 Emmys Still Weren't Progressive Enough & This Moment Proves It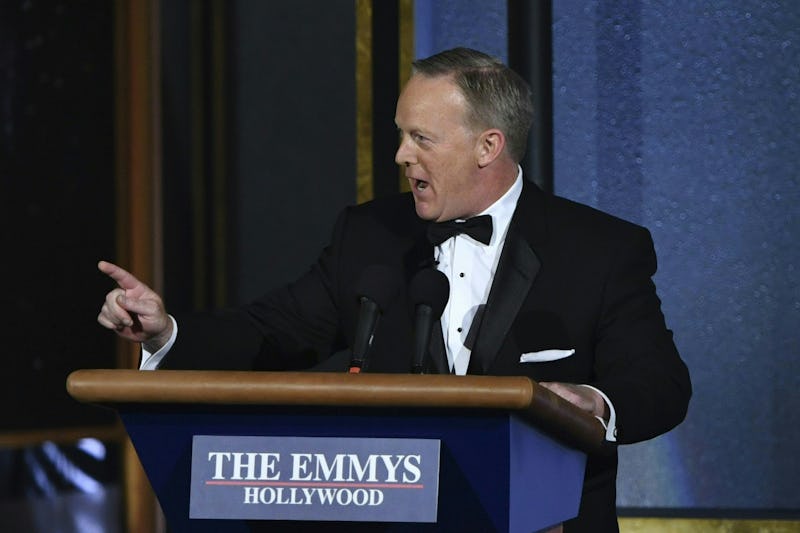 FREDERIC J. BROWN/AFP/Getty Images
The 2017 Emmys could have been groundbreaking. People of color made history: Master of None's Lena Waithe became the first black woman to win an Emmy for comedic writing, Donald Glover was the first black person to win for directing, and Riz Ahmed was the first man of Asian descent to take home an award for acting. This is Us star Sterling K. Brown won an Emmy for lead actor in a dramatic series, making him the first black man to do so in nearly 20 years. Awards were presented by a varied group that included Gabrielle Union, Priyanka Chopra, Kumail Nanjiani, Dave Chappelle, and many other people of color. But when former White House press secretary Sean Spicer showed up on stage, joking in front of an audience that seemed eager to absolve him for his past actions, the evening's potential was undermined.
Host Stephen Colbert — who had praised the show's diversity earlier in the broadcast — brought Spicer to the stage to roaring laughter and applause, and then joked with him about the audience's size, referencing Spicer's January claim that the crowd at Trump's inauguration was "the largest audience ever to witness an inauguration, period, both in person and around the globe." Just as Saturday Night Live hosting gigs and fawning late-night talk show appearances normalized Donald Trump during the presidential campaign, this appearance pushed us to accept a man who enabled a racist agenda — on a night otherwise devoted to celebrating the achievements of people of color.
Spicer's time on stage was brief — as Colbert mused about Trump in a monologue, he called out to Spicer, who came out wheeling the portable podium Melissa McCarthy has used to imitate him on SNL. "This will be the largest audience to witness an Emmys, period. Both in person and around the world," Spicer asserted, to laughter. This was a light-hearted reaction to a man who, during his tenure as press secretary, continually backed up Trump on any and all fronts — from defending his "covfefe" typo on Twitter as intentional, to twisting into rhetorical pretzels to claim that when Trump accused President Obama of "wiretapping" him, he didn't actually mean wiretapping. Spicer also claimed that racist attacks had not been on the rise since Trump's election, and in defending Trump's missile strike on Syria, said that Hitler did not use chemical weapons — a claim that erases the reality of gas chambers and concentration camps in World War II.
But through this appearance, as well as an appearance on Jimmy Kimmel Live! last week, Spicer seems to be seeking absolution for his actions — and getting it. When Spicer appeared on stage, he wasn't booed. He was met with laughs and gentle teasing. When Alec Baldwin, who won an Emmy for his SNL portrayal of the president, was asked during a backstage press conference after the show for his thoughts on the former press secretary's appearance, he took a forgiving tone, saying, "I've done some jobs that are things you shouldn't admire or respect either" — effectively giving Spicer a pass for lying to the American people.
As Ta-Nehisi Coates recently said in an interview with Chris Hayes on MSNBC, racism works to raise the bar for some, while lowering it for others. Redemption came cheap for Spicer, something that would have been impossible were he not white.
Spicer's appearance wasn't the only moment to sully last night; as he accepted one of SNL's nine Emmys last night, producer Lorne Michaels didn't feel compelled to address the fact that his show helped normalize Trump before the election, and Fox News founder Roger Ailes — who aggressively pushed stories that targeted marginalized groups and stoked racism, and was accused of sexual harassment and assault —was included in the In Memoriam montage.
Last night's Emmys were pioneering in some respects. There is no taking away the fact that recognition is finally coming to people of color who deserve it. That triumph, however, was tainted by Spicer's appearance. Hollywood's easy acceptance of him sent a message: despite other progress we've made, we still live in a world where a white man's transgressions — no matter how vile or heinous — will instantly be forgiven the second he's willing to laugh about it.