The Cast Of 'Black Panther' At The Oscars Had Twitter Saying #WakandaForever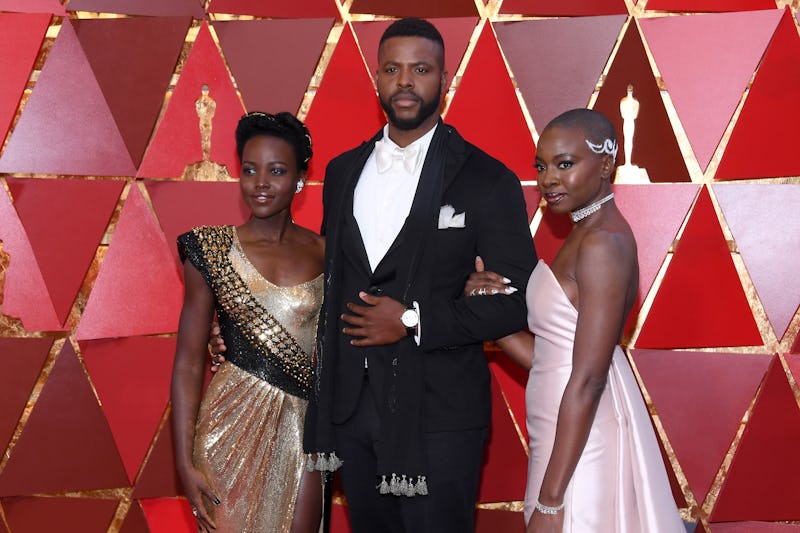 Kevork Djansezian/Getty Images Entertainment/Getty Images
I'm still trying to come up with the words for how much Black Panther impacted me — I've seen it twice since it was released, and I could probably watch it another 10 times and still walk away in awe. I'm usually not a fan of superhero movies, but I feel safe saying that Black Panther is a cultural phenomenon that should win every award at next year's Academy Awards. Even though the movie isn't eligible to win anything at the 2018 Oscars, the cast still showed up and left me screeching about Black excellence. Seeing the cast of Black Panther at the Oscars had everyone saying #WakandaForever — and after you see the cast, you'll feel the same way.
One of the most magical things about the movie is its unapologetic dedication to celebrating African culture, and the cast didn't shy away from that on the red carpet. Lupita Nyong'o wore her hair in a traditional Rwandan updo, while Chadwick Boseman proudly paid tribute to Wakanda on the red carpet with a signature move from the movie. Heartbreakingly, Michael B. Jordan didn't show up pre-ceremony, so we weren't able to stan for him, but the cast members who were there left me shook.
I'd watch an entire award show dedicated to this cast, but until that becomes reality, I'll settle for loving their red carpet looks. They're easily my favorite of the night, although these actors can do no wrong in my eyes. Check out the stunning looks from the cast of America's favorite movie below.