All The Looks At The 2018 Oscars That You Absolutely Need To See — PHOTOS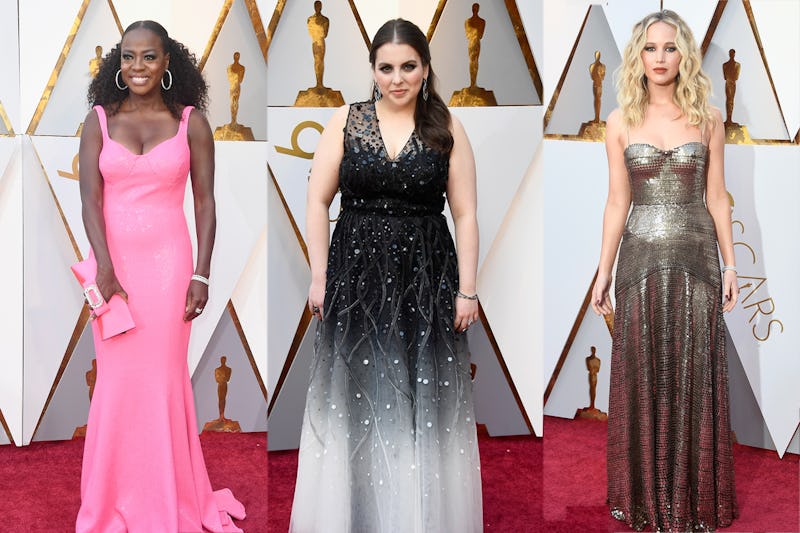 Getty Images
It's the moment both movie buffs and fashionistas alike have been waiting for all awards season — the 2018 Oscars have finally arrived. And while it is technically the film industry's biggest night, it is also equally as huge of an evening for fashion — after all, the nominees and attendees have been planning their ensembles for weeks (perhaps even months) leading up to this momentous event, with the help of fashion's most sought-after designers and stylists. But it is no longer just about looking pretty in a dress or tuxedo for most of the celebrities in attendance tonight — there's more thought and meaning behind their chosen outfits.
Over the past few months, red carpets have been a place to make a statement. It all began at the Golden Globes in January when a majority of the attendees at the ceremony wore all black to stand against sexism, gender inequality, and sexual violence in the entertainment industry. In addition, celebrities wore "Time's Up" pins on their clothing, an accessory that people have continued to wear throughout awards season. At the Grammys in February, musicians chose to wear white roses to support the movement.
According to The New York Times, the campaign leaders for "Time's Up" have not asked attendees at tonight's Oscars to wear all black, but you can expect to see celebs donning another pin — an orange American Flag to raise awareness about gun safety in support of Everytown. It's almost certain celebrities will express their support for all of these important causes, whether it's wearing a pin or speaking about the different issues in their red carpet interviews.
Here is what everyone has decided to wear at this year's Oscars.
Timothée Chalamet
America's newest heartthrob makes his Oscars debut in an all white Berluti tuxedo. Swoon.
Emma Stone
Emma Stone convinces us that a chic suit is the way to go at the Oscars.
Gal Gadot
Gal Gadot shines brighter than a diamond on the red carpet.
Armie Hammer
Hammer has been documenting his grueling pre-Oscars routine, including having his chest scraped and getting groomed by KC Fee using Baxter of California products. But all that hard work has certainly paid off — Hammer is looking more handsome than ever.
Danai Gurira
We are not worthy of Danai Gurira.
Sally Hawkins
Hawkins is beaming on the red carpet in this glittering, silver gown.
Kelly Ripa
Someone give Kelly Ripa's gown an Oscar.
Sandra Bullock
Sandra Bullock and this Louis Vuitton dress — a match made in red carpet heaven.
Meryl Streep
We are in love with the tiny belt buckle detailing on Streep's beautiful red gown.
Lupita Nyong'o
Nyong'o looks absolutely breathtaking.
Jennifer Lawrence
Jennifer Lawrence is dressed to kill in this metallic Christian Dior number.
Chadwick Boseman
We're going to need to borrow your super stylish jacket, Chadwick Boseman.
Nicole Kidman
This clearly isn't Nicole Kidman's first Oscars red carpet.
Saoirse Ronan
Win or lose, Saoirse looks like a total winner in this lovely pink gown.
Margot Robbie
Margot Robbie slays in Chanel.
Tiffany Haddish
Haddish's beautiful gown is a tribute to Eritrea, where her father is from.
Viola Davis
Pink has seriously never looked better.
Zendaya
All hail Zendaya, queen of the red carpet.
Greta Gerwig
Perhaps wearing gold is the key to nabbing a golden statue? (Go Greta!)
Whoopi Goldberg
Whoopi Goldberg's floral gown is a work of art.
Taraji P. Henson
Taraji P. Henson flashes us some skin with this high slit and mesh panels.
Andra Day
Andra Day is serving major looks in this Zac Posen gown.
Daniel Kaluuya
Daniel Kaluuya makes a very strong case for brown and black together.
Kumail Nanjiani & Emily V. Gordon
Whispering sweet nothings or making a joke? Either way, we're crossing our fingers their movie wins tonight!
Janet Mock
Janet Mock is glowing in custom Christian Siriano.
St. Vincent
No pants? No problem when you're St. Vincent.
Gina Rodriguez
Gina Rodriguez's gown bringing that sparkly drama.
Paz Vega
Paz Vega looks stunning in this Christopher Bu gown.
Mary J. Blige
Queen Mary J. Blige has arrived in an all-white gown with a sparkly bustier.
Salma Hayek
Someone needs to KiraKira Salma Hayek's sequined dress.
Elisabeth Moss
Elisabeth Moss looks so pretty in this darling pink Dior gown.
Jane Fonda
Jane Fonda can literally do no wrong.
Eiza González
Yellow is not a common color you see at the Oscars, but Gonzalez definitely pulled off the eye-catching look.
Betty Gabriel
This look is a far cry from Gabriel's character's wardrobe in Get Out and boy, does she look stunning!
Sam Rockwell & Leslie Bibb
Leslie Bibb looks so proud of her Oscar-nominated boo, Sam Rockwell.
Ashley Judd
Ashley Judd arrives on the red carpet in a bold purple gown on behalf of the Time's Up movement.
Mira Sorvino
Mira Sorvino makes a statement in this dramatic floral gown.
Phoebe Waller Bridge
This is the chicest polka dot dress the Oscars has ever seen.
Allison Janney
Allison Janney is an absolute vision in red dressed in this Reem Acra gown.
Beanie Feldstein
Beanie Feldstein is stunning in this sequined Ahluwalia ombre tulle gown.
Jordan Peele
Nominee Jordan Peele is ready for his close-up in his white tux.
Tom Holland
Spider-Man himself, Tom Holland, is looking dapper as ever all buttoned up in his sleek tux.
Allison Williams
Allison Williams channels old school Hollywood with this sparkly nude ballgown and her gorgeous, retro waves.
Zoey Deutch
Actor Zoey Deutch's sustainable Elie Saab gown made with silver silk threads, sequins, and beads looks absolutely regal.
Adam Rippon
Figure skater (and America's newest sweetheart) Adam Rippon is ready for the Oscars in Moschino.
Maria Menounos
Maria Menounos kept things chic and classic in a beautiful strapless black ballgown.
Mirai Nagasu
Joining fellow teammate and bff Adam Rippon, Olympian Mirai Nagasu wore a gorgeous Tadashi Shoji periwinkle blue gown featuring in celestial embroidery.