No, This Jelena Reunion Doesn't Have To Be Awkward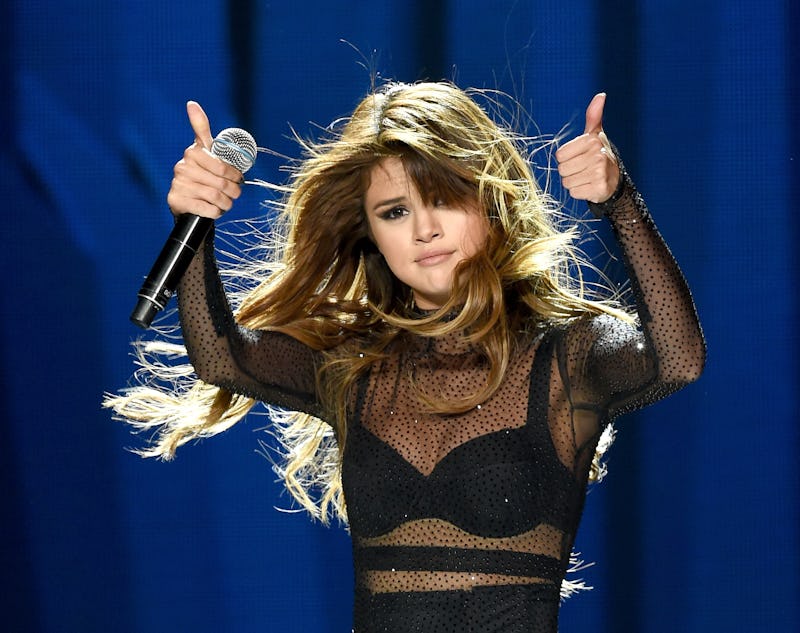 Kevin Winter/Getty Images Entertainment/Getty Images
If there's one bit of common ground we could share, it's the love of possibly awkward situations. Now, I don't actively root for someone to fall into an awkward situation, but the palpable tension at knowing something awkward could happen, or things could go sideways, always adds a bit of excitement, right? Well, things could very well get tricky if Justin Bieber, Selena Gomez, and The Weeknd attend the 2017 Kids' Choice Awards on March 11. All three singers have been nominated for awards this year, leaving some (like The Huffington Post) to wonder whether they would all attend and, if so, whether they would actually interact.
Can you even imagine what it would look like if they crossed paths on the red carpet? More importantly, how would Bieber react if he collided with Gomez and The Weeknd? HuffPost speculatively put two and two together, but alas, there is no confirmation on whether any of them will actually attend the show.
Again, I'm not rooting for weirdness to preside over the awards show if Bieber, Gomez, and The Weeknd do all show up together. A lot can happen between now and March 11. Gomez and The Weeknd, as #CoupleGoals as they may be, could break up by the time the Kids' Choice Awards rolls around; there's a chance that everyone would be avoiding each other.
But, the chances are also really high that Gomez and The Weeknd could be going even stronger by March 11, so we need to envision a world where Bieber, who's kept a super low profile in the last few months, has to face the idea of being in the same room as his ex-girlfriend and her new beau.
I like to think Bieber could smile through the pain, don't you? Bieber is known to be a bit of a loose cannon, but he's largely turned that around recently. In 2016, he put all of his time and energy into touring and keeping a low profile on the dating scene. You might say he's been safeguarding against criticism and heartbreak by doing this, but you have to admire the man for putting all of his time and energy, for the most part, into his career.
Which makes me think that even if he did cross paths with Gomez and The Weeknd, he'd be the bigger man, take a deep breath, and maybe just throw a nod of acknowledgement their way. Bieber's got this; don't you worry.