Justin & Selena Were Spotted Kissing & The Photographic Proof Will Leave You Shook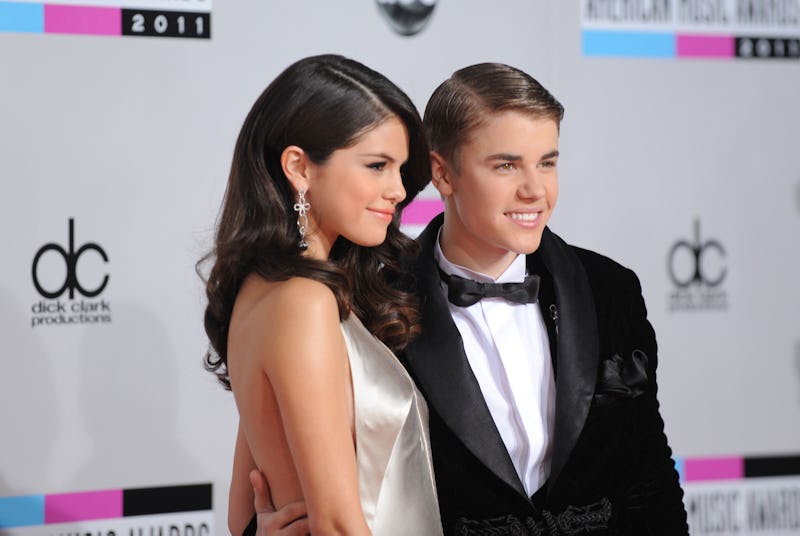 Jason Merritt/TERM/Getty Images Entertainment/Getty Images
Just in case you weren't buying the rumors that Justin Bieber and Selena Gomez have reunited, there's now even more photographic proof. On Wednesday, Bieber and Gomez were caught kissing at a hockey game, so now, there's officially no way to deny that that their recent meet-ups are just friendly. And even though whether or not this on-again, off-again couple is right for each other is something we'll all be debating for decades to come, it might be time to just give up on that argument altogether — no matter what side you're on.
According to TMZ, Gomez was cheering Bieber on at his weekly hockey game in Los Angeles when he took a quick break to plant one on her, right on the lips. Sadly, there don't seem to be any other details about their date night, but it certainly looks like they're back together, if this instance of PDA is any indication. Of course, rumors have been swirling for weeks that they're spending time together — and they've been spotted out in public doing couple-y things like riding bikes together on multiple occasions — but this kiss pretty much confirms it.
Set off the alarms, y'all. This is happening.
Somehow, this development is something that everyone should have seen coming yet did not at all see coming, all at the same time. No matter how long they're apart or what other people they date, Bieber and Gomez always seem to find their way back to each other... despite the fact that she has made it clear on multiple occasions that their relationship hasn't worked for her in the past. Yes, it did seem like Gomez's romance with The Weeknd could be what pulled her out of the vicious cycle she was caught in with Bieber for good, but as soon as they ended things, it was almost inevitable that a reunion would happen.
And as usual, plenty of fans have taken to Twitter to react to this news. Also as usual, reactions are very mixed. Some are cheering on #Jelena eternally, while others can't believe that this is actually happening again.
Honestly? As a society, it might just be time to let all of our opinions on the status of Gomez and Bieber's relationship go. Obviously, they're going to do whatever they want to do regardless of what anybody else thinks. This is a cycle that clearly never ends — they break up, they get back together, repeat, occasionally with an album release or a new, short-lived romance with someone else in between.
And even if you disagree with Gomez's judgment in getting back together with Bieber, maybe we should all agree to trust her. After all, she's been through a lot of serious, life-changing moments lately, like having a kidney transplant. That may have made her reexamine her priorities, and it may have even made her realize how important Bieber is to her to begin with.
Besides, all you have to do to realize that this may not be worth stressing over is to look around. It's 2017, guys. There are far bigger things to worry about right now than whether or not Gomez and Bieber are good for each other. They're both adults now who can make that decision for themselves, and the rest of us can save our energy for stressing out over stuff like, oh, the threat of nuclear war or elephant hunters being allowed to bring trophies into the U.S. again.
Even though Gomez would likely (maybe, possibly) be happier with someone who isn't Justin Bieber, she also seems happy in these recent pictures. So let's let her be happy, and wait to see how this all plays out. You never know — this could be the time it actually sticks.