Selena Gomez Breaks Silence On '13 Reasons Why' Controversy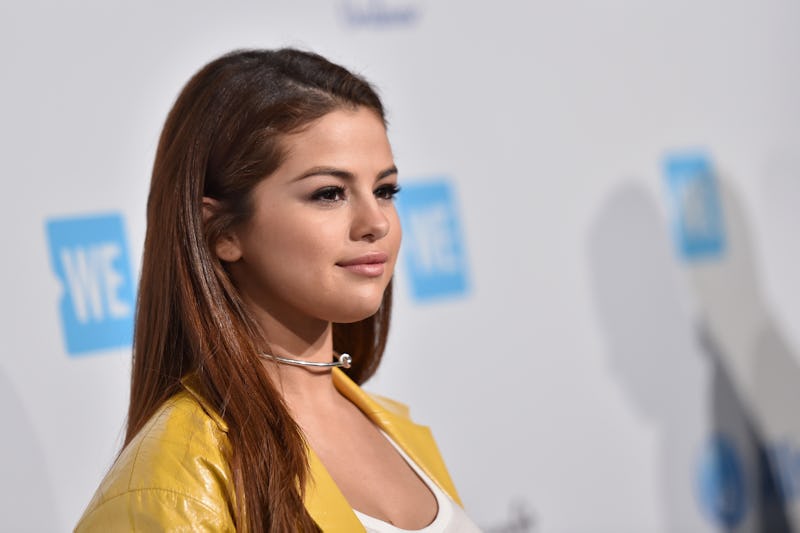 Mike Windle/Getty Images Entertainment/Getty Images
By this point, you've likely read every critical piece online concerning the controversy of 13 Reasons Why, and even debated it endlessly with your friends. And in an interview with E! News, executive producer Selena Gomez defended 13 Reasons Why amid claims that the show potentially offers a dangerous portrayal of suicide for vulnerable teenagers to watch. While Gomez didn't address the controversy directly, she did stand by the show while discussing how "surprised and overwhelmed" she was at its success. She told E! News,
"I believed in the project for so long and I understood what the message was. I just wanted it to come across in a way that kids would be frightened, but confused — in a way that they would talk about it because it's something that's happening all the time."
It's a fair point and one that definitely highlights that Gomez achieved her goals, in terms of starting a discussion. 13 Reasons Why has managed to make the taboo topic of teenage suicide a mainstream talking point, and one that's hopefully managed to heighten awareness of suicidal warning signs to be aware of in friends, family, and acquaintances.
The highly controversial and extremely graphic suicide scene in 13 Reasons Why was also frightening, as Gomez mentioned. And in my mind, the show's brutal realism was successful in removing the sort of mystique surrounding suicide that other TV shows and movies aimed at young people tend to rely on. Hannah's suicide scene was deeply disturbing because of how realistic it was.
However, Gomez's statement, while understandable and sincere, doesn't feel like quite enough when considering the severity of the issues discussed in 13 Reasons Why. It's one thing to open up a dialogue, but it's another to actively and directly engage with those conversations in an actionable manner.
As outlined in a statement released by the National Association Of School Psychologists earlier this month about the show, some health experts are concerned that 13 Reasons Why could influence copycat behavior in vulnerable young people, rather than help to prevent it. The organization stated,
"We do not recommend that vulnerable youth, especially those who have any degree of suicidal ideation, watch this series ... Its powerful storytelling may lead impressionable viewers to romanticize the choices made by the characters and/or develop revenge fantasies. They may easily identify with the experiences portrayed and recognize both the intentional and unintentional effects on the central character."
This opinion has been shared by celebrities such as Paris Jackson and Shannon Purser, who both issued warnings to their social media followers regarding the show. Jackson, who revealed to Rolling Stone in January that she attempted suicide "multiple times," shared a viral Tumblr post about 13 Reason Why on her Instagram, outlining the show's potential to put vulnerable "people in very real danger." Meanwhile, Stranger Things' Pursor warned at-risk Twitter followers to "protect" themselves, due to several graphic scenes that could "trigger painful memories and feelings."
These are all appropriate concerns. While Gomez should feel proud that 13 Reasons Why has solicited a great deal of important conversation surrounding the topic of teen suicide — as well as difficult topics such as sexual assault, bullying, and alcoholism — it feels a little disingenuous for her not to discuss the controversy directly, or take some action on the issues surrounding it.
Though I deeply appreciated that the show provided content warnings prior to the episodes containing graphic scenes, I was a little disappointed to discover the lack of resources to support vulnerable viewers following these scenes. There were no suggestions of helplines or websites in the series itself that could provide support in dealing with the harrowing issues raised by the show.
However, it's worth noting Netflix did produce an accompanying special, 13 Reasons Why: Beyond The Reasons focused on these issues, featuring mental health experts and resources. And when Bustle previously reached out for comment, Netflix stated, "Beginning at midnight on launch day, 13ReasonsWhy.info went live and will direct viewers from our After Show to mental health resources appropriate for each region where the show is available." (Their full statement is available here.)
Though I was personally impacted by the power of the show and truly moved by it, I can still understand why there are so many people challenging its provocative approach. And while Gomez should feel proud of what she helped create, it could also be beneficial for her to acknowledge that the issues raised by 13 Reasons Why need more than just a conversation to truly make a difference.
If you or someone you know are experiencing suicidal thoughts, call 911, or call the National Suicide Prevention Hotline at 1-800-273-8255.