Selena Gomez Makes Clear Exactly How Dire Things Were Before Her Kidney Transplant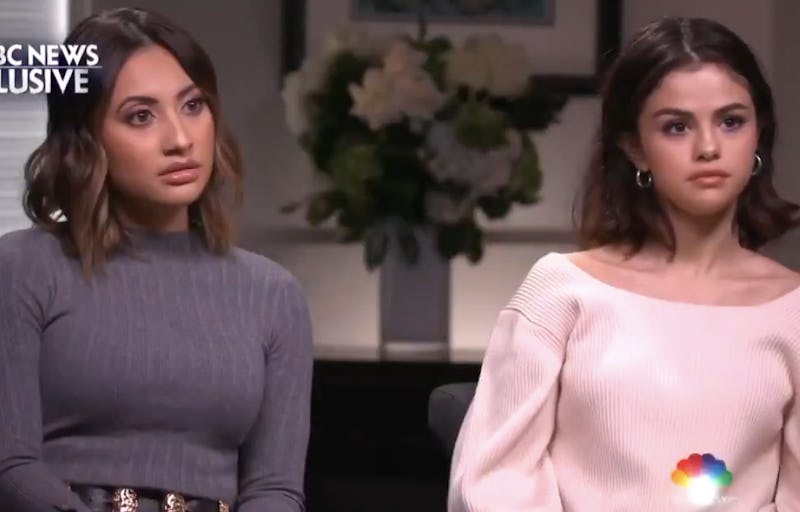 NBC
In September, Selena Gomez revealed on her Instagram account that she had received a kidney donation from her friend Francia Raísa after suffering from complications due to her lupus diagnosis. Now, Gomez is opening up about her kidney transplant in an interview for the Today show along with Raísa. The full conversation has not yet been released, but in a preview, Gomez didn't hold back as she and her friend chatted with Today co-anchor Savannah Guthrie to discuss the emotional process for the first time in an interview.
In a clip shared on Today Friday, Gomez explained what led to Raísa's kidney donation in the first place. "My kidneys were just done. It was...That was it," she said. "And I didn't want to ask a single person in my life. And that was the day that I came home and I found out. And she [Raísa] volunteered and did it."
Guthrie asked Gomez, "You feel that Francia saved your life?" and Gomez bluntly replied, "Because she did. That's it."
From Guthrie's own account she observed that, Gomez and Raísa have a "special bond" and were "like a sisterhood". There's still more to this interview, which will be shared on Oct. 30 and Oct. 31 on the Today Show and NBC News, where Gomez and Raísa will undoubtedly open up even more about the process.
When the singer first shared about her kidney transplant, it was through an Instagram post. The 25-year-old posted a photo of herself and Raísa at the hospital and a photo of herself with a scar post-surgery. Gomez said in the caption for the photos that she knew some of her fans were questioning her low-profile during the summer of 2017, even though she had new music coming out. Gomez wrote, "So I found out I needed to get a kidney transplant due to my Lupus and was recovering. It was what I needed to do for my overall health."
Gomez continued with some kind words for her supporters and for Raísa that will make even non-Selenators tear up a bit. She said,
"And finally, there aren't words to describe how I can possibly help my friend Francia Raisa. She gave me the ultimate gift and sacrifice by donating her kidney to me. I am incredibly blessed. I love you so much sis."
When it comes to her health, Gomez isn't afraid to get real. She has been honest about her struggle with lupus in the past. In an October 2015 interview with Billboard, Gomez talked about why she took a break in her career in 2015. She told the publication, "I was diagnosed with lupus, and I've been through chemotherapy. That's what my break was about. I could've had a stroke." She also took a break in August 2016 for 90 days in order to focus on her health. According to a statement Gomez gave to E! News, she was suffering from the "side effects of lupus" including "anxiety, panic attacks and depression".
When Gomez returned to the scene in November 2016, she shared a lovely note to her fans and supporters on Instagram. She said,
"My year has been the hardest yet most rewarding one yet ... I have only wanted to reflect the love you guys have given me for years and show how important it is to take care of YOU."
It sounds like Gomez and Raísa's upcoming two-part interview will definitely shed some more light on Gomez's health struggles and the kidney donation itself. The interview will also give her fans another glimpse of Gomez's amazing "sisterhood" bond with her dear friend.