You Need To See Selena Gomez's Instagram About Her Kidney Transplant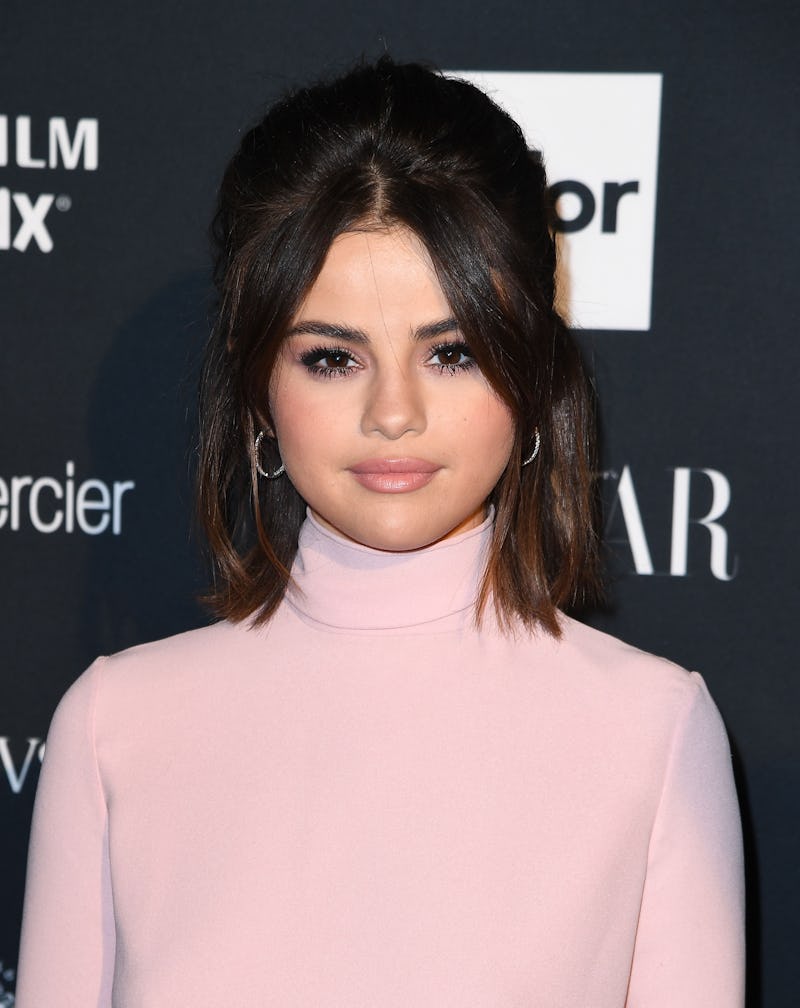 ANGELA WEISS/AFP/Getty Images
Even though she's released a few killer singles this summer, like "Bad Liar" and "Fetish," Selena Gomez has been laying low, rather than getting out there to spread the word about her new music, which has had some fans confused. But now, she's putting it all out there when it comes to the reason why. Selena Gomez had a kidney transplant recently due to her lupus, as she explained on Thurday morning, and her outlook on the situation (and her life going forward) is incredibly positive.
The news came in an Instagram post in which Gomez shared a few photos of herself going through the transplant process. Not only did she show her scar in a couple of polaroids, but she also shared a photo of herself in the hospital holding hands with her donor, who just so happens to be her friend and fellow actor Francia Raisa, who you might remember from Secret Life of The American Teenager. Gomez explained that she's been keeping a low profile in order to recover from the surgery, adding that she is "extremely proud" of her new music despite the fact that she hasn't been able to actively promote it.
How is it possible that Gomez still manages to look so radiant, even in a hospital gown? But more important than that is the fact that she wants to share her experience to help others who may be suffering from the same disease, and this is just one of the ways she's been doing that ever since she decided to share her lupus diagnosis with the world.
Gomez has been open about her struggle with lupus over the past few years. In a 2015 Billboard interview, she shared her diagnosis for the first time, admitting that she underwent chemotherapy to treat the disease. A year later, she took a break from her career so she could focus on her health, coping with the depression and anxiety that can present as side effects of lupus.
It's hard to believe that Gomez was able to undergo such a major surgery and keep it totally under the radar. It couldn't have been easy to accomplish, but somehow, Gomez managed to only the share the news when she was ready, which is important since something so serious relating to her health is obviously a very personal event. Being that she's lived under a microscope for most of her life, being able to have a major surgery without the world knowing had to be quite a task for Gomez, but she did it.
And of course, it's amazing that Gomez has a friend like Raisa who was willing to make such a huge sacrifice for her. Having a major surgery and donating an organ goes far beyond the call of what friendship means to many people, so Gomez is definitely lucky to have Raisa in her life. Fortunately, it seems like both women are doing well after surgery, and Raisa recently announced she was cast in Black-ish spinoff Grown-ish.
Now, Gomez has been out and about again, hanging out at several New York Fashion Week events. She also attended the Coach runway show, promoting her partnership with the brand. It would seem that she's finally able to make a return to her normal routine, and with the success of the singles and music videos she's released recently, a really exciting chapter in her career could be about to begin.
Good for Gomez for taking the time she needs for her health — and for speaking out about a disease that has had such a big impact on her life.