Selena Quintanilla's Music Helped Me Bond With My Abuela — And My Culture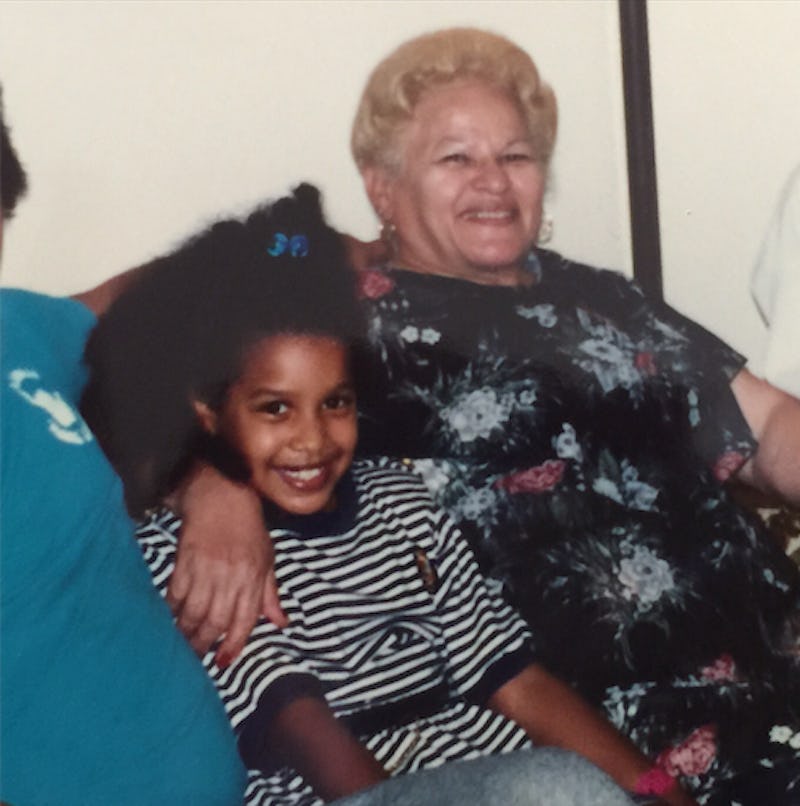 Courtesy of Jada Gomez
"Mami, she doesn't drink Bustelo! She's only 3!" One of my earliest (and most hilarious) memories involve my dad pulling a coffee mug out of my toddler hands, as the rich, biting aroma of Bustelo (the brew of Latinx champions) scorched my nostrils. "Ay, mijo, it never hurt you. I gave it to you and you turned out just fine. Stop worrying," my abuela said. She was never one to turn down a moment to remind her sons that she in fact raised them to be impeccable young men, their only downfall arguably being that they'd in fact become just a little too soft growing up in the projects of the Bronx in New York City. Because, America.
I adored my abuela every single day I had her in my life, until she passed away in 2015. Today, I'm a fierce protector of her traditions. I keep my Christmas tree up until Jan. 6, the Feast of the Three Kings, remembering with so much fondness the years she'd bring me to her church for mass and, of course, another night of toys under the church's Christmas tree. We bonded over our mutual love of lace, glitter, and little-girl magic — things her four sons were never interested in.
I was a little Puerto Rican who didn't really love meat, or rice, or beans... I was like a Rubix cube she was trying to figure out because I was her granddaughter.
But like any two family members, we'd hit some stumbling blocks at times. For one, she was just starting to master English when I was very young, and felt a lot more comfortable speaking Spanish with her sons. I, on the other hand, was just starting to learn any language as a toddler, although I was most comfortable with English. I would try to figure out ways to let her know that I was enjoying my time with her, that I was in fact happy as a pea, but with our language barriers, and my all-American upbringing, we sometimes had a hard time understanding each other. She was used to cooking for four young men (and a friend from the block or two), that included steaming pots of arroz con pollo and a freshly roasted pernil — literally enough food to feed a small sports team. Meanwhile, my mother stocked my diaper bag with books, crayons, Cheerios, and juice boxes. I was a little Puerto Rican who didn't really love meat, or rice, or beans.
During our weekends together, I lugged over my VHS tapes, and she would sit through The Little Mermaid and Sleeping Beauty with me, happily learning the songs, but side-eyeing my Cheerios, wondering how my parents were sustaining me on food from a box. I'd snuggle up to her while Sabado Gigante took over the television for all of Saturday night, wondering how she could watch Don Francisco, the host, for so many hours without getting tired of him. I was like a Rubik's cube she was trying to figure out because I was her granddaughter.
In a way, our love for Selena became our language — thanks to her we never ran out of things to talk about.
This was pretty much my relationship with my abuela, the two of us doing a dance around our cultural and generational differences, while loving each other unconditionally — until Selena Quintanilla appeared on Sabado Gigante for the first time in 1994.
I was 10 years old, obsessed with Janet Jackson, Mariah Carey, and Madonna. And there was this beautiful young superstar in a sparkly black bustier, and I thought she was the coolest woman on the planet instantly. My abuela, also seeing Selena for the first time in that moment, was excited to see my face light up watching Sabado Gigante for the first time ever. Although she tried to teach me how to salsa at her church parties, my abuela couldn't really convince me to bust a move. But while watching Selena, I was up on my feet, trying to perfect her trademark spin. She smiled so proudly, and that's when my abuela explained cumbia to me, and told me that Selena's sound and style was part of our heritage. She taught me how to do the washing machine (in the 1997 film Selena, the young star learns how to do it thanks to her mom), and with every visit, I would give my abuela updates on Selena's new looks, her new music, and where we could watch more of her on TV.
In a way, our love for Selena became our language. Thanks to her, my abuela and I never ran out of things to talk about, because we always knew we could talk about her. And most importantly, my abuela was thrilled that the Tejana superstar taught me to love my culture. For the first time, I was identifying in a way that was separate from the traditions I was taught to observe and respect.
The magic of Selena is that she's really the first American Latinx megastar — a beacon for all of us who live in diaspora, or who are many gens removed from our ancestors who came to the U.S. Even though there are differences in Puerto Rican culture and Mexican culture, she was able to bridge the culture gap and introduce a generation of young people to a new kind of Latinidad. And this newly instilled pride helped them to find a common ground with their elders.
We lost Selena tragically in 1995, when she was gunned down senselessly. Oddly enough, my abuela and I didn't talk about her death. Although I was heartbroken about her death, and that I would never get to see her perform live my abuela simply said, "My baby, do you know what she gave you? She represents you, and no one will ever forget her name."
And she was right. Following the release of 1997's Selena, Jennifer Lopez became a household name across America. And although gradually, I began to see myself represented in many more places, as did the girls like me who clung so tightly to Selena's image. Thanks to girls who desired more representation, the Queen of Tejano Music lives on with Gina Rodriguez's beloved character, Jane Villanueva on Jane The Virgin. And like a domino effect, representation has gotten even stronger— though there's admittedly still tons of room to improve — thanks to Netflix shows like One Day At A Time and On My Block.
Decades after Selena's death, I'm so happy that I happened to be laying on my abuela's couch (with the plastic on, of course) when Selena first performed on Sabado Gigante. Not only was it a cornerstone in my relationship with my abuela, it was a major moment of clarity about my identity. It was the first time I realized my Latinx heritage really mattered, and had a place in my world as an all-American kid. And thankfully, it changed my relationship with my abuela, and gave me a fresh determination to keep her traditions alive and well.
For more Latinx Heritage Month content on Bustle, click here.