Sen. John McCain Has Died At 81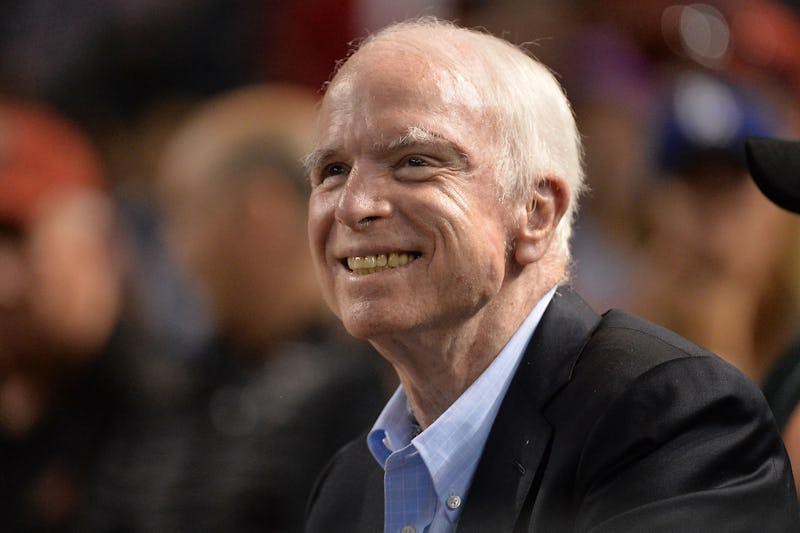 Jennifer Stewart/Getty Images Sport/Getty Images
One of the most high-profile senators of the last several decades has died. On Saturday, Sen. John McCain died at the age of 81, the New York Times reports. McCain had been diagnosed with brain cancer in 2017, and his family recently announced that he would no longer undergo treatment. The Arizona Republican served as a Navy pilot before entering politics, and spent five and a half years in a prison camp after his plane was shot down over Vietnam. He ran for president twice and was nicknamed "maverick" for his willingness to work with Democrats in Congress and vote against Republican policy priorities.
A day prior, McCain's family released a statement explaining that the senator had discontinued medical treatment.
Last summer, Senator John McCain shared with Americans the news our family already knew: he had been diagnosed with an aggressive glioblastoma, and the prognosis was serious. In the year since, John has surpassed expectations for his survival. But the progress of disease and the inexorable advance of age render their verdict. With his usual strength of will, he has now chosen to discontinue medical treatment. Our family is immensely grateful for the support and kindness of all his caregivers over the last year, and for the continuing outpouring of concern and affection from John's many friends and associates, and the many thousands of people who are keeping him in their prayers. God bless and thank you all.
McCain's death reduces Senate Republicans' already-slim majority by one seat, leaving them with 50 seats to Democrats' 49 seats. Arizona Gov. Doug Ducey will appoint an interim senator to fill McCain's seat until the next general election, when the state will elect a replacement to fill out the rest of McCain's term. Arizona law requires interim senators to be of the same party as the senator they're replacing, so Ducey will appoint a Republican to temporarily fill the seat.
McCain graduated from the U.S. Naval Academy in Annapolis in 1958 and enlisted in the Navy, ultimately becoming a pilot. He survived several near-misses during his military career, including one in which his plane flew into power lines and caused a blackout in Spain.
In 1967, McCain's plane was shot down during a bombing run over North Vietnam. The crash nearly killed him, and he was subsequently held as a prisoner of war for five and a half years. The North Vietnamese military tortured him during his imprisonment, but offered to release him in 1968 after learning that his father was a powerful Navy admiral. McCain refused early release, however, as he thought it would be unfair to his fellow POWs who had been held for longer than him.
McCain was released when the Vietnam War ended, and ran successfully for the House of Representatives in 1982. After serving two terms in the House, he mounted a successful campaign for the U.S. Senate in 1986, and won re-election every six years afterward.
Throughout his Senate career, McCain built a reputation as an independently minded legislator willing to break with the Republican Party on high-profile issues. He initially voted against George W. Bush-era tax cuts; co-sponsored an immigration bill with the late Democratic Sen. Ted Kennedy; authored a campaign finance bill with former Democratic Sen. Russ Feingold; and, most recently, cast the deciding vote against a bill that would have repealed the Affordable Care Act.
That said, McCain was often a reliable Republican vote, most notably on matters of foreign policy and the military. He strongly supported the war in Iraq, and in 2010, he led an unsuccessful effort to retain the military's ban on gay service members. A FiveThirtyEight analysis found that between 1986 and 2015, McCain voted with the Republican Party 87 percent of the time on party-line votes.
In 1989, McCain was at the center of the Keating Five scandal, a controversy involving five lawmakers who received campaign contributions from Charles Keating, an Arizona banker later convicted of fraud. McCain and four of his Senate colleagues were accused of acting improperly by meeting with federal regulators after receiving contributions from Keating. After a 14-month ethics investigation in the Senate, however, McCain was cleared of any wrongdoing. (Incidentally, his lawyer in that investigation was John Dowd, who went on to become a legal advisor for the Trump administration.)
McCain ran for president twice. In 2000, he won several states in the Republican primary before losing the nomination to then-Gov. George W. Bush. Eight years later, McCain won the GOP nomination, but lost the general election to Barack Obama. McCain's 2008 campaign was later dramatized in the HBO film Game Change.
In 2013, McCain surprised many people when, at the age of 77, he snuck across the border into Syria in the dead of night to meet with rebel groups fighting the Syrian government. Though his life was cut short by cancer, the senator clearly never let his age define him. He is survived by his wife Cindy and his five children.