Gina Haspel Was Just Confirmed As The First Female CIA Director Despite Torture Complaints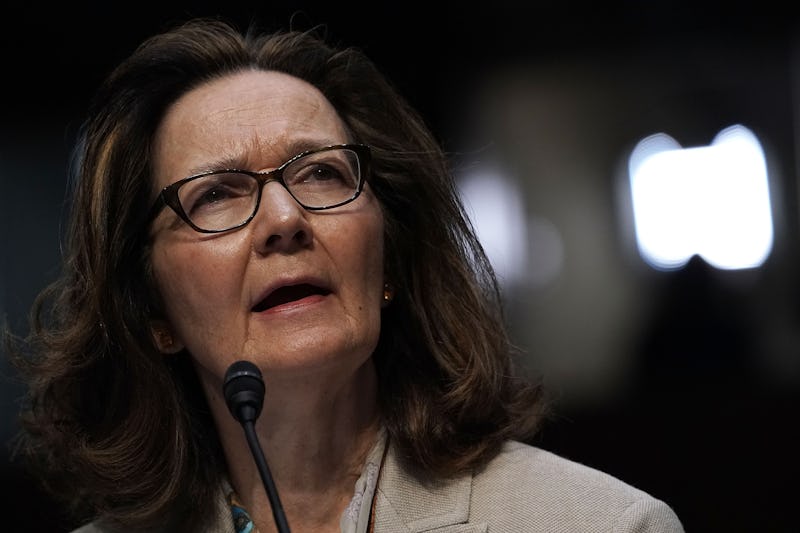 Alex Wong/Getty Images News/Getty Images
After two crucial Democratic senators announced that they would vote in favor of Trump's nominee for CIA director, Gina Haspel, the Senate Intelligence Committee voted on Wednesday to advance her nomination. On Thursday, the full Senate voted to confirm Haspel as the new director of the CIA.
During a closed-door meeting Wednesday, the Senate Intelligence Committee voted 10-5 to advance Haspel's nomination and recommended that the rest of the Senate follow suit. Following the positive committee vote, Haspel was able to obtain the majority of the full Senate's support and assume her new role as the head of the CIA. However, Haspel's path to her confirmation was not an entirely smooth one, primarily because she faced significant criticism from Democrats and human rights activists regarding her role in the Bush administration's interrogation and detention program.
According to Al Jazeera, Haspel has been serving in the CIA for roughly 33 years. After 9/11, Haspel allegedly had a role in the torture of individuals who had been accused of being terrorists. She specifically faced questions about her supervision of a CIA "black site" in Thailand, where detainees allegedly faced brutal interrogation tactics. Democrats on the committee also asked Haspel about her role in the destruction of CIA interrogation tapes.
During her confirmation hearing, Haspel refused to explicitly condemn the CIA's interrogation program during her confirmation hearing, stating that it provided "valuable information." However, after facing significant backlash for her role in this program, Haspel sent a letter to the top Democrat on the committee — Virginia Sen. Mark Warner — in which she appeared to shift her position on the issue. She wrote that she would not "condemn those that made these hard calls," but suggested that she had nonetheless "learned the hard lessons since 9/11," as had the CIA.
"With the benefit of hindsight and my experience as a senior agency leader, the enhanced interrogation program is not one the C.I.A. should have undertaken," Haspel wrote in the letter. "The United States must be an example to the rest of the world, and I support that."
Shortly after Warner received this letter, he announced that he would be voting in Haspel's favor. North Dakota Sen. Heidi Heitkamp and Florida Sen. Bill Nelson — neither of whom are on the Intelligence Committee — subsequently announced that they would vote to confirm Haspel during the full Senate vote. Ultimately, all eight Republicans and two of the Democrats on the Intelligence Committee voted to advance Haspel's nomination, with Warner saying in a statement that he found Haspel to be "professional and forthright."
"Most importantly, I believe she is someone who can and will stand up to the President if ordered to do something illegal or immoral — like a return to torture," Warner said in a statement issued on Tuesday. Warner also credited his change of heart to favorable views that members of the intelligence community — particularly those who had served under Barack Obama — had of Haspel.
But unlike Warner, many other Democrats — alongside human rights activists — still do not believe that Haspel should have been confirmed. Some, like New Mexico Sen. Martin Heinrich and Alabama Sen. Doug Jones, believe that Haspel has not sufficiently been held accountable for her role in the CIA's use of torture — which she described in her letter to Warner as "enhanced interrogation." Oregon Sen. Ron Wyden went so far as to describe Haspel's nomination as one of the most "self-serving abuses of power in recent history."
Despite facing resistance from the left, Haspel's confirmation was all but assured after receiving triple endorsements from Warner, Heitkamp, and Nelson. Now that her nomination has been confirmed, she will be the first woman to lead the CIA.