Serena Williams Wrote An Uplifting Message To Moms Everywhere After Her Recent Defeat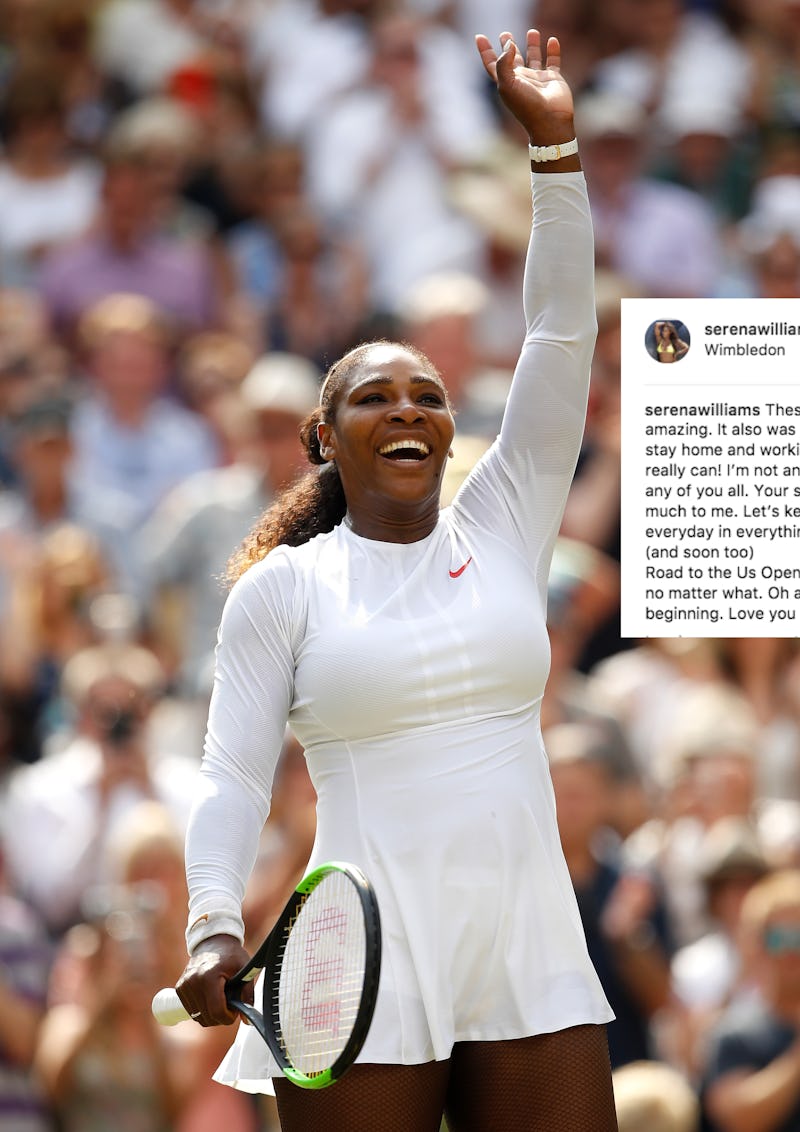 Julian Finney/Getty Images Sport/Getty Images; Serena Williams/Instagram
The greatest athlete of our time is taking a moment to share an incredibly uplifting message to her fellow moms after a recent, heartbreaking Grand Slam defeat. As E! News reported, Serena Williams had a moving message for moms on Instagram following her Wimbledon loss that is honestly all kinds of sweet.
Williams first wrote about how special it's been to head back to the court during the tennis major before turning her focus towards a particular group of women. Williams wrote, "These past two weeks was amazing. It was also a sound for all moms stay home and working you can do it you really can!" The athlete continued to write about how much she identifies with her fellow working moms (as she gave birth to her daughter, Alexis Ohanian Jr., in September 2017). "I'm not any better or diff than any of you all. Your support has ment so much to me. Let's keep making noise everyday in everything we do," she wrote.
Not only did Williams take an inspirational turn in her message when it came to mothers everywhere, she also expressed that she's looking forward to her next challenge:
"I'll be back (and soon too) Road to the Us Open is next! Stay strong no matter what. Oh and this is just the beginning. Love you."
Leave it to Williams to take the time to express such a moving message after her own Wimbledon loss. Although, it's not exactly that surprising. She's an amazingly strong athlete through and through.
On July 14, during the Wimbledon Ladies' Singles Final, Williams lost to Angelique Kerber, according to Bleacher Report. Following the match, the tennis great responded to her defeat and, as you may have guessed, she was equally as inspirational as she was in her recent Instagram post.
According to The Guardian, shortly after the game, Williams said, "I was really happy to get this far. For all the moms out there, I was playing for you today and I tried, but Angelique played really well." She then continued to say, "I didn't know a couple of months ago where I was, and so these two weeks have showed me I can really compete and be a contender to win grand slams."
Williams also echoed her Instagram caption and revealed who she was playing for during the match in an official post-game interview, "For all the moms out there, I was playing for you today." Considering the fact that Williams has been open about motherhood and her journey to get back on the court, it's especially wonderful to see her multiple inspirational statements for her fellow moms.
In an interview with Good Morning America's Robin Roberts back in April, Williams was very open about everything in relation to her motherhood journey and getting back on the court. Following an easy pregnancy, and a life-threatening birthing ordeal, Williams is simply enjoying her time as a working mother. "I'm having the best time as a mom," she said, "I just walked out and was giving her extra hugs and extra kisses."
When Roberts noted that everyone was rooting for her as she makes her return to tennis, she replied, "It's crazy. It actually makes me want to work harder. It makes me want to do better. Most of all, I just want to do it for me, and for my family." Spoken like a true athlete.
Williams previously made her grand return back to the tennis world in March when she competed in the Indian Wells event, according to CBS Sports. More recently, she's made her comeback in the majors with appearances at both the French Open in May, and of course, at Wimbledon. But, based on her previous inspirational statements, her journey as a working mother in the tennis world is only just beginning.