Serena Williams' Reaction To Her 2018 Wimbledon Loss Is The Definition Of Class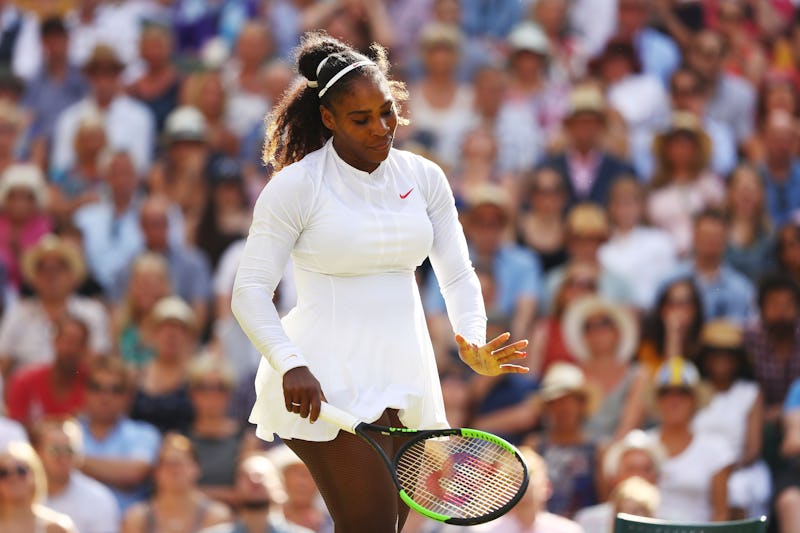 Michael Steele/Getty Images Sport/Getty Images
On Saturday, July 14, Germany's Angelique Kerber defeated Serena Williams in straight sets to claim her first-ever Wimbledon victory. While it may not have been what she was expecting, Serena Williams' reaction to her 2018 Wimbledon loss was just as regal as she is. The athlete became a mom just 10 months ago, and was ranked at number 25 in the world upon entering the tournament — but made it all the way to the Wimbledon finals nonetheless. Kerber, who is 30, is currently ranked 10th.
Much of this year's Wimbledon tournament has been a surprise, with the next generation of American favorites (Sloane Stephens and Madison Keys, among others) being eliminated early on. As a result, Williams' loss shouldn't be too shocking; Wimbledon 2018 has been a real "expect the unexpected" situation thus far. Even so, Williams accepted defeat with grace, poise, and inspiring words for working mothers of the world.
Speaking to reporters from the court just moments after the match, Williams said the following per The Guardian:
"I was really happy to get this far. For all the moms out there, I was playing for you today and I tried, but Angelique played really well."
She then added:
I didn't know a couple of months ago where I was, and so these two weeks have showed me I can really compete and be a contender to win grand slams. This is literally just the beginning. I took a giant step at Wimbledon but my journey has just began.
Kerber later responded to this with a reverent quote, stating "You're such an inspiration for everybody," and "Congrats again for coming back."
Watch Serena Williams' post-match interview below, in which she said: "For all the moms out there, I was playing for you today."
Williams won her first Wimbledon title in 2002, and had nothing but positive comments for her opponent and her game. According to Williams, Kerber's play was "unbelievable," and felt that her presence in the Wimbledon finals at all — especially after pulling out of the 2018 French Open in May — was a "great opportunity" for her personally. ABC News reports that Williams was not sure if she'd be able to return to tennis after her maternity leave. Not just from a mental standpoint, either; if you'll recall, Williams experienced a medical emergency while still in the hospital with her daughter. As her husband Alexis Ohanian wrote on Twitter:
Days after our baby girl was born, I kissed my wife goodbye before surgery and neither of us knew if she would be coming back. We just wanted her to survive — 10 months later, she's in the #Wimbledon final. @serenawilliams will be holding a trophy again …
Since the couple met in 2015, Ohanian has grown to be Williams' proudest and most vocal cheerleader. His tweets, court-side reactions during her games, and effusive worship for her athleticism and her talent have made him a legendary tennis husband in a short amount of time. The couple also named their daughter, Alexis Olympia Ohanian, Jr. after him, and she has one unique legacy to live up to. Williams is perhaps the greatest athlete of all time, and Ohanian is a tech geek known for cofounding Reddit and other companies. Not just a power couple; they are the power couple. You have to believe that Williams will indeed be holding a first-place trophy again before too long.
Though it was disappointing to see Williams miss out on the Wimbledon title, it's reassuring that she was in good company nonetheless. The Duchesses of Cambridge and Sussex — Kate Middleton and Meghan Markle, respectively — were in attendance at the match, and were undoubtedly rooting for Williams (Hey, Markle and Williams are friends, after all). It was the first time the Duchess of Cambridge and Duchess of Sussex had attended an event together by themselves on behalf of the Royal Family. They both looked incredible, for the record.
Despite defeat in the 2018 Wimbledon finals, Serena Williams is still a tennis titan. She'll be a force to be reckoned with in any tournament — and the 2018 U.S. Open isn't that far away.