Serena Williams Just Returned To Tennis With Her First Major Win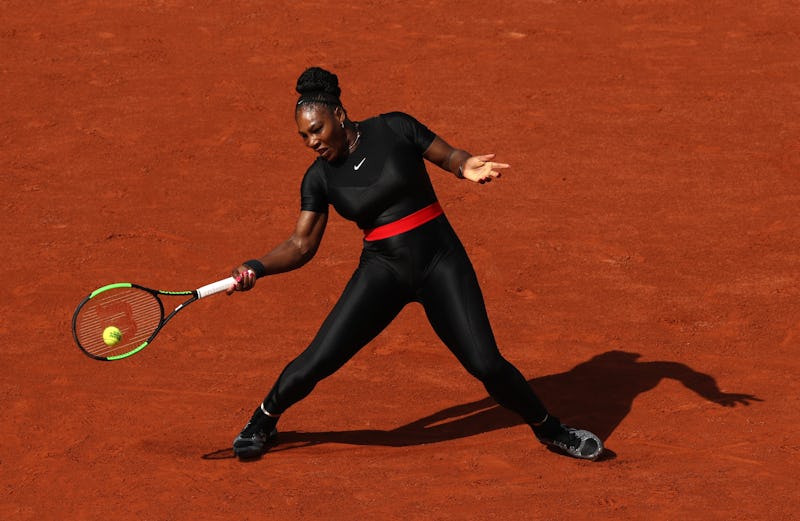 Matthew Stockman/Getty Images Sport/Getty Images
It's no secret that the tennis world has missed seeing Serena Williams on the court since she took a small hiatus in 2017. Well, lucky for fans the queen is back, and with a vengeance. Serena won her first major tennis match since giving birth on Tuesday, May 29, showing the world, once again, why she's helmed as one of the greatest athletes in the midst.
In case you're unfamiliar, when it comes to tennis, Serena dominates. The all-star athlete currently holds the most Grand Slam combined titles out of all of the active players, and with that, Serena is placed as the third player of all-time to do so. As of Tuesday, the Compton, Calif. native returned to the Grand Slam circuit at the French Open, winning a match against competitor Kristýna Plíšková in straight sets, 7-6 (7-4) 6-4. With the win, Williams advanced to the round of 64, where the legendary athlete will play Ashleigh Barty of Austrailia, the 17th seed. At this point, nothing can slow Serena's game down — not even after becoming an awesome wife to Reddit co-founder Alexis Ohanian, and new mom to her 9-month-old babygirl Alexis Olympia Ohanian Jr.
The athlete gave birth to baby Alexis in September 2017, and according to her countless adorable social media posts dedicated to Alexis, she couldn't be happier. Serena's 16-month hiatus from the court was definitely shocking to a lot her fans and tennis enthusiasts, but keeping everyone up-to-date via her Instagram account while living her best life was a nice trade off. Today, Serena's story is as inspiring as ever before. Not only did she just come back after a much needed break, but the said break seemed to totally fuel her for her huge recent win.
"It feels like this suit represents all the women that have been through a lot mentally, physically with their body to come back and have confidence and to believe in themselves," Williams told reporters after the win, according to ESPN.
Amongst fans of the athlete giving her warm welcomes back to the court, close friends and family members of Serena also shared heartfelt messages about her with the masses. Serena's husband Ohanian wrote the sweetest of them all wishing her well, and included a video from one of her biggest fans, named Denise, that could make even the toughest of athletes cry. According to Ohanian's post, after hearing about Denise's story of sacrifice and unwavering support for Serena's career over the years, the all-star athlete signed one of her practice tennis balls from the 2017 Austrialian Open — of which she won — for Alexis to mail it off.
In the heartfelt Instagram post, Ohanian wrote, "I'm grateful for all the people around the world who adore my wife; the world. This particular story moved all the people who upvoted it, but also us."
"Today, Serena is going back to work at her first Grand Slam since Junior was born," he continued. "And our family is thrilled & proud to cheer her on with all of you—most certainly you, 'Nee Nee.' The Queen is back."
Whether tearing up the tennis court, in interviews, or simply attending the royal wedding — absolutely slaying the dress code — Serena always puts her best foot forward, inspiring fans, and lending support to those nearest and dearest to her.
This particular story about Serena extending warmth to a fan is sure to fit within a plethora of other instances in which she's brought a smile to someone's face. It's not just about her athleticism. Serena is also loved and adored by many because of her endless determination, her concrete rose story, and the fact that no matter how famous she becomes, she always finds time to bring light to those around her.
Serena has definitely been missed, and it's so nice to see her not only come back to the court, but to pick back up on top — where she left off. And here's to hoping that the all-star continues inspire all of those tuning into her every move for years to come.