Is Seth Rogen Really Making A Movie About Fyre Festival?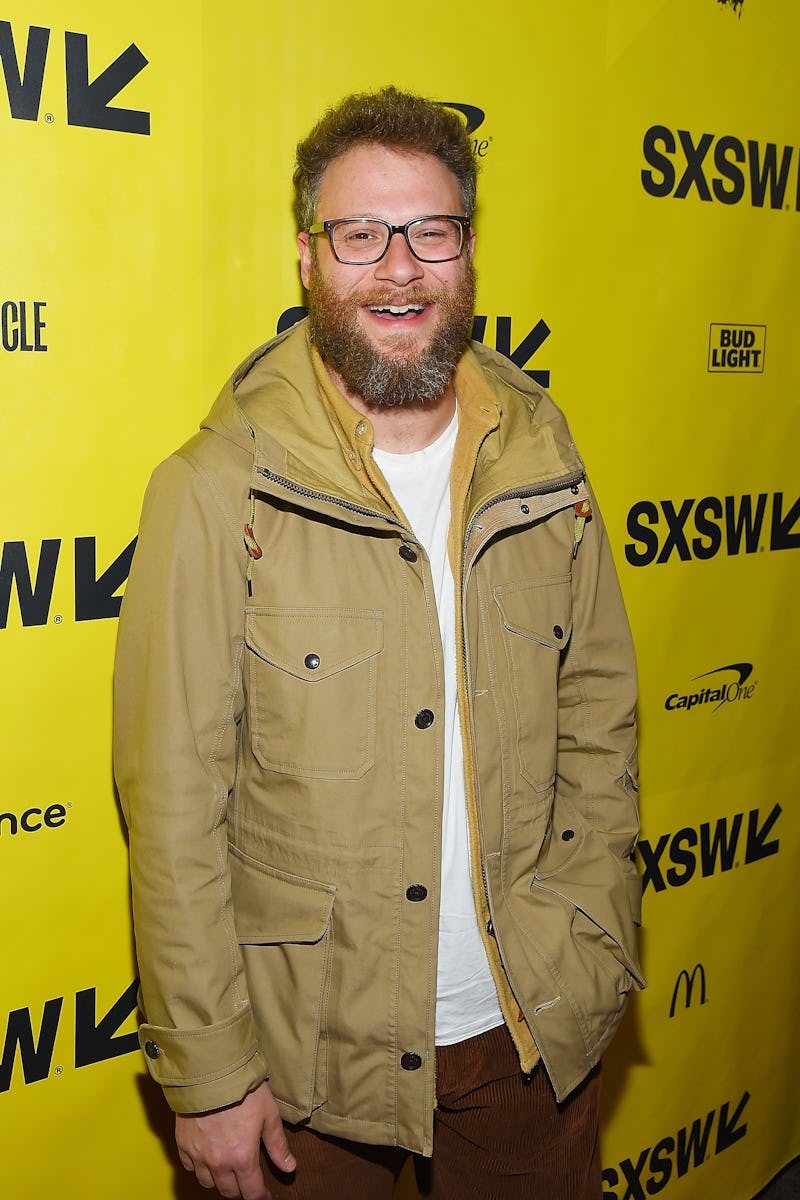 Matt Winkelmeyer/Getty Images Entertainment/Getty Images
As the world continues to be fascinated by the news surrounding the hot mess that was the 2017 Fyre Festival, comic genius Seth Rogen has come up with a way to prolong that attention with humor. The actor posted a message to Twitter suggesting that he was collaborating with The Lonely Island on a movie about a music festival gone wrong, and this seriously needs to happen. Whether or not he was directly referring to Fyre Festival — which had been promoted as a luxurious "blend of music, art and food" in the Bahamas, but turned out to be a disaster — remains to be seen.
People everywhere were captivated by the coverage of the festival earlier this week, as attendees (who had paid as much as $12,000 for their tickets) shared the seemingly disappointing and often downright hilarious details of the event, which reportedly included half-built tents, litter, scarce supplies, an absence of event staff and security, and even allegations of feral dogs roaming the site. (The organizers have since offered multiple statements and apologies, including promising full refunds to attendees and VIP passes to next year's show.) The outright ridiculousness of the whole event sounds like something out of a movie, so it seems logical that someone would make a film about Fyre Festival 2017.
Well, it turns out that something similar might already be in the works. In his tweet, Rogen claimed that he's already working with The Lonely Island on a movie about a disastrous music festival.
"This seems like a good time to mention the movie we are making with @thelonelyisland about a music festival that goes HORRIBLY WRONG," the actor tweeted.
A few minutes after Rogen's tweet, The Lonely Island's account replied that they were contemplating suing the Fyre Festival for "stealing" their idea.
Sadly, Rogen doesn't have any upcoming projects on his IMDb page that has to do with a music festival. So it's hard to tell whether they're all kidding, or if this project is actually in the works. (It does seem like a joke, though.)
After an insane amount of backlash, on Friday afternoon organizers announced they were canceling this year's Fyre Festival. In a message posted to Instagram, they said,
Due to circumstances beyond our control, we must postpone this experience. We are working tirelessly to ensure each guest leaves the island safely and ask for everyone's patience and cooperation as we continue to provide ongoing updates via email and our official social media channels as they become available, including refund information.
However, this isn't the end of the Fyre Festival. According to an email organizers sent on Saturday morning, Fyre Festival will be back in 2018 and they're trying to make things right. The statement said,
After speaking with our potential partners, we have decided to add more seasoned event experts to the 2018 Fyre Festival, which will take place at a United States beach venue. All festival goers this year will be refunded in full. We will be working on refunds over the next few days and will be in touch directly with guests with more details. Also, all guests from this year will have free VIP passes to next year's festival.
Here's hoping these "more seasoned event experts" help make the 2018 Fyre Festival less of a hot mess, and that Rogen isn't kidding about making a movie about a similarly messy music festival. I'll probably never have enough spare cash to go to Fyre, but I'd definitely go see Rogen and The Lonely Island in a funny movie about it.