Sexual Assault Survivors Are Not Your Props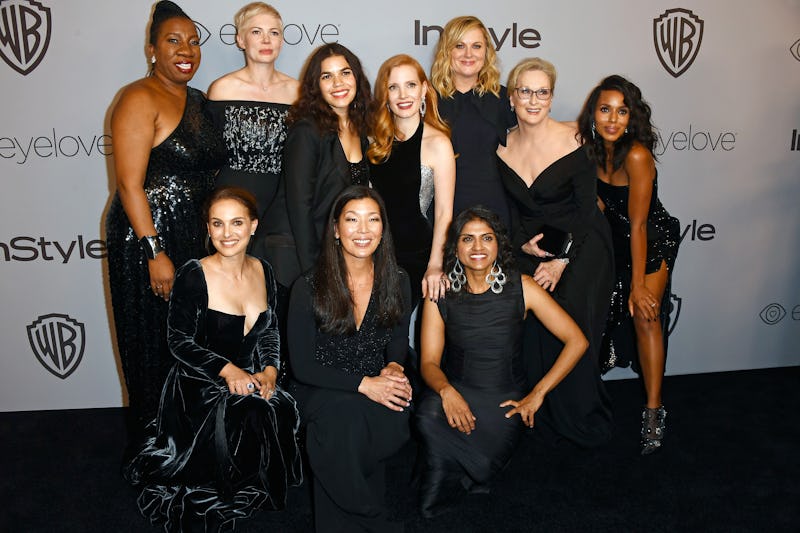 Frazer Harrison/Getty Images Entertainment/Getty Images
In the most recent display of support against sexual harassment and assault, activists and survivors were invited to high-profile events in Hollywood and on Capitol Hill. Unfortunately, whether they were at the State of the Union or the Golden Globes, these women were just that: guests. As attendees, they were a visible representation of their work — but visible is all they were.
Let's start with the Globes on Jan. 7: Almost every attendee wore black in solidarity with the men and women who have come forward. Several celebrities brought an activist as their date: Michelle Williams arrived arm-in-arm with Tarana Burke, founder of the #MeToo movement; Meryl Streep brought Ai-Jen Poo, Director of the National Domestic Workers Alliance. Nearly everybody took their opportunity at the podium to address the issue, most memorably Oprah, whose rousing speech was met with a standing ovation.
Are these survivors and leaders — accomplished women who have changed the very landscape for the conversation surrounding sexual violence — being reduced to props?
And at the State of the Union Tuesday, several members of Congress invited survivors of sex crimes, as well as activists and writers. Massachusetts Rep. Katherine Clark brought Anny Gonzalez, an airplane cleaner who suffered sexual harassment at work. Michigan Rep. Brenda Lawrence brought Danielle McGuire, an author and historian who wrote a book about Recy Taylor, an African American woman who, despite death threats, refused to stay silent about a brutal rape she suffered at the hands of six white men in 1944. New Jersey Rep. Bonnie Watson Coleman brought Rose Gunter, the niece and former caregiver of Recy Taylor. And Illinois Rep. Mike Quigley arrived with Erin Walton, the executive director of Rape Victim Advocates in Chicago.
With these gestures, Hollywood stars and politicians are giving victims of sexual violence more visibility and support than we've ever had before. As a survivor myself, I feel grateful. Although all of us have a voice, these people have a megaphone.
However, it must be asked: Are these survivors and leaders — accomplished women who have changed the very landscape for the conversation surrounding sexual violence — being reduced to props?
At the State of the Union, for example, none of these guests spoke. Their presence was intended to serve as a silent rebuke of the President — but a silent one nonetheless. Meanwhile, Gloria Allred, the lawyer representing several women who have accused Trump of assault (which he denies), told The Washington Post none of her clients were invited to attend. Which, once again, begs the question: Are these women being used as props?
Unfortunately, it's in vogue to "support" survivors, whether it's genuine or not. Sometimes, though, it rings especially hollow — veteran actor Kirk Douglas arrived to the Globes dressed in black, for example, and earned an award and a standing ovation, despite well-known accusations that he allegedly raped Natalie Wood when she was 16 (which Douglas denies). And despite the constant talk of revolution and bravery, not one actress mentioned Ashley Judd or Salma Hayek, two of Weinstein's initial accusers, who were sitting in the audience.
Given the well-established prevalence of sexual violence, this seems like a missed opportunity to hear from the people doing the legwork.
What isn't said matters, too: Would-be presenter Casey Affleck was quietly replaced at the Oscars following two sexual misconduct and harassment lawsuits (which Affleck says he's legally prohibited from commenting on), yet there was no statement. Again, this feels like a lost opportunity for Oscars organizers to publicly stand with the women who walked the red carpet.
Speaking up about sexual violence has broken a societal barrier. It has sparked a conversation that has the power to shift an entire culture. Yes, that conversation needs to continue, and, yes, survivors and their advocates need the platform Hollywood and Capitol Hill can provide. Those with the megaphones have been heard — and now it's time to hear from the women who have been working on the ground since day one.
Kristen is the Promotional Director for A Voice for the Innocent. This op-ed solely reflects the views of the author, and is part of a larger, feminist discourse.