All U.S. Senators Will Be Required To Go Through Sexual Harassment Training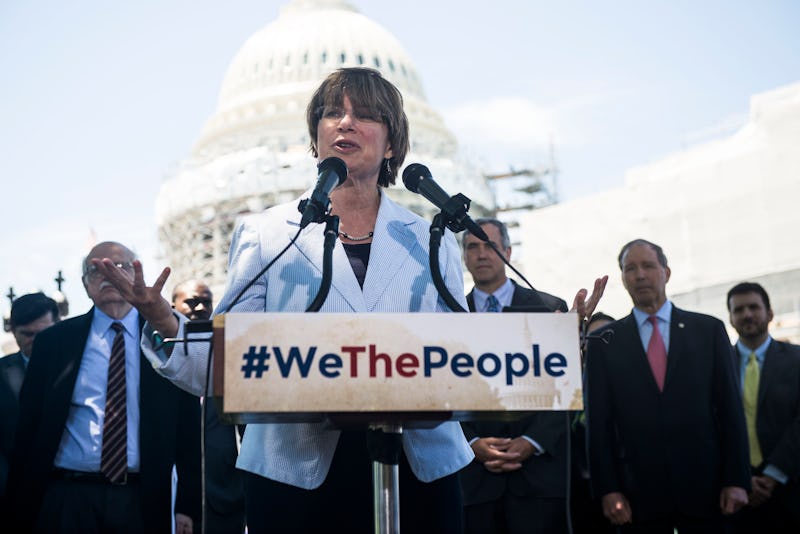 Gabriella Demczuk/Getty Images News/Getty Images
As more lawmakers and congressional staffers have come forward about the sexual harassment they experienced while working on Capitol Hill, new legislation now makes sexual harassment training mandatory for senators, aides, and interns. On Thursday, the Senate unanimously approved a resolution requiring all Senate staff to undergo sexual harassment training, signaling a shift in Capitol Hill's current system of handling sexual misconduct claims, Politico reports.
The new legislation marks the first time Congress has taken real steps toward changing rules on sexual harassment for congressional offices. It comes weeks after several lawmakers and staffers spoke out about the predatory behavior on Capital Hill. Former Rep. Mary Bono, former Sen. Barbara Boxer, and others have gone on record detailing the sexual assault they endured in Congress in a Nov. 3 report by The Associated Press.
GOP lawmakers also are grappling with the fallout from a Washington Post report that Roy Moore, the Republican nominee for a Senate seat in Alabama, allegedly sexually assaulted a minor and asked three other women on dates when they were teenagers and he was in his thirties. Roy has denied the claims and called the allegations "a desperate political attack by the National Democrat Party and The Washington Post on this campaign."
"Sexual and workplace harassment is a widespread problem that affects too many women and men in too many places, professions, and industries," Sen. Amy Klobuchar (D-MN), who helped sponsor the legislation, told Politico. "Everyone deserves to feel safe and comfortable at work, and the passage of this official Senate policy is an important measure to ensure that's the case in these halls."
The legislation had bipartisan support and was spearheaded by Klobuchar, Sen. Richard Shelby (R-AL), Sen. Shelley Moore Capito (R-WV), and Sen. Chuck Grassley (R-IA). On Wednesday, Capito said that the senators also were trying to overhaul current guidelines for handling sexual harassment complaints, but the resolution that passed didn't include those stipulations or go beyond implementing mandatory anti-sexual harassment training.
More than 1,400 former congressional aides from both major political parties have signed a letter urging House and Senate leaders to remake the sexual harassment policy on Capitol Hill. The current system requires victims of alleged sexual misconduct to go through 30 days of mandatory counseling, followed by another 15-day period to begin a process of mediation with his or her employer before even filing a complaint. Critics have said that waiting period can last months at a time, and that the process may deter congressional staffers and employees from reporting sexual harassment in their offices.
After The New York Times released an exposé on Oct. 5 revealing decades of alleged sexual abuse by Hollywood movie producer Harvey Weinstein, more and more women have spoken out about sexual assault in other industries, too. The sexual harassment revolution has come more slowly to Washington, however, where congressional staffers, like many in Hollywood, may fear damage to their careers if they come forward.
Many of the female lawmakers that have spoken out so far described sexual harassment from before they worked in Congress, and few identified their harassers by name. In a segment for NBC's Meet the Press, Sens. Elizabeth Warren (D-MA), Mazie Hirono (D-HI), Heidi Heitkamp (D-ND), and Claire McCaskill (D-MO) shared stories of the harassment they experienced by former colleagues, but didn't name them. The four lawmakers who shared their stories of sexual harassment with the Associated Press also declined to identify their harassers by name, but said that two of those men continue to serve in the U.S. House.
The current process for reporting sexual harassment claims, which go through the Office of Compliance, can be seen as discouraging to victims who already are nervous to come forward. The OOC also is not required to make public the number of sexual harassment complaints, the number of settlements reached, or the dollar figure of those settlements, according to CNN. Rep. Jackie Speier (D-CA), who shared her #MeToo story earlier this month, has called Congress a "breeding ground for a hostile work environment for far too long." Speier's office sees the current system as a "discouraging tactic" and "one-sided to the employment office."
"I wanted to encourage women to come forward by leading by example," Speier tells Bustle. "This happened so many decades ago, but I still remember it. I've done a good job of compartmentalizing it since then, but I don't think women today should have to do that."