Shake Shack Just Added Chick'n Bites & The Dipping Options Will Make You Weep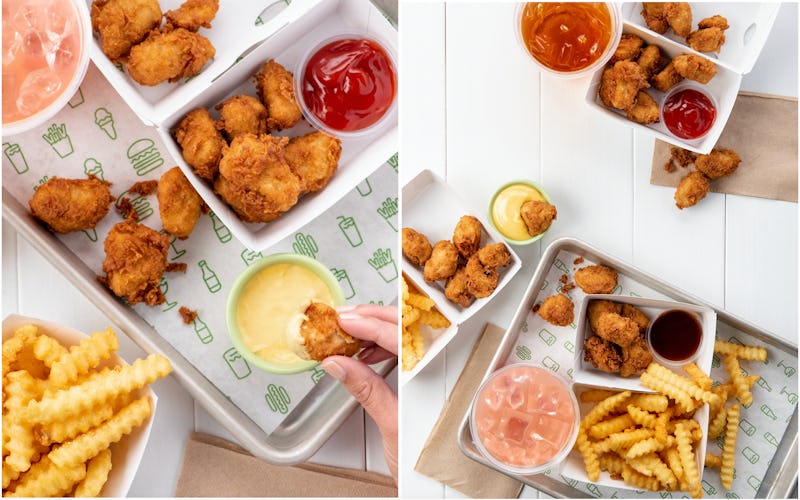 Shake Shack
Fans of Shake Shack, get ready for news that's about to emotionally shake you to your burger-loving core: Shake Shack is testing Chick'n Bites at several locations. For some of us, this news is a delicious triumph; fans of Shake Shack have been asking for a chicken nugget equivalent for some time now. It appears, based on the mouthwatering photos, that these nuggs will be more than well worth the wait.
But first, deets on the availability, because you may be waiting just a wee bit longer depending on where you are: as of this moment, the Chick'n Bites are only available at the West Village Shack and Innovation Kitchen in New York City, which opens Sept. 18 at 11 A.M.on 225 Varick Street. In late September, Shake Shacks in NYC will also start testing the new menu item, and then in October, it will roll out to other Shake Shacks around the country as well.
In the meantime, though, rest assured that the hype is real. The Chick'n Bites, according to Shake Shack, are "crispy pieces of hand-breaded chicken breast"; they are fresh, never frozen, and made from "all natural, antibiotic-free whole muscle," and "sous-vide cooked for optimum flavor, moisture and texture." They will be sold in packs of six pieces ($4.39) or ten pieces ($6.39), and will, of course, come with a sauce. And let's TALK about those sauce options, folks, because your options are kind of mind-boggling.
Officially, the two sauce options are BBQ and Honey Mustard, which is fairly standard (and obviously delicious). But this isn't a standard place, y'all. This is Shake Shack. Which means your dipping potential goes far beyond those two sauce options.
First, consider this: Chick'n Bites dipped in ShackSauce. The famous mayo-based condiment, which is a mix of ketchup, mayonnaise, mustard, and spices and also utter perfection, is perfect for any dipping situation, really, and very easy to purchase on the side. A quick perusal of Shake Shack's menu seems to indicate that an Herbed Mayonnaise option will also be available for chicken nugget lovers at some point as well. And it would be remiss — nay, irresponsible — for me not to remind you that you can very much buy Cheese Sauce from the fries on the side, which also makes for optimum dippage.
Basically, you have five different options for dipping, if you know how to order it and you have a dream in your heart.
Anyway, if that doesn't float your boat, Shake Shack does remain the superior burger to end all burgers (fight me, In-N-Out stans!!), and also has a startlingly delicious Veggie Burger option. It's easier than ever to follow your burger bliss, be it in meat form, non-meat form, or, y'know, chicken nuggets. If you want to be the first to be a part of the nugget revolution, head down to the West Village Shack and Innovation Kitchen in NYC — and cross your fingers that the test goes well and this gets a permanent place on the Shake Shack menu like it deserves.