Shake Shack Is Releasing A Glittery, Millennial Pink Milkshake For Valentine's Day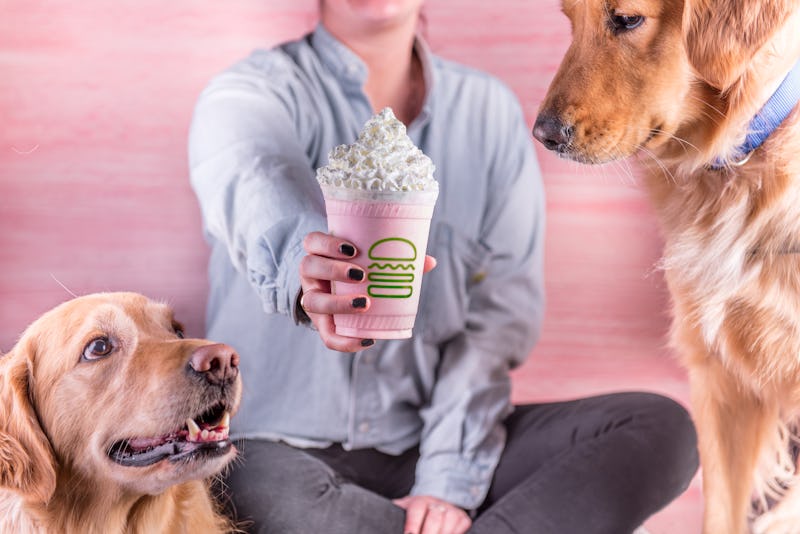 Courtesy of Shake Shack
Be still, my ridiculous, shake-loving heart: Shake Shack is releasing a pink, glittery milkshake for Valentine's Day. It's inspired by the B-52s. It is called — what else? — the "Love Shack Shake," for the band's 1989 hit (you know the one). And it's for an excellent cause. I'm honestly not sure what the best part of this whole thing is, because everything about it is just terrific. My cup runneth over, and it is full of ice cream.
Special edition, Valentine's Day-themed foodstuffs obviously aren't an unusual occurrence for this time of year; just about every chain or brand under the sun does something to mark the occasion, whether it's filling a bag with red- and pink-tinted sweets (I will always maintain that red Skittles are the best Skittles) or offering a whole Valentine's Day experience (hi there, White Castle). There are few things that get my mouth watering in quite the same way that a good milkshake does, though, so Shake Shack wins the proverbial prize this time round — in my book, at least.
The B-52s themselves announced the special edition treat via Twitter on Jan. 29, saying, "We are excited to announce that we have teamed up with @shakeshack to create the Love Shack Shake." The band described it as a "strawberry blonde milkshake," which probably means we can assume it's a strawberry-flavored offering (although I suppose I could be wrong about that) — but that's not all. It's also "topped with whipped cream and glitter sprinkles," which means that it will likely sing to a substantial number of millennial shake fans.
I'll admit that I don't totally understand the concept of "millennial pink" — as far as I can tell, "millennial pink" is just… pink — but I do understand the impulse behind it. At its core, it's not too dissimilar from the "unicorn" trend, which is really about self-care. As Elizabeth Segran put it last year in her examination of the unicorn explosion for FastCo:
"Aminata Tall, communications director at Wet n Wild–which has recently released an entire unicorn makeup line–believes that the trend has everything to do with nostalgia. The version of unicorns we're seeing now are inspired by touchstones of children of the '90s: Lisa Frank, My Little Pony, Care Bears. For women in their twenties and thirties, that might seem like a happier time. 'People are looking for an escape from reality,' Tall says. 'One of the main reasons for this is probably that the current climate is not the brightest.'"
"Millennial pink" fills much the same space as unicorns do: It's a tiny, bright spot in a world that often looks dark and threatening, and honestly, at this point, we'll take whatever we can get. Even the smallest things can help us take care of our mental health and overall well-being — even if those things are just a splash of pink or a flash of glitter.
And in this case, we also get the feel-good rush of knowing that others benefit from our love of all things pink and sparkly, too: For every Love Shack Shake purchased, Shake Shack will donate $2 to the non-profit Canine Companions for Independence. Founded in 1975, the organization trains and provides assistant four types of assistance dogs — service dogs, hearing dogs, facility dogs, and companion dogs — to people with disabilities; the funds raised by the Love Shack Shake will help "give a dog a job," according to the B-52s.
Everybody wins!
There is, however, a catch: The shake will only be available from Friday Feb. 9 through Sunday, Feb. 18, and only in select Shake Shack locations in New York, Los Angeles, and Atlanta. Specifically, you'll be able to get them at the following spots:
In New York: Head to the 154 E. 86th St. and 366 Columbus Ave. locations.
In LA: Go to the Shacks at 6201 Hollywood Blvd. and 8520 Santa Monica Blvd.
In Atlanta: Truck on over to the 3035 Peachtree Road NE, Suite A146 and 4400 Ashford Dunwoody Road, Suite 3025 locations.
The shakes retail for around $6 each, according to a press release provided to Bustle.
Not in or around any of those three cities, but still want to help Canine Companions for Independence? You can always donate to the non-profit on your steam or volunteer your time or skills. And if you want to do that and have a shake… well, go grab your favorite pink ice cream from the grocery store, get a hold of some whipped cream and edible glitter, and go to town with a blender. Here are some recipe ideas if you need more inspiration. And don't forget to put some tunes on while you're at it:
There. That's better.
Have fun!