Shannon Beador's Restaurant Logo Is An Inside Joke For 'Real Housewives' Fans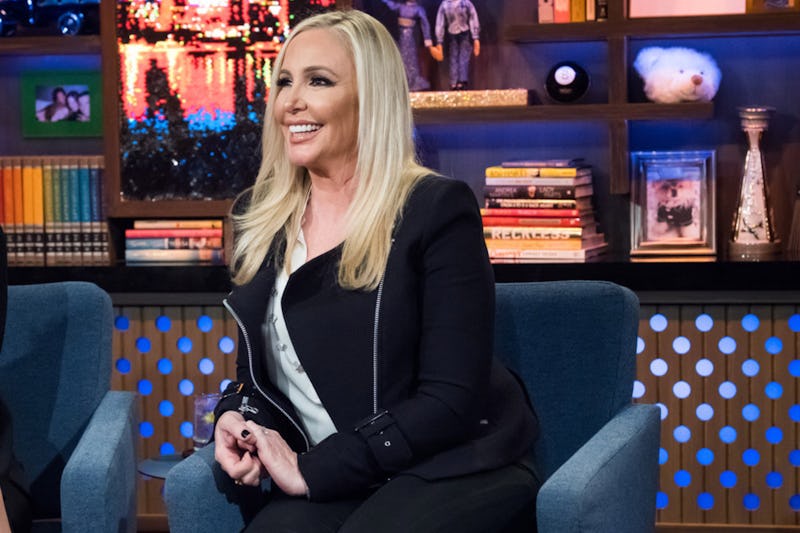 Charles Sykes/Bravo
When life handed Shannon Beador lemons, she selected nine of them, placed them in a special bowl, and then turned the bowl of nine lemons into a logo for her forthcoming restaurant. Oh, you read that correctly: the Real Housewives of Orange County star is diving into the dining establishment waters. On a recent episode of Bravo's The Daily Dish podcast, Beador casually mentioned that she will be opening a restaurant. Yes, one of the greatest Real Housewives the franchise has ever seen is the latest Real Housewife to try her hand at the hospitality industry.
Beador told The Daily Dish,
"I'm actually opening up a restaurant, you'll see that on the show this season. It hasn't opened up yet, but my logo is nine lemons 'cause that's me!"
The nine lemons is, as every Real Housewives viewer knows, a wink to the infamous bowl of fruit in Beador's home, a decor decision inspired by the feng shui practice of keeping nine pieces of citrus in one's living space to generate luck. The OC Housewife didn't say where the restaurant will be located, what will be on the menu, or when fans will be able to eat there, but at least we can count on finding out more about this project on RHOC Season 12.
When the doors do open, Beador will be part of a grand Real Housewives tradition: Kandi Burruss of The Real Housewives of Atlanta, Lisa Vanderpump of The Real Housewives of Beverly Hills, Ashley Darby of The Real Housewives of Potomac, and Teresa Giudice and Melissa Gorga of The Real Housewives of New Jersey have all tossed their hats into the Real Housewives restauranteur ring. As far as Real Housewives products go, starting a restaurant is up there with developing a wine varietal and penning a memoir, i.e., it's about as peak Real Housewives as it gets. Thanks to the momager of OC-based rock outfit Lock, it looks like Bravoholics will soon have another eatery to add to the Real Housewives Restaurant Tour itinerary.
Unlike a glass of freshly squeezed lemon juice, this news is the opposite of sour.