Why Shannon & Tamra From 'RHOC' Have The Best Sort Of Friendship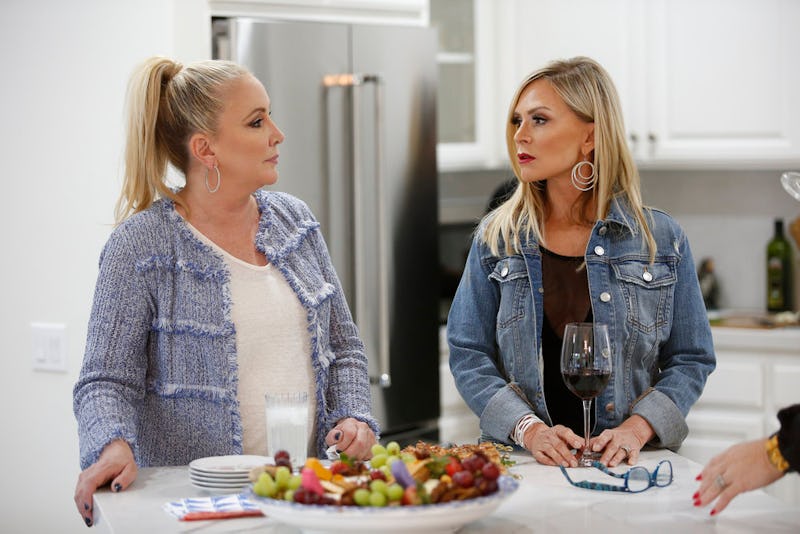 Phillip Faraone/Bravo
Every franchise of Real Housewives has its true-blue tight friendship. Each is subject to change, of course (remember Jill and Bethenny? Or Carole and Bethenny? Or Vicki and Tamra?), but when a pairing sticks, it really sticks. Like Tamra Judge and Shannon Beador, for instance. These women have been through divorce and heartache, family problems and friendships around them dissolving. It wasn't always easy, and in upcoming episodes, there may be a bit of trouble in paradise, but Tamra and Shannon's Real Housewives Of Orange County friendship timeline shows that when you're best friends, you stick together.
Shannon came on Real Housewives Of Orange County in Season 9, and for the most part, she and Tamra got on like a house on fire. A lot of Shannon's time in that season (and in the seasons to come) was spent talking about the demise of her marriage, because David, her husband, was having an affair, and it was a big ugly season. Shannon has a penchant for the dramatic, but it was in this case that she wasn't being dramatic. She was hurt that her husband of many years would do that to her, and a lot of Tamra's attention went to Shannon. Tamra had her own troubles, namely in relation to her children, but Shannon was really the center of things.
Then, Shannon and David mended fences and started hanging out with Vicki and "I may or may not have had cancer" Brooks, and Tamra kind of backed off here. She didn't want to get involved with Brooks because she saw through his con artist personality, and there was a time in which Vicki, Shannon, and some of the other women wanted to confront Tamra for being two-faced. I mean, yeah — everyone on Real Housewives Of Orange County is duplicitous in nature at one point or another. Tamra was concerned about Brooks and wanted everyone to know it. You take the good, you take the bad.
Eventually, after all of that Brooks nonsense fell off, Shannon and Tamra were back in step with each other, united against the common enemy of Vicki but also renewing their own really strong bond. Shannon hosted a party for Tamra's fitness competition win; Shannon and David broke up and Tamra ripped that wedding ring off her friend's finger; Eddie, Tamra's husband, was in the hospital and Shannon was there.
Shannon and Tamra are close, but just because they're close doesn't mean they don't have problems. In Jamaica in Season 14, Tamra told Emily and Gina that she sees how Shannon backs away from new people and that she feels sorry for Shannon and the demise of her marriage and life. Expanding on that, Tamra wrote in her Bravo blog that Eddie thinks Tamra is an enabler of Shannon's negative behavior because she sits there and listens to it.
"Eddie would hear me talk to Shannon numerous times a day. Sometimes, he thought that I should've been a little tougher on her to help her move on," Tamra wrote. "I was so worried about hurting her feelings, so he felt that I was enabling her. The past four years of Shannon's marriage have been a roller coaster. I've been the one there for her every step of the way."
Shannon told Bravo's The Daily Dish that she "needed the" trip to Jamaica, even if it had some truths she didn't want to hear. "I've made a conscious effort… not to be reactive as I have been," Shannon said. "I realized where some of the women were coming from and they had valid points… it's never easy to hear people say things about you that aren't very positive."
It's nice that Shannon was able to take constructive criticism. Part of being amazingly close with a person is that you take the good and you take the bad, which is something that Tamra sees in her best friend. Just because you're friends doesn't mean you'll always get along or agree. Just because Shannon is Tamra's number-one doesn't mean that Shannon and Tamra will always agree on everything. "I'm not the best at communicating my problems, and Shannon is the complete opposite," Tamra said in her blog post. "I think at the end of the day we balance each other out… We are more like sisters than friends."
If their Instagram pics of each other are any indication, Shannon and Tamra are friends today, and that's all that matters. Real friends fight and makeup, and it's apparent that these two OC housewives have each other's backs, no matter what.